Content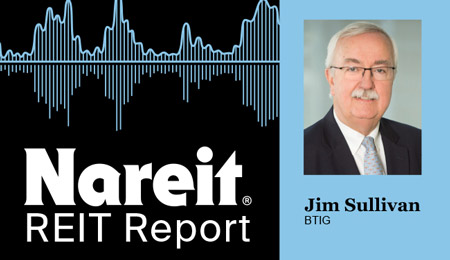 A rollback of state reopening plans across the United States is placing additional strain on REIT tenants, especially those in the retail real estate segment, according to Jim Sullivan, managing director and REIT analyst at BTIG.
On July 13, California announced a statewide closure of all indoor operations of dine-in restaurants, movie theaters, and family entertainment centers, among others. County indoor closures include fitness centers, hair salons and barbershops, and malls, if those counties have been on a county monitoring list for three consecutive days.
Speaking July 14 on the Nareit REIT Report, Sullivan said certain types of retail will be particularly hard hit by the reclosure orders.
"For retailers of apparel, footwear, and accessories, particularly if there's a seasonal element, it's going to be very, very difficult for the retailers in the malls to be open on an effective, efficient basis to generate levels of revenue comparable to pre-COVID levels," Sullivan said.
The challenges extend beyond retail, though. Hotels have faced the most severe impact from the pandemic, Sullivan said. "With rates of infection rising in California, Texas, and Florida so dramatically, a number of those hotels just cannot operate economically under those conditions."
In response to the challenges faced by their tenants, REITs have been stepping up throughout the crisis to provide help: Sullivan sees more of the same going forward. "I'm afraid it's probably going to have to be necessary for the sectors that are the most impacted, and in the states where the infection rates are very high," he said.
Looking ahead, Sullivan said one area of possible concern is whether and to what extent there are likely to be tenant defaults on rent deferral agreements.
"This is a problem we're going to be living with here for a while as we work through these earnings models…across all sectors the most common interpretation of what's going on is tremendous uncertainty, particularly with the spike in infection rates," Sullivan said.