Content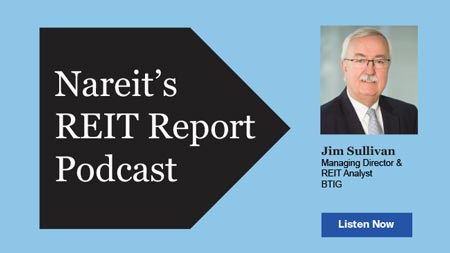 In the latest edition of the Nareit REIT Report podcast, Jim Sullivan, managing director and REIT analyst at BTIG, discussed the outlook for New York real estate following Amazon's decision to abandon its plans to locate a second headquarters in Long Island City.
Sullivan said that while the loss of a potential 25,000 jobs will obviously result in less demand, a recent decision by Alexandria Real Estate Equities, Inc. (NYSE: ARE) to purchase property in Long Island City speaks to the area's growing importance as a home for the life sciences industry. He expects Alexandria to expand its presence there in the coming years. Overall, the Amazon decision is "not a death knell for Long Island City, but clearly a short-term setback."
Over the last couple of years, New York has become a center of tech job growth—including a significant commitment from Google, as well as from Amazon in Manhattan, according to Sullivan. "Firms up and down the spectrum of tech and social media are expanding aggressively in New York," with New York-based tech start-ups raising more than $20 billion from venture capital in 2018, he noted.
"We think New York will go from strength to strength. It will be more concentrated in Manhattan perhaps than it would have been with Amazon in Long Island City," Sullivan said.
"New York had a tremendous office leasing year in 2018 and the BTIG view is that the New York office market is back and very healthy…we think it will do very well indeed in the near term," he added.