Content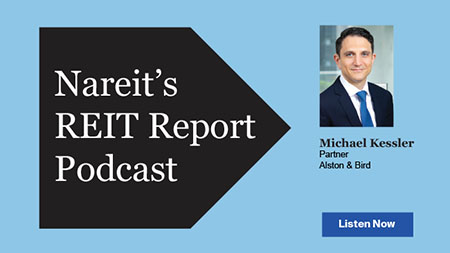 Michael Kessler, a partner in the New York REIT practice of Alston & Bird LLP, was a guest on the latest episode of Nareit's REIT Report podcast.
Kessler discussed the next wave of innovative ideas and concepts that are emerging in the REIT sector.
One area that is generating attention is clean energy and Property Assessed Clean Energy (PACE) loans, Kessler said. These provide incentives and regulatory frameworks to enable private capital, including mREITs, to fund energy efficiency improvements in residential and commercial properties.
Many states have adopted PACE programs or are actively considering them, according to Kessler, adding that estimates point to hundreds of billions of dollars of improvements needing funding over time.
Kessler sees opportunity zones as another area of interest. While not every opportunity zone strategy is right for a REIT, such as a fix-and-flip strategy, "many other strategies could work nicely using a REIT platform and potentially see better valuations."
Meanwhile, with REIT valuations improving in the first quarter, Kessler said he expects REITs to continue raising equity capital. Mergers and acquisitions (M&A) activity has also been strong and is likely to remain so, he noted, with increased REIT valuations over the last few months acting as a "win at the back" from an M&A perspective.
Other issues Kessler discussed included making sure clients fully grasp the implications of recent tax reform legislation: "When there's a moving of the goal posts, there's a lot to unpack." And with shareholder meetings fast approaching, understanding where to strike the balance regarding shareholder activism is another key topic, he added.