Content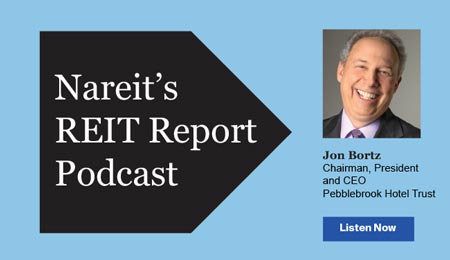 Jon Bortz, chairman, president, and CEO of Pebblebrook Hotel Trust (NYSE: PEB), was a guest on the latest edition of Nareit's REIT Report podcast.
Early in September, Pebblebrook announced it would pay $5.2 billion to acquire fellow hotel REIT LaSalle Hotel Properties (NYSE: LHO), ending a series of revised offers that began in March. The deal is expected to close later this year.
Bortz, who founded both REITs, said the two companies share an "incredible similarity" in terms of assets, quality, markets, geography, and brands.
Pebblebrook has said it plans to sell between $500 million and $1 billion of assets from the combined portfolio. The bulk of sales are likely to come from the LaSalle side and from the East Coast, Bortz said. "The sales will allow us to finetune the portfolio from a size and diversification perspective," he noted.
Looking ahead, Bortz said a number of opportunities exist within the LaSalle portfolio.
"With the creativity and experience that we bring to the table, we believe there are opportunities to do what we've done historically, which is to really look at a property, understand its greatest potential…determine how it best fits into the market, make the investment, and then bring on the right operator to maximize the performance," Bortz said.
The ultimate goal for Pebblebrook is to create a unique experience for the customer, Bortz explained. "The kinds of assets we pursue, and the kind of assets LaSalle owns…offer that opportunity, mostly with independent or small branded properties."
Bortz noted that a goal for the next three to five years is to shrink the per-key differential that exists between the Pebblebrook and LaSalle portfolio through creative redevelopment and enhancement of LaSalle properties.