Content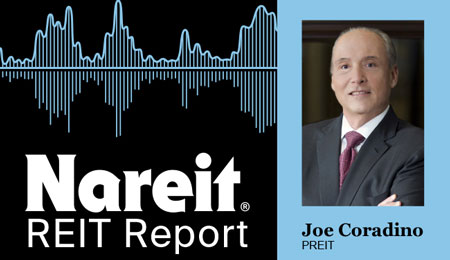 The latest edition of Nareit's REIT Report podcast took an inside look at retail real estate with Joe Coradino, CEO of Philadelphia-based PREIT (NYSE: PEI) since 2012.
Coradino described 2019 as an "exciting year" for PREIT. "We have so many milestones that we will execute on this year, projects that are coming to fruition that in some cases go back nearly 15 years."
One noteworthy project is Fashion District Philadelphia, which opens in September. It sits atop the main transportation station in downtown Philadelphia, with about 22 million commuters a year accessing public transportation via the mall's concourse level.
Coradino also talked about PREIT's role as a retail incubator and innovator. "We think we've been out in front of things," he said, pointing to PREIT's partnership with retail incubator 1776 at Cherry Hill Mall in New Jersey.
Looking at the broader retail landscape, Coradino said he expects the current state of flux to result in higher quality, well-located properties, "which is why we sold off over 40 percent of our mall portfolio."
Finally, Coradino commented on PREIT's expansion into the multifamily and hospitality segments: "We are off and running on densification, and we think that enhances our core business."