Content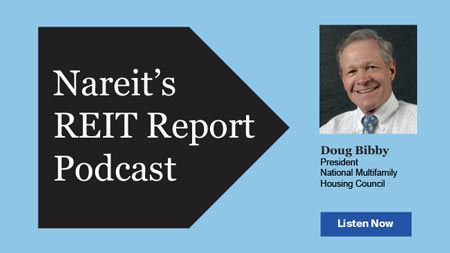 In the latest edition of the Nareit REIT Report podcast, Doug Bibby, president of the National Multifamily Housing Council (NMHC), discussed a new initiative aimed at attracting talent into the real estate industry.
The NMHC is part of a collaboration of 29 real estate industry organizations, including Nareit, that are working to highlight the diversity of career paths within the sector. Together they have created Careers Building Communities (CBC), a platform designed for students, educators, and other individuals to explore the industry and learn more about what it takes to obtain education and employment within each sector.
"It's no secret that the job market is really, really tight right now. Commercial real estate is looking to fill literally millions of jobs," Bibby said.
Some of the resources available on the new website, www.careersbuildingcommunities.org , include a 90-second interactive quiz that leads test-takers to potential career paths. CBC is also partnering with school counselors across the country.
Bibby added that there are over 500,000 open positions for construction and trade-related jobs, so CBC is partnering with SkillsUSA, an organization that promotes options for vocational students.
Meanwhile, Bibby also discussed housing affordability, one of NMHC's key issues for 2019.