Content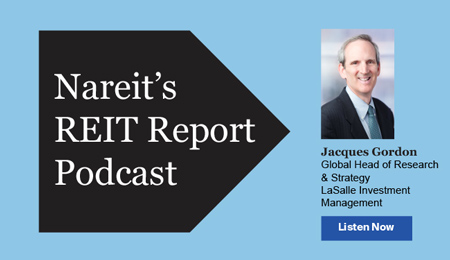 Jacques Gordon, global head of research and strategy at LaSalle Investment Management, was a recent guest on the Nareit REIT Report podcast.
Gordon will be speaking on the economic outlook for real estate at Nareit's SFO Forum 2018 on Sept. 24.
In terms of the real estate cycle, "we're in a good place," Gordon said.
"Fundamentals are healthy. There's a lot of new supply but there's also a lot of demand. Rent growth is steadily upward," Gordon noted. "There's a lot of good news already registered in 2018 and we expect steady as she goes, positive for the rest of the year," he added.
Looking ahead, Gordon said the trends LaSalle is most sanguine about include the continued demand for logistics properties, strength in both e-commerce and brick-and-mortar retail, and continued employment growth in the tech, life science, and health care sectors.
"To a great extent, any of the sectors that draw on the highest human capital… are doing really well right now," Gordon said. In some cases, these performance trends are already well-priced, he added.