Content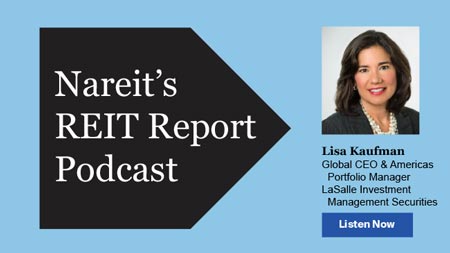 Lisa Kaufman, global CEO and Americas portfolio manager for LaSalle Investment Management Securities, was a guest on Nareit's REIT Report podcast, recorded in San Francisco during Nareit's REITworld: 2018 Annual Conference.
Kaufman said operating fundamentals are in equilibrium across most real estate sectors, with internal growth likely to roughly match inflation for the next couple of years.
Among the outliers, however, are cell towers, where the runway for growth is "longer and better than what the market perceives," she said.
LaSalle also favors most of the rental residential sectors, Kaufman said. "We think the rental thesis is very much intact," due to favorable long-term demographics and the fact that home ownership affordability is more stretched today than it has been in prior cycles, she added.
Turning to mergers and acquisitions (M&A) activity, Kaufman said the uptick seen in 2018 reflects in part "the big disconnect between public and private market pricing in real estate today." Furthermore, record amounts of private capital, and management teams and shareholders frustrated by two years of underperformance, means that "all the ingredients are there for us to see more activity," Kaufman said.