Content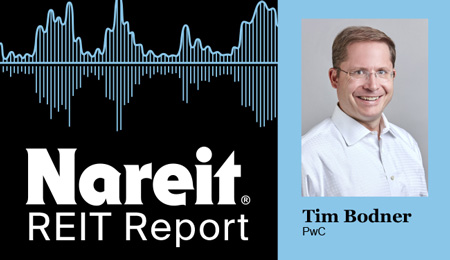 The latest edition of the Nareit REIT Report podcast looked at real estate deal activity with Tim Bodner, U.S. real estate deals leader at PwC.
Although the volume and value of commercial real estate deals in 2019 were lower relative to 2018—a particularly strong year—activity was higher than in 2017. Most of the decline in 2019 came from the lodging and retail real estate sectors. In retail real estate, transaction value was down 31%, while falling 15.5% in the lodging space. On the other hand, the value of logistics transactions rose 13% in 2019. Nearly all other real estate sectors logged a decline in transaction value in 2019, according to PwC.
In 2019, nine REIT M&As took place, representing about $24 billion in value. About 70% of that total represented the logistics sector.
Fundraising by public REITs from January through November 2019 hit $107.3 billion, or nearly twice the total for all of 2018 and 7% higher than the previous peak in 2017.
Unlike previous years, secondary common equity offerings far exceeded preferred equity fundraising last year. REIT secondary offerings in 2019 totaled $36 billion. Bodner stressed the numbers reflect steady investor demand for experiential real estate.
In the secondary debt space, 130 offerings raised $62 billion in 2019—the highest level in the last nine years.
Meanwhile, the lack of IPOs will likely continue. "Unless there's a differentiated story, the REITs that are there today are fulfilling investor demand," Bodner said.
Turning to the challenges facing investors, Bodner noted that regulatory scrutiny of the real estate industry will likely persist in 2020.