Content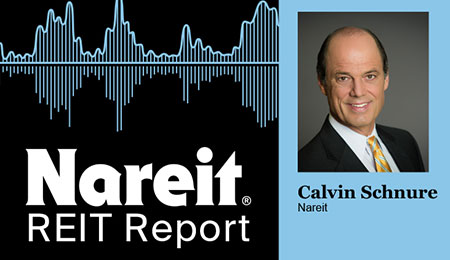 Nareit Senior Economist Calvin Schnure discussed some of the main themes from Nareit's REITweek: Virtual Investor Conference and the May jobs report in the June 8 edition of the Nareit REIT Report podcast.
Schnure characterized the overall mood at REITweek as "cautiously optimistic."
"Obviously we're still in unchartered waters and there's a lot of concern about unforeseen risks in the period ahead," Schnure noted. While economic activity is beginning to resume, few expect it to be without glitches, he added.
At the same time, property sectors are seeing a wide range of impacts from the crisis. In the retail sector, for example, the reopening of the economy is expected to help rent collection but going forward many tenants are still going to have a low level of revenue, "so we're not out of the woods yet on that front," Schnure said.
The health care sector, meanwhile, is tackling increased operating expenses related to increased safety measures and some decline in occupancy.
Other sectors, such as data centers, cell towers, and logistic, see another story. "More of the business of the economy has shifted into those sectors and they've had both a short-term and a long-term structural boost to their demand," Schnure said.
Schnure pointed out that in many ways the crisis has pulled forward changes that were already underway within the industry.
The retail sector is also seeing long term changes, with the adoption and success of curbside pickup a case in point, Schnure said. Overall, "we're still in the early stages of how the economy is going to adapt in a post-COVID environment," he added.
The office environment will probably see a need for more flexibility in response to the unexpected success of working from home. "People want to work from home but very few people are thinking you're going to give up the office model in any major way," Schnure observed.
Schnure also commented on last week's release of the May employment report, which caught many by surprise. Gains were in sectors that had been hardest hit in March and April, Schnure noted.
"We're seeing some signs that the economy probably has bottomed out in May and June, which gives us some hope that the future is beginning the recovery stage as opposed to dealing with the down-leg," he said.
The strong May numbers probably also reflect the Paycheck Protection Program (PPP), Schnure said. "That suggests we'll need to see some other longer-term improvements when the PPP expires later this year."
Schnure described the May jobs report as "a turn in the right direction, but it's really just a first step" toward recovery.