Content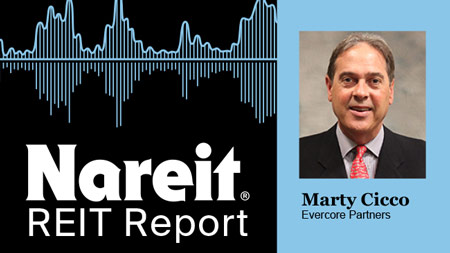 Marty Cicco, senior managing director at Evercore Partners, spoke with Nareit's REIT Report podcast in New York at REITweek: 2019 Investor Conference.
Cicco assessed the state of the commercial real estate market at mid-year. "It ranges from healthy, to beyond healthy, to unbelievable in some cases, but there are still a few sectors that have some challenges," he said.
At the same time, the business cycle—while clearly in the later stages—is breaking all records, according to Cicco.
"You're in an extraordinary time with low interest rates, the economy in the U.S. appears healthy, but we're obviously in the midst of a growing trade war with China…[and] you've got issue like North Korea and Iran out there that could jolt the markets," Cicco said.
Turning to the IPO outlook, Cicco said he expects most future IPOs to be part of a recycling process for large private equity firms that bought businesses privately and are looking to exit. "That cycle will ebb and flow. There'll be one or two more probably in 2019, but beyond that I don't see a huge amount of IPO activity as you look forward," Cicco said.
As for M&A activity, Cicco said he anticipates more public-to-private market transactions. He pointed to the "huge amount of private equity firepower" that is concentrated among a few key players. An additional factor favoring the private market is its greater tolerance toward leverage. "That's a big distinction because, on the private side, the leverage factor can be pushed and in this interest rate environment it creates positive leverage to a lot of transactions," he explained.
Cicco also said a dramatic shift is occurring in fund flow patterns.
Actively managed funds have seen a fund flow that's been negative to REIT-dedicated funds but positive to generalist funds. At the same time, passive funds have grown to be significant shareholders, on the order of 40 to 60%, of some of the the larger REITs, he said.