Content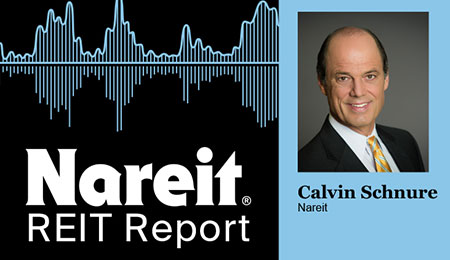 While REIT share prices drifted lower in the past week, conditions appear to have settled somewhat compared to the large swings seen in the early weeks of the coronavirus crisis, said Nareit Senior Economist Calvin Schnure.
Speaking April 27 on the Nareit REIT Report podcast, Schnure pointed to single digit moves in the past two weeks. One possible reason for the more restrained movement is the approach of first quarter earnings, he noted: "There could be a lot of investors who are in a wait-and-see mode."
Looking at real estate markets overall, Schnure highlighted the release of CoStar data showing demand weakened considerably across all major property types, despite social distancing going into effect only in the closing weeks of the quarter. Net growth of demand for office space was at its lowest level since 2010, and net demand for retail space fell due to store closures, the first decline since 2009.
Meanwhile, Schnure noted that private sector rent payment data underscores the dichotomy between those tenants that are missing April rent, and those that are mainly current or even in positive territory.
As for macroeconomic news, Schnure said jobless claims have subsided from their peak four weeks ago. "This raises the possibility that the job market impact was front-loaded and if claims continue this trend—although they're still really high—we may avoid some of the worst-case scenarios that have been discussed just a couple of weeks ago," he said.
On the durable goods front, March's report "showed more depth than breadth," Schnure said. April's report will probably show further declines, he added, but so far there haven't been as many spillovers to the general business sector as might have been expected.