Content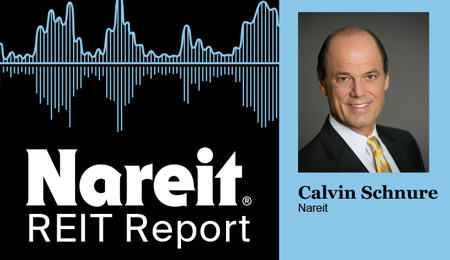 After steep share price declines across the REIT industry in recent weeks, a more moderating pattern appears to have set in, according to Nareit senior economist Calvin Schnure.
In an April 13 REIT Report podcast interview, Schnure noted that REITs are down 13% to 15% this year, representing a significant discount. However, "the markets appear to have settled into a middle range. You're no longer seeing the very sharp declines that we saw in March and they're looking forward to the period when this virus is more under control and the economy can get back to work—commercial real estate included."
Schnure noted that REITs made gains in the prior week, and outpaced the S&P 500, as the sector was boosted by Federal Reserve policy provisions to support real estate if tenants fail to make rent payments.
Schnure also commented that a range of factors are influencing investor sentiment, and those factors all reflect different time frames. For instance, public health news is determined by the measures taken several weeks ago to limit the spread of the coronavirus, while the unemployment news is more closely tied to what's going on today in the economy. At the same time, policy measures by the Fed and proposals for further stimulus point to the future.
Schnure discussed the continued deterioration of the economy, which is reflected in an unemployment rate in the 13% to 15% range that could "easily reach 20% fairly quickly."
With respect to layoffs, "we don't know if this will be a one-time surge that will last a few weeks and then maybe some lower numbers" because restaurants and shops are already closed, or whether there will be a high level of layoffs in a rolling wave, Schnure said. "Either way, it's still going to be a very difficult economic situation."
Second-round effects of the crisis are also evident, Schnure pointed out, as workers who have lost jobs fail to make rent payments, and homeowners fall behind on their mortgages. Commercial real estate markets are also affected as shops and businesses struggle to make their lease payments. "Right now, the economic news is in a very bad state and we don't see any near-term improvement," Schnure said.