Content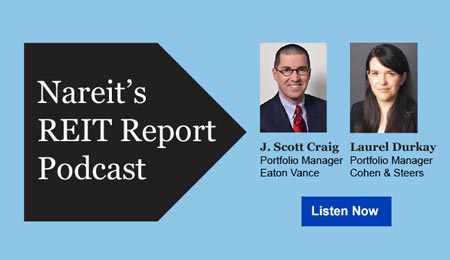 Laurel Durkay, portfolio manager at Cohen & Steers, and J. Scott Craig, portfolio manager at Eaton Vance, were guests on a special edition of Nareit's REIT Report Podcast recorded in New York during Nareit's REITweek: 2018 Investor Conference.
Durkay and Craig discussed several key topics, including the messages from REIT management teams that they are paying most attention to.
Fundamentals, valuations and the state of the capital markets are key issues for Durkay. "Capital formation and potential merger and acquisition (M&A) activity is especially important at this point in time, given where REIT valuations are," she said.
Craig said he is on the alert for companies that are taking on too much risk at this point in the cycle. "I'm watching for companies being moderate in their risk-taking."
In terms of current valuation levels, Durkay noted that across the board, REITs look "very attractive," which is leading to increased M&A activity. She noted that extensive private capital is likely to continue to enter the public markets.
Craig also characterized REIT valuations as "very attractive." However, because most REITs can't issue equity at attractive prices and deploy capital, REITs are somewhat "at a standstill."
Craig expects steady REIT fundamentals for the rest of the year, with positive but modest rent growth. Durkay added that REITs have not been a direct beneficiary of tax reform. However, "we do believe there will be a lagged impact for the REITs that could potentially show up toward the latter half of this year," she said.
Foreign capital, meanwhile, is not playing as significant a role as before, according to Durkay. "China is essentially out and that is having a slight negative impact on some of the valuations in more of the gateway cities," she said.
Craig noted that if foreign capital does dry up, private equity capital "will certainly fill the gap."
Durkay and Craig also shared their views on whether existing trends in terms of outperformers and underperformers will remain in place.