Content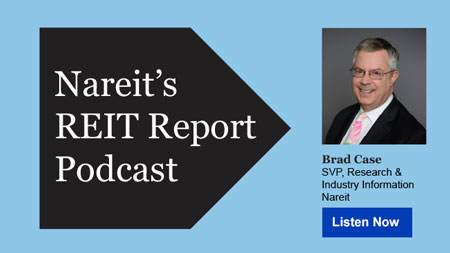 Brad Case, Nareit senior vice president for research and industry information, was a guest on the latest edition of Nareit's REIT report podcast.
Case highlighted the turnaround in REIT market performance seen since February. Prior to that, REITs had underperformed the broader stock market – particularly growth stocks - for about a year and a half.
"Over the last four months we've seen investors move away from the overvalued parts of the stock market into REITs and other undervalued parts of the stock market," Case said. "Normally, investors do better when they invest in value-oriented stocks," such as REITs, he added.
Turning to trends in property values, Case noted that there is no sign that valuations are declining. REITs, which tend to own high-quality properties, have not been active buyers to avoid paying top prices, he said.
Case stressed, however, that the recovery in REIT share prices has not been about an increase in property values, but rather that REITs were so undervalued earlier in the year.
Meanwhile, Case noted that most REIT property sectors have benefitted from the upturn in the industry in recent months. "This has been a broad-based REIT recovery," he said. Case in point: health care REIT returns have gained more than 20 percent; self-storage returns are up by more than 20 percent; and hotel REIT returns are almost 21 percent higher.
Retail REIT returns have also increased by more than 13 percent in the past four months, despite all the negative news surrounding the sector, Case added.