Content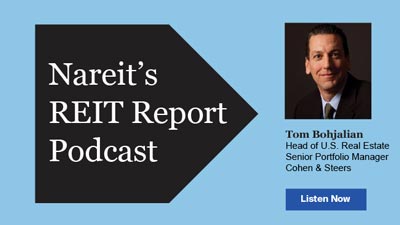 Tom Bohjalian, Cohen & Steers' head of U.S. real estate and a senior portfolio manager for the firm's real estate securities portfolios, was a guest on the latest edition of Nareit's REIT Report podcast.
Bohjalian sees REIT fundamentals in 2019 looking a lot like 2018, "with supply and demand largely in balance and with landlords still having some relative pricing power." Cash flow and dividend growth on a per share basis should remain in a mid-single digit range for both 2019 and 2020. Asset values should also remain relatively stable.
Bohjalian shared the view that REITs remain significantly underrepresented in defined contribution (DC) pension plans. Increased investor education on the positive attributes of REITs, including strong returns, diversification, and liquidity, will result in investors moving away from a traditional equity and fixed income allocation to one that adds more alternatives, including REITs, he said.
"It will be a continued process of education and that will take time," Bohjalian noted.
Turning to valuations, Bohjalian pointed out that "REITs are certainly cheap on both the absolute and relative basis, either comparing it against private real estate, the broader equity market, or even fixed income." In many cases, REITs are trading at meaningful discounts to the underlying value of where their real estate would trade in the private market, he remarked.
"What we experienced in 2018 was a modest amount of M&A, but we think that could accelerate in 2019 if that discrepancy stays as wide as it is today," Bohjalian said.
Meanwhile, Bohjalian noted that there are two broad themes that Cohen & Steers is investing in today—all forms of rental housing, and secular growth stories such as cell towers and data centers.