Content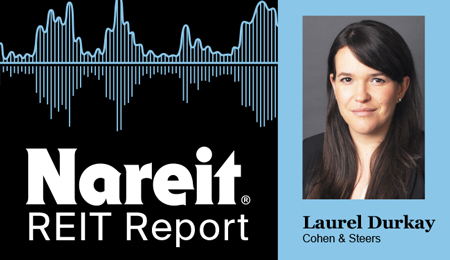 REITs and listed real estate are likely to see minimal impact from ongoing trade tensions, while the sector offers the potential for "outsized returns" due to solid fundamentals, according to Laurel Durkay, senior vice president and portfolio manager of global and U.S. real estate at Cohen & Steers.
Durkay was a guest on the latest edition of the Nareit REIT Report podcast.
The domestically-focused nature of real estate securities provides "relative insulation" from trade tensions versus the broader equity market, Durkay said.
"We do believe that real estate and REITs do offer a lot of very positive attributes in a time of heightened economic insecurity," she noted.
Durkay added that broadly speaking, REITs and listed real estate are "fairly valued versus equities, fixed income, and even versus themselves historically." The sector is also "very attractively valued versus private real estate and can offer outsized returns given the solid real estate fundamentals that we are seeing across the board."
Correlations are near 20-year lows versus the broader equity market, and volatility remains quite low versus where it has been historically, Durkay added.
"When you think about the healthy fundamentals coupled with an environment that we believe will continue to support lower interest rates for longer, that certainly does support our view of high total return potential for real estate across the board," she said.