Content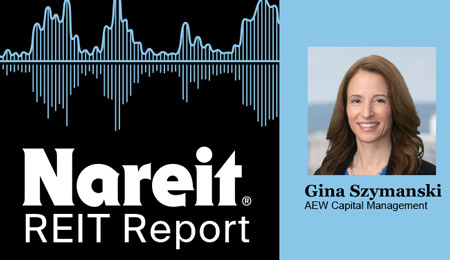 Gina Szymanski, portfolio manager and director at AEW Capital Management, an affiliate of Natixis Investment Managers, joined the latest edition of the Nareit REIT Report podcast.
Szymanski discussed some of the differences between the current COVID-19 crisis and the global financial crisis. She pointed to the size and pace of fiscal and monetary stimulus as "the biggest difference by far."
"During the last crisis the Fed was still learning how to be creative. This time around they are very aware of the playbook," Szymanski said.
Szymanski pointed out that REITs have underperformed compared to the broader markets during the crisis. While this is a little surprising from an interest rate perspective, it makes sense from a capital markets viewpoint, she said, given that REITs are capital intensive businesses. However, capital markets appear to be functioning well, she said, with banks better capitalized this time around and able to work with some of the most heavily impacted sectors.
REITs also entered the crisis in a stronger balance sheet position than was seen in the financial crisis, with less leverage, longer-dated maturities, more staggered maturities, and a broader array of financing options and relationships, Szymanski said. "A number of companies don't have to do much except protect the value of their businesses as they deal with operating at partial capacity and reduced net operating income in the short term," she said.
Meanwhile, Szymanski discussed some of the more interesting areas of opportunity that REIT investors should be watching. These include manufactured housing, especially age-restricted communities, as well as single family rentals, a segment that has shown "incredible strength" in the last several weeks, she said. Medical office and life science real estate are also areas she recommends to watch.
"There are these niche areas that I think will prove to be incredibly resilient and will gain a lot of investor interest," Szymanski said.