Content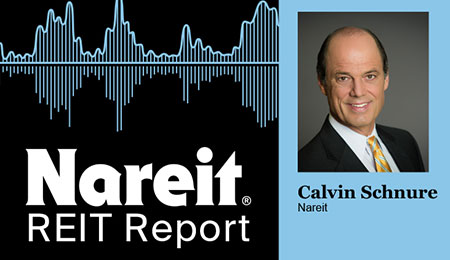 Nareit Senior Economist Calvin Schnure said REITs are facing a "mixed picture" as the forces of economic recovery are being tempered by uncertainty regarding the ongoing risks from COVID-19.
In the June 22 edition of the REIT Report, Schnure noted that the recent divergence between the course of the pandemic and the pace of economic activity strengthened over the past week. While REITs and the broader equity markets reacted positively to surprisingly strong May retail sales numbers, that optimism subsided later in the week on news of a surge in new COVID-19 cases and what that means for the prospects of economic reopening.
Looking to the coming week, Schnure said May existing home sales, released June 22, were weaker than expected. Consumer spending and personal income numbers will be released on Friday. The consensus is for spending to rise nearly 9%, which will reverse some but not all of the decline in April. Incomes, meanwhile, are expected to fall because the previous month was boosted by the stimulus payments, he noted.
Schnure also observed that in the weeks ahead REITs are going to be facing a "split-screen" situation. On the one hand, while economic conditions and REIT performance have likely been improving in June, GDP and earnings reports for the quarter as a whole will be released next month and are expected to be "very negative."
What is more important for the outlook, however, are signs of stabilization and the beginning of a recovery in the latter part of May and early June., Schnure stressed.
"We're still facing some possible jitters in the market because there are still unknown risks from the COVID virus in the months ahead, but REITs are actually holding in there and are well-positioned to make it through this recovery," he said.