Content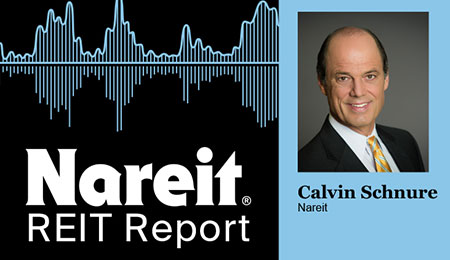 In the March 30 edition of the REIT Report podcast, Nareit Senior Economist Calvin Schnure highlighted the latest developments in how the coronavirus crisis is impacting the economy and commercial real estate.
Schnure noted that public health officials are indicating that "we need to prepare for a long haul," which in turn is increasingly impacting cash flows for businesses and wages and incomes for workers.
The first hard data on the magnitude of the effect came last week as initial jobless claims soared to a record 3.3 million, but "even this number understates the true impact," Schnure said. The unemployment rate is likely to rise from 3.5% to 7.0% and is probably heading to 10% or higher in coming weeks, he added. "This is a major challenge for us in the months ahead."
In the capital markets, some of the biggest pressure over the past week occurred in the market for mortgage backed securities (MBS). "There's been a general shedding of risk. Investors are trying to get to safety and what they're doing is selling across all asset classes but especially the ones that are liquid, and that's one thing that has really impacted the MBS market," Schnure observed. This impacted several mREITs, which faced funding pressures, including margin calls.
Meanwhile, the Federal Reserve has shifted from using lower interest rates to bolster the economy in favor of bond purchases and lending programs, Schnure pointed out. At the same time, Congress' $2.0 trillion stimulus bill "brings a lot of economic firepower," he added.
Looking across the REIT industry, Schnure observed that while many property sectors are seeing returns down as much as 30% or more, infrastructure REIT returns are only down less than 3% year to date and data center REIT returns are higher.
"Most of the REITs began the year with low leverage and they have pretty good liquidity resources to help them face the challenges ahead," he said.