Content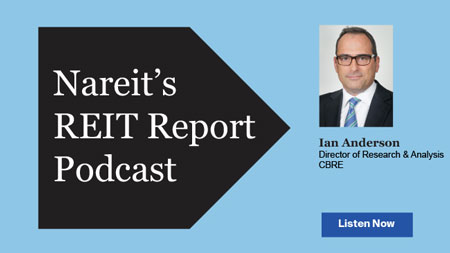 In the latest edition of the Nareit REIT Report podcast, Ian Anderson, director of research and analysis at CBRE, spoke about the momentum driving the life science industry and the real estate that it occupies.
A new report from CBRE shows that the industry is growing at its fastest pace in 18 years, with construction of lab space in the top five markets monitored by CBRE doubling over the past year. "The industry is certainly on a tear," Anderson said. The long-term trajectory doesn't show anything to derail growth, which continues to attract more investors to the industry.
REITs, meanwhile, play a leading role in that growth. "There's a lot of capital needed upfront, which scares off some of the smaller investors. That gives REITs an advantage right there," Anderson said.
Some of the REITs excelling in the life science field have biochemists or other technologists on staff or working as consultants to help with underwriting and understanding potential tenants. "A select few REITs have become very adept at vetting who their tenants will become because they understand the business and understand who's going to grow and become more stable," Anderson said. "REITs continue to be at the forefront of this industry and that will probably continue for quite a while."
Meanwhile, Boston and San Francisco look set to retain the top spots when it comes to attracting talent and investor interest. However, with pricing pressure, the intense competition for talent, and continued innovation, "we're going to see more hubs [become] acceptable candidates for future expansion," Anderson said.