Content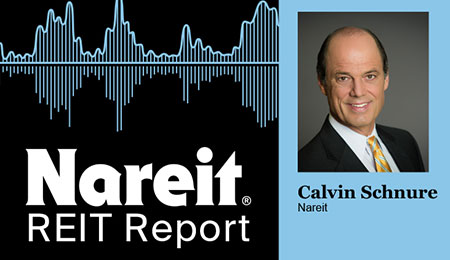 In the latest edition of the REIT Report, Nareit Senior Economist Calvin Schnure said investors will be watching this week to see if economic indicators point to an uptrend similar to what was seen in the recently-released May unemployment report.
May retail sales numbers released this week will show whether or not spending has bottomed, Schnure said. The Federal Reserve, meanwhile, will report industrial production this week, while housing starts will also be released.
"Over the next several days, we'll get a lot better idea of whether the whole economy is starting to turn towards recovery the way we saw in the job market," Schnure said.
Meanwhile, REIT performance has been subject to a fair amount of volatility lately, Schnure observed.
"What we've been seeing for several weeks is a push-and-pull situation between efforts to reopen the economy and the amount of progress that health officials in the country as a whole are making on the virus," Schnure said.
He noted that the sell-off that occurred in the latter part of last week was a result of more pessimistic news on the health front, suggesting it will be more difficult for the economy to get back to normal in the second half.
Schnure also discussed the newly-released Nareit midyear outlook, which shows the biggest risk to be that even as the economy opens, it will be a slow and spotty recovery until the virus is better under control.
In addition, the outlook highlights that the financial system is in much stronger shape than it was during the global financial crisis of 2008-2009. Banks are much better capitalized and can deal with the credit issues coming from the private sector without causing a financial crisis. "That's really key," Schnure said, as it keeps the financing of the economy on an open spigot.
Another favorable factor is that the crisis was an external shock to real estate rather than from internal weaknesses. The absence of excess construction or leverage will make it easier to recover, Schnure said. REITs also had a very strong balance sheet coming into the crisis, he added.
Schnure acknowledged that while REITS and commercial real estate face big challenges, "they are well positioned to deal with them as we move toward recovery later this year."