Content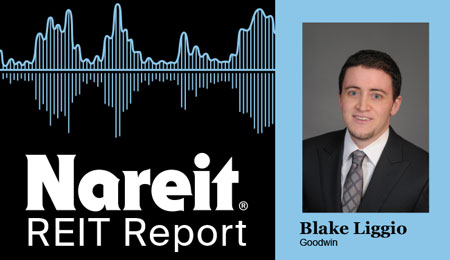 The latest edition of the Nareit REIT Report podcast explores the topic of real estate-targeted technology, commonly known as PropTech, with Blake Liggio, a partner in the law firm Goodwin's Real Estate Industry Group.
PropTech has seen significant acceleration in recent years due to the growth of technologies targeting real estate and the increase in capital supporting those platforms, according to Liggio.
Liggio said the benefits of PropTech within the real estate industry, namely the ability to increase operational efficiencies and impact overall returns, have become clearer. "This is a relatively new development…real estate was generally resistant to the idea that advancing technology was necessarily a worthwhile effort to explore," he said.
For many real estate companies, internal expertise has only recently evolved to include people with tech backgrounds, Liggio noted. "We're seeing a rising trend of executive leadership roles being created within REITs and real estate companies, particularly the role of chief technology officer [and] chief innovation officer," while board positions are also being filled with people with technology backgrounds.
Liggio also said the pace of change in the PropTech realm is extremely fast.
"It's almost daily that we're seeing new technologies rise, new funding, [and] new deals being announced…the risk to not staying on top is disruption and losing the opportunity to innovate the business in a direction that the industry appears to be heading," he said.