Content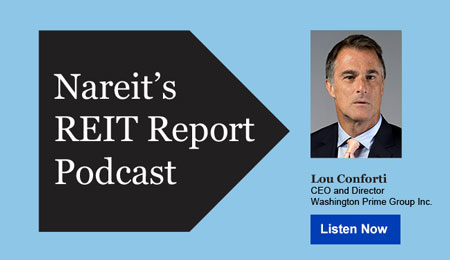 Lou Conforti, CEO and director of retail REIT Washington Prime Group Inc. (NYSE: WPG), was a guest on the latest edition of Nareit's REIT Report podcast.
Conforti gave an overview of developments at Washington Prime as well as across the retail real estate industry more broadly.
"This has been a lazy and a reactive sector for a long, long time. We became rent collectors," Conforti said.
Conforti stressed the need for "thinking outside the box and allowing cost-contained failure; allowing something interesting to have its place."
On a company level, Conforti discussed the company's focus on establishing its assets as dominant secondary town centers. He also noted that Washington Prime is redefining the role of the general manager at properties across its portfolio.
By making general managers more visible and accessible, they will be better-equipped to identify "the coolest local and regional operators," according to Conforti.
Washington Prime was formed in May 2014 following a spin-off from Simon Property Group (NYSE: SPG). The company acquired Glimcher Realty Trust in January 2015.