Content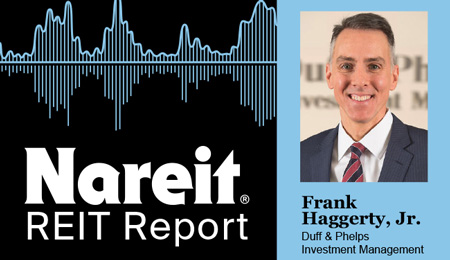 Frank Haggerty, Jr., portfolio manager for all dedicated global real estate securities managed by Duff & Phelps Investment Management, joined Nareit's REIT Report podcast during REITworld 2019 in Los Angeles.
Haggerty highlighted some of the geographic regions that are expected to perform well in 2020. In the United States, he said, Duff & Phelps is most positive on Southeastern markets. The region is seeing the technology job growth that is evident in other parts of the country, he noted, combined with a strong corporate relocation tailwind as companies seek lower-cost and more business-friendly environments.
As for Europe, Dublin, Madrid, and Barcelona are all markets that are showing potential, he said.
In terms of U.S. REIT fundamentals, Haggerty said Duff & Phelps is watching supply: "Clearly given where we're at in the real estate economic cycle, supply is an issue in a number of property types," he said. Growth in jobs and wages are also being closely watched, he added.
Meanwhile, Haggerty said he expects to see a continuation of selective, strategic M&A between public companies next year. IPO activity is likely to also to be limited. "We will see a handful of property deals coming out, particularly if valuations stay at their current level," he said.
Haggerty also noted that businesses that have had strong secular growth stories will probably continue to show good momentum into 2020, although there will not necessarily be the same level of equity prices appreciation as in 2019.