Content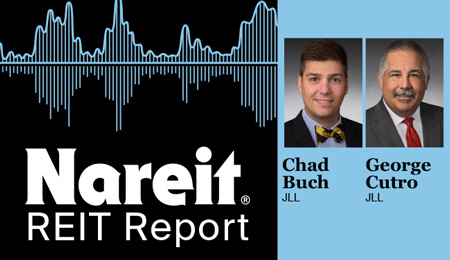 The latest edition of the Nareit REIT Report podcast looked at industrial real estate trends with George Cutro and Chad Buch from JLL's Chicago industrial research team. Cutro and Buch also co-host JLL's Chicago Industrial-Real Time podcast.
Buch said JLL is "cautiously optimistic" for industrial real estate in 2019. Despite global uncertainty, "the fundamentals are really healthy," driven by consumer consumption, e-commerce, and supply chain innovations.
Cutro noted that e-commerce has changed the supply chain cycle, with the advent of smaller sized distribution centers replacing a traditional hub-and-spoke system. "We're seeing a lot more demand in that smaller size, call it under 500,000 square feet, that's really driving today's numbers," Cutro said.
"The big deals all happened a couple of years ago in the coastal and core markets…now this is the second round of smaller and mid-sized deals happening in some of the secondary markets," Buch said.
While all major industrial markets are now in the "peaking phase," according to JLL, "we really don't see many signs of things slowing down," Cutro said. "Are we at the peak? Maybe, but we're still seeing a lot of fundamentals that say we're not."
Buch pointed to record-low cap rate ranges, noting that in some markets cap rates are so low that users cannot find additional space to grow their business. On the capital markets side, there continues to be demand for investors to buy vacant speculative investment buildings and take on the leasing risk, he noted, "so people are still quite optimistic about things."