Content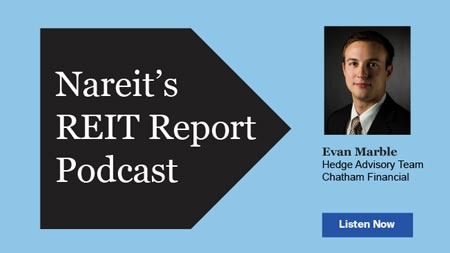 Evan Marble, a member of Chatham Financial's hedge advisory team, was a guest on the latest edition of Nareit's REIT Report podcast.
Marble discussed the planned transition away from the London Interbank Offered Rate (LIBOR) in favor of the Secured Overnight Financing Rate (SOFR). LIBOR is currently the predominant interest rate benchmark for the dollar and other global currencies and is referenced in instruments with "hundreds of trillions" of dollars of notional value, he noted.
LIBOR is expected to be discontinued after 2021. SOFR was released on April 3 and is now publicly available. In July, Fannie Mae issued the market's first-ever SOFR securities, followed by the World Bank and MetLife in August.
"The market's transition from LIBOR as a base borrowing index impacts most if not all of our real estate clients and the market broadly," Marble said. It will impact newly-issued and legacy floating rate mortgages, corporate lines of credit, bank term loans, commercial mortgage backed securities (CMBS), as well as the market for interest rate hedges, he explained.
Marble said the most difficult issue to solve will be the effect of the transition on legacy LIBOR contracts, including contracts that exist currently and those entered into ahead of the transition.
As for steps to prepare for the transition, Marble stressed that this is an evolving topic and investors need to get educated. He also urged companies to take inventory and assess their net exposure to LIBOR.