Content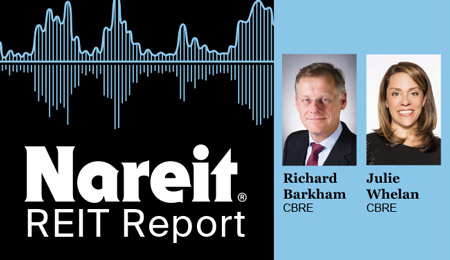 CBRE Chief Global Economist and Head of Americas Research Richard Barkham and CBRE's Head of Occupier Research, Americas, Julie Whelan, joined the REIT Report on March 27 to talk about the economy, commercial real estate, and the impact of the coronavirus pandemic.
Barkham described the economic impact as "brutal in the short term," with GDP in the United States likely to contract by 6.3% in the first quarter and 20% in the second quarter.  If new COVID-19 infections begin to fall by mid-to-late April, and lockdown situations start to ease from mid-May, "we're looking to an improved second half and a very strong 2021," he said.
Fundamentals in the real estate sector were strong heading into the crisis, Whelan observed, as she pointed to solid occupancy levels and a disciplined approach to construction.  "All of that has set us up to weather the storm that we're in quite well," she said.
While capital markets have hit the pause button, some deals are continuing to push through in the industrial sector, Barkham noted. "The crisis has definitely been a nudge in the direction of more e-commerce…investors are continuing to pursue assets in that sector."
Barkham added that while many lenders have become more conservative, "unlike the financial crisis, we haven't seen the debt markets freeze up."  Overall, the level of transactions will be materially down in the second and third quarters, he noted, with capital markets tending to strengthen toward the end of the year.
Turning to property sectors, Barkham said he expects the recovery in the hotel sector to take 12 to 18 months. Occupancy rates will be close to 50% by the end of the year, he added.
Other sectors that look set to benefit from the current environment include cold storage, given the uptick in home food delivery, as well as logistics real estate, he said.
Whelan, meanwhile, pointed out that the crisis has made people more comfortable with remote working. Post crisis, the push toward making the office environment a more preferred place to conduct business "will be extremely important," she said.