Content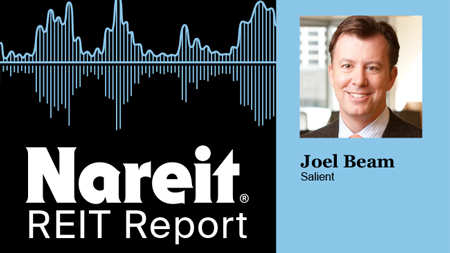 Joel Beam, senior portfolio manager of real estate strategies at Salient, spoke with Nareit's REIT Report podcast in New York at REITweek: 2019 Investor Conference.
Trade tensions are reinforcing the value of property investment in general, according to Beam. REITs have outperformed this year and have outperformed "meaningfully" versus the broader market since April 30, he said. "I think that's a testament that real estate represents a flight-to-safety approach for a lot of folks."
While certain subsectors may have more exposure to trade policy changes, "we're really waiting for clarity on these matters before making portfolio changes. To some extent it's too soon to tell," Beam said.
Beam also commented on the ongoing impact of e-commerce. "To me, the drama in this space is all about what happens to retail…we're in a situation where tenants have more leverage and more choices, and landlords on the margin are having to rethink how they tenant their properties," he said.
Meanwhile, Beam described the level of capital looking to invest in the REIT sector as "enormous."
"The opportunity to earn consistent, high-single or low double-digit returns from a low volatility asset like real estate, with an important income component as a part of that total return calculus, is very, very attractive for long term investors and helps explain that wall of capital," Beam said.