Content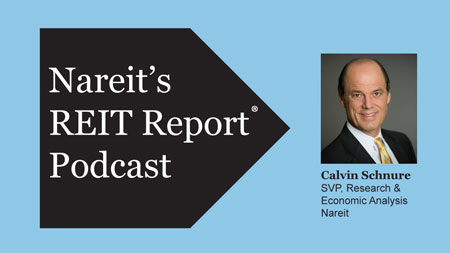 In the latest edition of the REIT Report podcast, Nareit Senior Economist Calvin Schnure said the ultimate economic and financial impact of COVID-19 will be unclear until there is more progress on the public health front.
Authorities, meanwhile, are acting quickly to support the economy, including the resurrection of the Federal Reserve's crisis programs, Schnure noted.
"The most important impact on the economy is the short-term cash flow problems for businesses that rely on face-to-face interactions with the public…it is encouraging that authorities are acting quickly to support the economy through this period," Schnure said.
Schnure added that the severity of the COVID-19 impact varies widely across property sectors. Some sectors, such as hotels and retail, face immediate cash flow issues, whereas others see a different picture.  "If you look at the stock market data there are some REIT sectors like self-storage, data centers, and infrastructure that really may face less impact than the rest of the economy and might even have some tailwind from the increased use of electronic communications," he said.
Schnure will join the REIT Report each week to provide the latest insight into the impact of COVID-19.