Content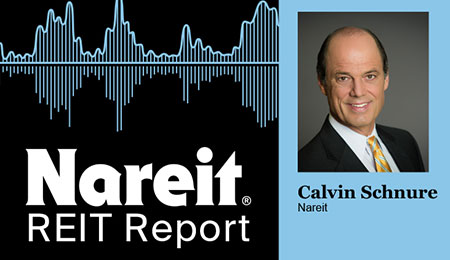 REIT share prices, buoyed by positive developments with regard to progress on a COVID-19 vaccine, ended last week at their highest levels since the start of the pandemic, according to Nareit Senior Economist Calvin Schnure.
Speaking Nov. 16 on the REIT Report, Schnure noted that news that Pfizer trials showed a success rate of 90% sent REITs sharply higher, especially for those sectors most impacted by the pandemic.
Lodging and resort REITs were up 31% on Nov. 9 alone, while retail REITs were up nearly 20%. REITs closed out the week at the highest Friday close since March 6.
News last week from Pfizer, and most recently from Moderna, indicating a 94.5% success rate in vaccine trials, is "really good news, both for public health and also for the economy and for REITs," Schnure said.
While acknowledging the time and challenges involved in bringing a successful vaccine to market, Schnure said the news "gives us a clear idea of an end date to the most dangerous phase of the pandemic." He added that economic activity could start to get back to normal by the middle of next year.
Schnure also commented on the latest T-Tracker report, which showed a 5.6% increase in funds from operations (FFO) in the third quarter.