Content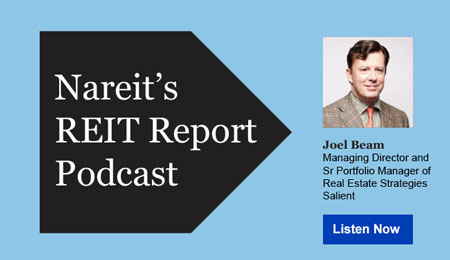 Joel Beam, managing director and senior portfolio manager at Salient, was a guest on the latest edition of Nareit's REIT Report Podcast.
Beam, lead manager of the Salient Select Income Fund, commented on the variety of factors impacting the REIT market today. "What we see as front and center right now is really volatility," he noted.
"The expectation of what returns folks need, evolving expectations of what the companies can provide, change – particularly as it affects some property sectors like retail–these are all things that are top of mind right now," Beam noted.
With its orientation toward value stocks, the Salient Select Income Fund is "very intrigued" by retail and health care, Beam explained. He also looked back at the nearly 17-year history of the fund and pointed out that it has had a "good" performance in 10 out of 12 periods when interest rates were rising.
Beam also offered advice for investors during periods of market volatility.
"The reality is that real estate equities have provided almost a 9 percent return annually looking back over 20 years and that is an enviable accomplishment. The good news about investing in REITs is that the likelihood of achieving those kinds of returns for another 20 years is really quite strong," Beam said.