Content

Message from the President

Last week, President Barack Obama released his Fiscal Year 2014 budget proposal. As described in the article below, we were pleased to see four items in particular in his proposal.

First and foremost, the Administration's legislative initiative to exempt certain foreign pension funds investing in the United States from the Foreign Investment in Real Property Tax Act is noteworthy and in the spirit of FIRPTA reform long sought by NAREIT. In addition, the Obama proposals to improve the Low Income Housing Tax Credit and Energy Efficiency Deduction for REIT shareholders are significant. Finally, the budget proposal to streamline the "preferential dividend" rule for public REITs is welcome. Over the past year, NAREIT has carried on an active dialogue with the Administration on all four issues.

With respect to tax reform, the Administration's budget proposal sets forth a "reserve" for corporate tax reform. The Administration anticipates calling on the "reserve" as part of its ongoing budget negotiations with Congress.

As reported to you previously in connection with tax reform, the House Committee on Ways and Means has formed 11 working groups to review the Internal Revenue Code in the context of comprehensive tax reform and to compile feedback from stakeholders, academics and think tanks, practitioners, the general public and colleagues.

Consequently, NAREIT has begun a constructive dialogue with various members of the committee and, as described below, NAREIT filed its submission to the House Committee on Ways and Means' working groups today.

As the budget negotiations proceed and as the tax reform debate unfolds in Congress, NAREIT will work to ensure policymakers fully take into account the important role of REITs and real estate investment in our economy.







Steven A. Wechsler
President and CEO
 
Obama Budget Includes REIT-Related Provisions
President Barack Obama's Fiscal Year 2014 budget proposal includes four REIT-related measures that NAREIT views as constructive.

First, the budget calls for exempting from U.S. tax under the Foreign Investment in Real Property Tax Act (FIRPTA) capital gains of certain foreign pension funds from the disposition of U.S. real property interests.

Second, for distributions that are made in taxable years beginning after the date of enactment, the budget proposes to repeal the preferential dividend rule for "publicly offered" REITs. The preferential dividend rule could result in a REIT losing its dividend paid deduction or even REIT status for an inadvertent error.

Also, the budget proposes reforming the Low-Income Housing Tax Credit (LIHTC) program with modifications to make LIHTCs "beneficial" to REITs.

Finally, the budget proposes to modify and permanently extend the current tax deduction for energy-efficient commercial buildings expenditures, including changes backed by NAREIT and other national real estate organizations to allow the deduction to be used for building retrofits and to change the earnings and profits rules to allow REITs to effectively use this deduction.

NAREIT published a FirstBrief document last week with further details on the proposals.

(Contact: Dara Bernstein at dbernstein@nareit.com)
 
NAREIT Weighs in with Ways and Means on Tax Reform

As the House Committee on Ways and Means begins to consider fundamental reform of the tax code, NAREIT has provided the tax-writing panel with a comprehensive document on the role of REITs in the economy and the benefits of REIT investment, both in the United States and abroad.

In February, Ways and Means Committee Chairman Dave Camp (R-MI) and Ranking Member Sander Levin (D-MI) created 11 separate working groups within the committee membership to study comprehensive tax reform: Charitable/Exempt Organizations; Debt, Equity and Capital; Education and Family Benefits; Energy; Financial Services; Income and Tax Distribution; International; Manufacturing; Pensions/Retirement; Real Estate; and Small Business/Pass-throughs. The committee leaders have tasked the working groups with reviewing current law on their assigned areas and collecting feedback on the topics. A number of issues under consideration may pertain to REIT-based as well as other real estate investment, prompting NAREIT to offer appropriate feedback.

"For more than 50 years, REITs have built a record of success in meeting the intent of Congress to provide individuals from all walks of life with the opportunity to earn the benefits of long-term real estate investment," said NAREIT President and CEO Steven A. Wechsler. "Today, REITs operate in virtually every sector of the economy and have become widely accepted in the investment landscape, so we think it's important to help ensure these working groups have a broad understanding of what REITs are and how they benefit the country."

NAREIT also intends to submit more detailed letters to discuss the three detailed discussion drafts that the Ways and Means Committee has issued regarding derivatives, international tax and small business/passthrough entities.

(Contact: Tony Edwards at tedwards@nareit.com)
REIT.com Video: Calvin Schnure, NAREIT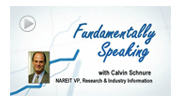 In the April 2013 edition of Fundamentally Speaking, Calvin Schnure, NAREIT's vice president of research and industry information, discussed the most recent jobs report.

"This was a very disappointing report [with non-farm payrolls rising only 88,000], and the employment report is probably the single-most important piece of news we have on the overall U.S. economy," Schnure said.

But Schnure continued that most other indicators are at odds with the weak message in the headlines. "The average work week increased a tenth of an hour, and the index of total hours worked rose three-tenths of a percent. That's a fairly robust number. This is not consistent with employers cutting back," he said.

"Initial jobless claims continue to move down. There's no sign that employers are laying off, [and] February job openings rose to the highest they have been since early 2008. So, we don't see signs that the overall economy suddenly fell off of a cliff."

Schnure said one possible explanation for the mixed messages in the jobs report is a decline in the number of people who would like to work full-time but are working part-time. Part-time employment fell sharply in March, Schnure noted, which indicates the increase in full-time jobs was significantly larger than suggested by the headline number.

Schnure noted that many economists have focused on the negative impact of the sequester and payroll tax increase on GDP growth relative to baseline.

"What you need to keep in mind is that the baseline has continued to move up. It's moved up more than a half of a percentage point, so I actually expect the economy to grow stronger in the second half of the year," he said.

(Contact: Calvin Schnure at cschnure@nareit.com)
 
REESA Members Meet to Discuss Common Objectives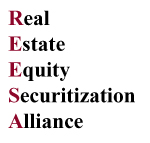 NAREIT joined representatives from other members of the Real Estate Equity Securitization Alliance (REESA) last week in London for a productive meeting on the state of the global commercial real estate landscape. In addition to updates on each organization's region, the meeting centered on several key issues of common interest.

The meeting began with an overview and update of the Global Real Estate Sustainability Benchmark by (GRESB) co-founder Nils Kok. Collectively, REESA members are supportive of GRESB's efforts to further sustainability efforts in commercial real estate globally. REESA will form a committee among its member organizations to consolidate feedback and report back to GRESB.

Other issues discussed at the meeting included potential changes to the U.K. REIT rules, the creation of a matrix to track the various funds from operations (FFO) measurements in use among REESA members, an update on the German government's alternative investment fund proposal and the latest on the IVSC Working Group on Global Standards for Investment Property Valuation.

(Contact: Bonnie Gottlieb at bgottlieb@nareit.com)
NAREIT Comments to German Regulators on Directive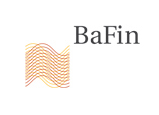 NAREIT wrote to Germany's BaFin regulatory body last week to provide comments on the BaFin's interpretation of the terms "investment fund" and "alternative investment fund" (AIF) under the EU Alternative Investment Fund Managers Directive (AIFMD).

NAREIT emphasized that any such measure should recognize the difference between the real estate industry and real estate investment funds.

"NAREIT's primary objective is to avoid a circumstance whereby real estate market participants, including our U.S. REIT members, would face an uncertain regulatory landscape in Europe, unsure of whether they were obliged to comply with not only the AIFMD (especially in connection with their outreach to European institutional investors), but also with other pieces of EU financial services legislation that apply to AIFs," said Tony Edwards, NAREIT executive vice president and general counsel, in the letter.

(Contact: Victoria Rostow at vrostow@nareit.com)
REIT.com Videos: REITWise 2013
REIT.com was onsite at REITWise 2013 in La Quinta, Calif., to speak with attendees about some of the latest developments in the commercial real estate industry. Below are some of the highlights from those interviews.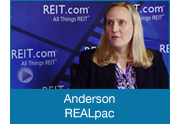 Nancy Anderson, vice president of financial reporting and CFO with REALpac, said Canada's commercial real estate market continues to be on an upswing.

"In 2012 we saw rents trending upward, we saw an active and liquid investment real estate market, and we're expecting a lot more of the same for 2013," she said.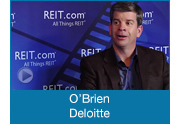 Bob O'Brien, partner and vice chairman with Deloitte & Touche LLP, said he has started to see U.S. REITs begin to look for growth opportunities overseas again following a pullback caused by the financial crisis. REITs that invest overseas are faced with some operational complexities, according to O'Brien, who pointed out that there are different business customs as well as laws and regulations overseas.

"It's really important to have people locally who understand that, and so oftentimes what we're seeing are REITs forming joint ventures overseas with a local player in that market, rather than try to do it on their own," he said.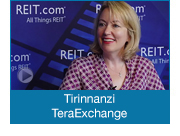 Marti Tirinnanzi, senior vice president with TeraExchange, described the overall health of the derivatives market following the enactment of the Dodd-Frank financial reform legislation in response to the global economic crisis.

"The market is improving, but it's in transition right now," she said. "It's going from an opaque market that was once controlled by a few large banks to one that's more of an open marketplace that offers price transparency and also offers the benefit of mitigating counterparty and systemic risks. It's a market that all market participants can have confidence in, which is a really good thing."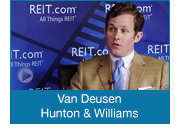 Mark Van Deusen, partner with Hunton & Williams, discussed the role that mortgage REITs are playing in securitization activity. Van Deusen said he expects REITs will become more active in that area.

"During the financial crisis, it was all about the agencies," he said. "When I am talking to potential new clients that are looking at starting mortgage REITs, one of the asset classes that they always talk about doing is jumbo loans and potentially securitizing those. I think over time that is going to come back into play."

(Contact: Matt Bechard at mbechard@nareit.com)
Defined Contribution Association Expands Reach in Fourth Year

Last week, the NAREIT Investor Outreach team participated in the fourth-annual Public Policy Forum of the Defined Contribution Institutional Investment Association (DCIIA). The four-year-old association seeks to improve the $5.3 trillion defined contribution (DC) retirement plan system. Since it was established in January 2010, DCIIA has steadily built an impressive membership roster that includes a vast majority of the most visible thought-leaders in the DC industry. As evidence of this, approximately 100 individuals attended the first Public Policy Forum in 2010. This year's event drew more than 250.

In addition to NAREIT, founding members include some of the largest investment consultants, such as Callan Associates, Hewitt Ennis Knupp, Ibbotson Associates, Mercer, Morningstar and TowersWatson. DCIIA members also include major investment managers such as AllianceBernstein, BlackRock, Fidelity Investments, Goldman Sachs, J.P. Morgan, PIMCO, Russell Investments, T. Rowe Price, UBS, Vanguard, Wellington Management and Wells Fargo. NAREIT maintains an ongoing dialogue with these organizations through its direct meetings program. Plan sponsors of the largest and most influential DC plans also participate.

As a board member, NAREIT has been asked to serve on the organization's public policy and investment policy and design committees. Advocating for the automation of key aspects of DC plan participation is of particular importance to NAREIT as well as promoting full opportunity for the inclusion of all major asset classes and investment product formats within DC plans.

Attendees at the Washington, D.C., forum heard presentations by individuals from congressional committees and regulatory bodies with jurisdiction over DC plans. They included the Senate Finance Committee; the Senate Health, Education, Labor and Pension Committee; the House Committee on Education and Workforce; the Department of Labor; and the Securities and Exchange Commission. Representatives from the Bipartisan Policy Center, the Pension Rights Center, the AARP Pension Policy Institute and the Employee Benefits Research Institute appeared as well.

(Contact: Kurt Walten at kwalten@nareit.com)

 
Lead Paint Program to Address Potential Hazards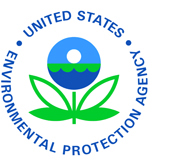 NAREIT joined a coalition of industry organizations last month in writing to the U.S. Environmental Protection Agency (EPA) to provide input on its lead renovation, repair and painting program for public and commercial buildings.

Noting the expansiveness of the EPA's potential oversight program, NAREIT and its partners in the Commercial Properties Coalition offered suggestions on its structure. Among them, the coalition advised the EPA that it "inventory and consider whether existing regulatory programs and industry practices already address any potential lead-based paint hazards and renovation work practices in public and commercial buildings."

(Contact: Robert Dibblee at rdibblee@nareit.com)
 
REIT.com Videos: Leader in the Light Working Forum
Attendees at the Leader in the Light Working Forum talked with REIT.com about some of the latest developments in sustainability.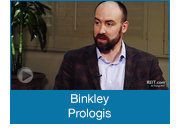 Aaron Binkley, director of sustainability programs with Prologis (NYSE: PLD), said the key to creating a Leader in the Light Award-winning sustainability program is making sure that everyone is on the same page with the goals that the company has and how they communicate them, and how they deliver that message to their customers. He added that the company measures the success of its sustainability initiatives in three areas.

"One is sustainable development activity, the second is energy efficiency improvements to our operating portfolio and the third is renewable energy," he said. "We've been able to make continued progress in each of those three areas."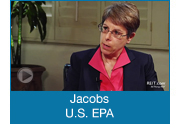 Cindy Jacobs, senior advisor for Energy Star with the United States Environmental Protection Agency (EPA), discussed the progress that REITs have made with respect to sustainability and best practices in energy efficiency.

"I think there has really been a sea change in the way that commercial real estate companies view energy use. When we first started talking to companies about energy management, there really wasn't a good understanding of what's entailed in energy management and the fact that energy use and costs are controllable," she said. "But, as more and more companies began to take stock of their energy use, I think that realization started to dawn."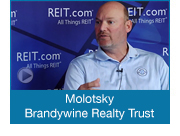 Brad Molotsky, executive vice president and general counsel with Brandywine Realty Trust (NYSE: BDN), discussed how the company measures the success of its sustainability initiatives. Brandywine was recently recognized as a 2013 Energy Star Partner of the Year.

"Measurement is tough," he said. "We've looked at a variety of tools in order to help us. In certain circumstances like trash, we have all of our vendors reporting directly to us, not to our property managers. On other things we have enterprise software that will measure dynamic payback across the portfolio," he said.

(Contact: Matt Bechard at mbechard@nareit.com)
NAREIT Members Receive Discount at SNL REIT School

With more than a dozen years in the marketplace, SNL's REIT School has become one of the industry's most comprehensive introductions to the capital, financing and balance sheet strategies unique to the real estate sector. The next REIT School will be held June 24-25 in Chicago. NAREIT members who register online before May 10 save $200. Be sure to use the offer code: NAREIT200.

REIT School is an introductory program for those relatively new to the REIT industry. This program presumes familiarity with basic accounting and corporate finance concepts. Prior to the program, participants will receive materials for the "Investing in REITs" case study as well as suggested reading for those new to the sector.

(Contact: Jeff Henriksen at jhenriksen@nareit.com)
Register Today for REITWeek


REITWeek 2013: NAREIT's Investor Forum will be held June 5-7, at the Hilton Chicago. REITWeek brings the largest concentration of REIT management teams into one location, providing investors with the opportunity to evaluate REIT business models, identify sector and market trends, and participate in company Q&A's. Thousands of institutional investors will converge to hear and meet more than 160 REIT management teams.

REITWeek 2013 is a complimentary, invitation-only event for institutional investors and NAREIT Corporate Members. For institutional investors to attend this event, they need to first qualify by filling out NAREIT's "Request an Invitation" form. Once qualified, investors will be invited to complete their registration and attend REITWeek 2013.

All NAREIT Corporate Members qualify for complimentary "Fast-Track Registration." Once you have completed your registration, a confirmation e-mail will be sent to you immediately and will include information on how to reserve hotel rooms.

All attendees must pre-register before the beginning of the event.

(Contact: Katelyn Rowland at krowland@nareit.com)