Content

Message from the President

Ongoing efforts to reform the Foreign Investment in Real Property Tax Act (FIRPTA) took an important step forward last week with the introduction in the House of Representatives of the Real Estate Investment and Jobs Act of 2013. As reported in the story below, the House legislation is a companion bill to legislation introduced in the Senate in June.

We greatly appreciate the leadership of Reps. Kevin Brady (R-TX) and Joe Crowley (D-NY) – both members of the House Ways and Means Committee – in introducing the new legislation, as well as the bipartisan support of their 13 co-sponsors, 10 of whom also serve on Ways and Means: Reps. Earl Blumenauer (D-OR), Jim Gerlach (R-PA), Lynn Jenkins (R-KS), Sam Johnson (R-TX), Ron Kind (D-WI), Peter King (R-NY), John Larson (D-CT), Bill Pascrell (D-NJ), Charles Rangel (D-NY), Peter Roskam (R-IL), Aaron Schock (R-IL), Pete Sessions (R-TX) and Chris Van Hollen (D-MD).

NAREIT, The Real Estate Roundtable and other real estate organizations have been advocating for reforms to FIRPTA for a number of years. Enacted in 1980, FIRPTA places a special tax on gains from the sale of equity investments in U.S. real estate – including REIT stock, in certain cases – by overseas investors.

The FIRPTA tax places the U.S. real estate industry at a serious disadvantage in the global competition for equity capital, since no similar tax is placed on gains from the sale of equity investments in other industries. Additionally, since the FIRPTA tax is not levied generally on gains from cross-border investments in U.S. real estate debt, it helps incentivize the use of debt over equity in real estate finance.

The movement to lower FIRPTA's barriers to global investment in U.S. real estate equity appears to be gaining momentum. In addition to the FIRPTA reform measures contained in the House and Senate versions of the Real Estate Investment and Jobs Act, the Obama Administration's fiscal-year 2014 budget released this spring included a legislative proposal that would remove the FIRPTA tax on gains from investments in U.S. real estate equity by overseas pension plans – a major source of cross-border investment capital.

NAREIT will continue to monitor these developments and advocate for reforms in the law that will support the free flow of cross-border equity capital into our industry.







Steven A. Wechsler
President and CEO
 
FIRPTA Reform Proposal Brought Back in House


Reps. Kevin Brady (R-TX) and Joe Crowley (D-NY) last week introduced H.R. 2870, the "Real Estate Investment and Jobs Act of 2013." The measure, which has bipartisan backing in the House, would make two significant changes to the Foreign Investment in Real Property Tax Act (FIRPTA).

The bill is nearly identical to legislation introduced in the 112th Congress and is a companion to S. 1181, introduced by Sens. Robert Menendez (D-NJ) and Mike Enzi (R-WY) in June. Similar to prior versions of this proposal, H.R. 2870 includes a measure that would increase the current "portfolio investor" exception for sales of stock and capital gains dividends of listed REITs from 5 percent to 10 percent. The provision passed the House by a vote of 402-11 as a stand-alone bill in 2010. REIT dividends paid to non-U.S. portfolio investors would remain subject to U.S. withholding (but not FIRPTA) tax.

Additionally, H.R. 2870 would reverse a 2007 IRS Notice with respect to the treatment of liquidating distributions of a domestically controlled qualified investment entity pursuant to which such distributions are currently taxed as a sale of real estate subject to FIRPTA, rather than being taxed as a sale of stock. Prior to 2007, most tax practitioners believed FIRPTA did not apply to these transactions.

(Contact: Kirk Freeman at kfreeman@nareit.com)
REIT.com Video: Brad Case, NAREIT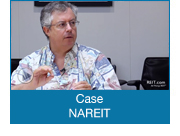 In the latest edition of "Quick Study," Brad Case, NAREIT's senior vice president of research and industry information, provided an analysis of the REIT market's performance in July and for the first seven months of the year. While July marked the third-consecutive month that the REIT market underperformed the broader stock market, Case said that was more a reflection of what's been going in the broader market.

"Over the last year, REITs have been up about 10 percent, but it's been a spectacular run for the stock market. The S&P 500 has been up 25 percent over the last year, and the Russell 2000 small cap stocks have been up 35 percent over the last year," Case said. "So, really, the story is not so much about weakness in the REIT industry. It's that recently the REIT industry has underperformed the stock market because the stock market has been roaring."

Case said recent increases in interest rates have had an impact on the REIT market. "I think the market is reacting to the fact that we've seen interest rates increasing," he said, "although, more recently, we've seen some signs from the Federal Reserve that they're not going to let interest rates get ahead of the economy."

However, Case said he thinks the market may be reacting "inappropriately" to the recent news about monetary policy with respect to REITs.

"We've seen some discussion that kind of treats commercial property just like bonds," he said. "If interest rates go up, the value of a bond will fall. But that's because a bond is a fixed-income instrument. Commercial property is not. Generally speaking, when interest rates are going up, it's because the economy's strengthening, and that's certainly what we're seeing now."

Case added that the strongest performing REIT sectors in July - lodging, industrial, office and retail - are benefiting from an "increase in confidence in the pace of the economic recovery."

(Contact: Brad Case at bcase@nareit.com)
IRS Releases 337(d) Regulations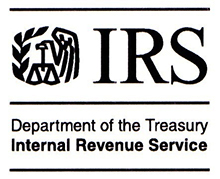 The IRS released final regulations last week under section 337(d) concerning transfers of appreciated property to REITs by tax-exempt corporations or by C-corporations pursuant to a like-kind transaction or involuntary conversion.

The new regulations largely resemble the 2012 proposed regulations under section 337(d). The IRS favorably addressed the comments on the proposed regulations that NAREIT submitted in 2012 .

The new regulations are effective for transactions that occur after Aug. 2, 2013, but they can be applied to earlier transactions.

(Contact: Dara Bernstein at dbernstein@nareit.com)
Investor Outreach Activity Heats Up in July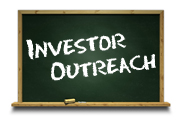 In July, NAREIT's investor outreach team held direct meetings with a diverse group of 20 investment organizations controlling more than $4.2 trillion in assets in the institutional investment market. The 20 meetings were held with organizations across all targeted investment cohorts, including three with prominent domestic and international pension, retirement and sovereign wealth funds representing more than $145 billion in assets. NARET also met with nine investment managers sponsoring global and domestic products for the institutional and retail investor markets with a combined $4 trillion in assets under management. Another eight meetings were held during the month with other organizations and associations active in the real estate investment community.

NAREIT's outreach meetings with investment managers provide significant opportunities to influence REIT allocations within products sold through multiple channels, including those sold through institutional defined contribution (DC) plan platforms. The most important investment-related trend in the $5.3 trillion DC market continues to be the dramatic increase in the use of professionally managed asset allocation products, most notably the adoption of target-date funds. Some industry experts believe that a majority of assets in DC plans will be invested in these types of funds within the next 10 years. In light of the growing importance of asset allocation products, we continue to engage the many different types of organizations operating in this arena, including investment managers offering target-date funds. The investment managers NAREIT has met with since the beginning of the year collectively control close to 67 percent of all target-date fund assets.

Through the end of July, NAREIT has conducted 227 meetings with many of the largest and most influential investment organizations within the institutional investment marketplace. Collectively, these entities represent more than $34 trillion in assets under management or advisement.‬
‬‬‬‬‬‬‬‬‬‬‬‬‬‬
NAREIT has also been active on the institutional investment conference circuit during 2013, attending 29 events, participating as a speaker at seven and as a board member at two. To provide perspective, during the same time period in 2012, NAREIT participated in 20 such conferences.

(Contact: Kurt Walten at kwalten@nareit.com)
NAREIT Welcomes New Member

NAREIT is pleased to welcome Americold Realty Trust as its newest Corporate Member. Americold is an internally managed, private equity REIT that owns and operates more than 180 temperature-controlled warehouses in the United States., Australia, New Zealand, China, Argentina and Canada. Based in Atlanta, Americold's president and CEO is Jeff Gault.

(Contact: Bonnie Gottlieb at bgottlieb@nareit.com)
Sign Up for SFO Workshop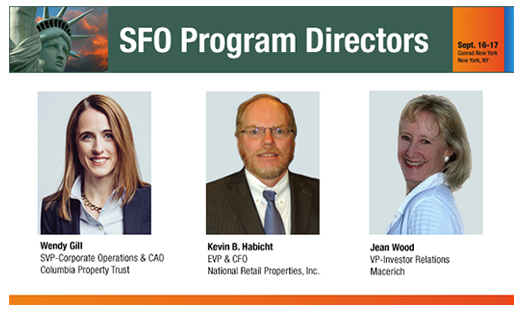 The NAREIT 2013 SFO Workshop, which is being held Sept. 16-17 in New York City, is designed exclusively for NAREIT Corporate Members with a focused educational program tailored to REIT officers who manage accounting, financial reporting, capital markets and investor relations. A schedule of this year's program can be found on REIT.com.

The SFO Workshop program is structured to provide REIT executives with pertinent information that can be taken back to the office and implemented right away. This year's program directors are Wendy Gill of Columbia Property Trust, Kevin Habicht of National Retail Properties (NYSE: NNN) and Jean Wood of Macerich (NYSE: MAC).

Registration is now open. Be sure to act soon to take advantage of early-registration discounts.

(Contact: Afia Nyarko at anyarko@nareit.com)
New Tool Highlights REITs Across America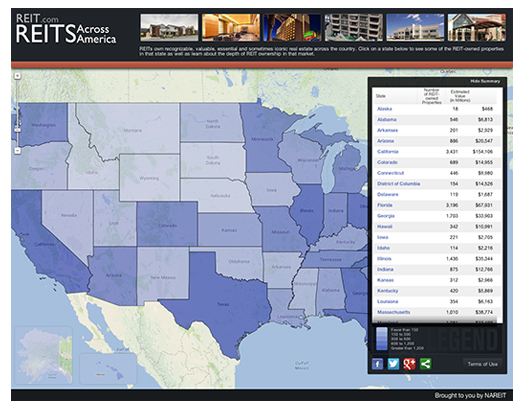 To better promote the REIT approach to real estate investment with policymakers, the media, investors and the public, NAREIT has developed an interactive map accessible through our website, REIT.com. This map, "REITs Across America," highlights the fact that REITs invest in communities throughout the nation by owning and financing assets in each and every state and that these assets include a wide variety of property types.

"REITs Across America" includes a state-by-state breakdown of the number of REIT-owned properties as well as their combined market value. To identify REIT-related properties, the map utilizes SNL data. To estimate current aggregate market value by state, the map uses methodology developed by NAREIT. To illustrate the range and types of properties provided by REITs, photos of representative properties owned by REITs are used for each state in the map.

The map is intended to be a living document and we encourage companies who have not sent in photos or would like to send additional photos to reach out to Matt Bechard (202.739.9448 or mbechard@nareit.com), NAREIT's vice president for publications, to add property photos from your company to the map.

(Contact: Matt Bechard at mbechard@nareit.com)