Content

Message from the President
Talk about tax reform is alive and well in Washington.

Today, President Obama released his 2016 budget, saying it "rewards hard work, generates rising incomes, and allows everyone to share in the prosperity of a growing America." As part of his tax reform measures, the president's budget would raise taxes on families earning more than $250,000 per year, increase the capital gains tax rate, increase taxes on foreign earnings of U.S. companies, and tax appreciated property at death. With the revenues generated from these and other tax changes, President Obama proposes to expand investment in infrastructure, expand the earned income tax credit, enhance educational financial support, expand access to affordable child care and more. (CLICK HERE for a White House fact sheet on Obama's plan.)

With respect to REITs and real estate investment, the budget would treat foreign pension funds the same as U.S. pension funds for FIRPTA purposes which NAREIT supports and effectively end tax-deferred like kind exchanges which NAREIT opposes.

Senate Finance Committee Chairman Orrin Hatch (R-UT) and Ranking Member Ron Wyden (D-OR) recently formed bipartisan working groups to study tax reform. The groups will look at five areas: individual taxes, business taxes, savings and investment, international taxes, and community development and infrastructure.

Meanwhile, House Ways and Means Committee Chairman Paul Ryan (R-WI) appearing on NBC's "Meet the Press yesterday indicated that the committee would take a broad look at potential tax reform options.

As in past years, in 2015 NAREIT will be fully engaged in the tax reform dialogue with policy makers. As part of this initiative, NAREIT will ensure that policy makers better understand the REIT approach to real estate investment as well as NAREIT's perspective on specific issues of importance to REITs and real estate investment.







Steven A. Wechsler
President and CEO
NAREIT Investor Outreach Team Active in January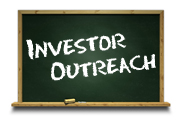 In January, NAREIT's Investor Outreach team held direct meetings with a diverse group of 27 investment organizations controlling more than $8 trillion in assets in the institutional investment market.

The 27 meetings were held with organizations across all targeted investment cohorts, including two with prominent domestic pension plans representing close to $300 billion in assets combined; two with investment consultants with assets under advisement of more than $2 trillion in total; and 17 with investment managers that sponsor global and domestic products for the institutional and retail investor markets and have more $5 trillion combined in assets under management. Another six meetings were held with other organizations and associations active in the investment management industry.

Ten of the meetings held in January were with investment managers active in both the $7.0 trillion defined contribution and $7.2 trillion IRA markets. NAREIT's meetings and ongoing relationships with these leading firms provide us with the opportunity to influence two-thirds of the entire $20.7 trillion retirement market.

NAREIT also participated as a speaker and a board member at two events on the academic and institutional investment conference circuit during the first month of this year.

(Contact: Abby McCarthy at amccarthy@nareit.com)
2015 Washington Leadership Forum Approaching


NAREIT's 2015 Washington Leadership Forum will take place Feb. 24 and 25. The CEOs of NAREIT's U.S.-based corporate member companies are invited to participate.

The Washington Leadership Forum annually provides leaders of the REIT and publicly traded real estate industry with the opportunity to interact with key Washington policymakers, tell them the story of REITs and publicly traded real estate, comment on the critical issues of the day, and advance NAREIT's public policy initiatives.

This year's event will be based out of The Hay-Adams hotel in Washington, D.C. CLICK HERE for more information.

(Contact: Katelyn Rowland at krowland@nareit.com)
"Shark Tank" Lauds REIT Approach to Real Estate Investment

In the latest episode of ABC's popular reality series "Shark Tank," Kevin O'Leary, chairman of O'Leary Funds and a member of the show's panel of venture capitalists, touts the investment benefits of the REIT-based real estate investment.

Through REITs, investors "can get total diversification in real estate, total liquidity," he said. "I can buy and sell it any day I want and I'm going to get my yield of 4.5 percent, and I have 5,000 properties inside the REIT."

(Contact: Matt Bechard at mbechard@nareit.com)
NAREIT's Despins Attends 2015 VIP: Visions Insights & Perspectives Americas Conference

Meredith Despins, NAREIT's vice president of research and investor outreach, attended the 2015 VIP: Visions Insights & Perspectives Americas conference sponsored by Institutional Real Estate, Inc. (IREI).

Targeting institutional real estate investors and their advisers, the program focused on the impact of economic, technological and demographic trends on institutional real estate investment.

One of the highlights of the VIP conference each year is a discussion of preliminary findings from an annual investor survey conducted jointly by IREI and Kingsley Associates that seeks to capture data on investor sentiment and actual and targeted capital flows into commercial real estate investment.

The findings of this year's survey suggest that investors' targeted allocation to real estate is approximately 9 percent of total assets, and most investors are currently under-invested relative to their targets. The implication is that more money is likely to be invested in real estate during the course of 2015 to meet targets.

More than 80 percent of the new capital for investment in 2015 is earmarked for domestic investment, with investors continuing to favor equity investment in core real estate.

(Contact: Meredith Despins at mdespins@nareit.com)
REIT.com Videos: Leader in the Light Working Forum
REIT.com was on hand at last month's 2015 Leader in the Light Working Forum to conduct interviews with real estate sustainability specialists in attendance. Here are a sample of some of the videos now available at REIT.com.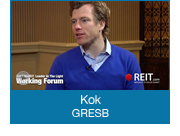 Nils Kok, founder and executive director of the Global Real Estate Sustainability Benchmark (GRESB), says he has observed an increasing interest in "green bonds" from fixed-income investors. The proceeds from these bonds are used to finance sustainability initiatives.

"REITs are at the forefront of issuing green bonds," Kok says. "What it's going to lead to is more capital flowing into the real estate sector because investors in those green bonds are investors who might otherwise not invest in real estate."

CLICK HERE to see Kok's interview in its entirety.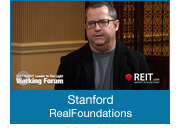 David Stanford, founder and executive managing director of professional services firm RealFoundations, discusses the changes he has seen in the REIT industry's interest in sustainability. About five years ago, he notes, sustainability was still a "very nascent thing." However, the development of (GRESB) and growth of interest from institutional investors have changed the landscape.

"It's become a serious topic, and it has the weight of capital behind it. I think that's the biggest push," Stanford notes.

CLICK HERE to see Stanford's interview in its entirety.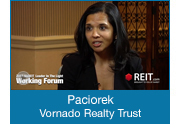 Sukanya Paciorek, senior vice president of corporate sustainability at Vornado Realty Trust (NYSE: VNO), addresses the growing awareness of the impact that buildings can have on the health of tenants. She points out that new standards are being developed to determine what constitutes a healthy building.

"We really see that as the next frontier in terms of what we are offering," she added.

CLICK HERE to see Paciorek's interview in its entirety.

(Contact: Matt Bechard at mbechard@nareit.com)
NAREIT Welcomes New Corporate Member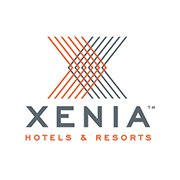 NAREIT welcomes Xenia Hotels & Resorts, Inc. (NYSE: XHR) as its newest corporate member.

Xenia is based in Orlando, Fla.

Xenia owns a diversified portfolio of 46 lodging properties, including premium full-service, lifestyle and urban upscale hotels throughout the United States.

Marcel Verbaas is the company's president and CEO.

(Contact: Bonnie Gottlieb at bgottlieb@nareit.com)
| | |
| --- | --- |
| Follow us on:   | REIT.com RSS Feeds:   |