Content

Message from the President

Today's financial markets are global, and, increasingly, they are being governed by common sets of rules. As the story in this week's issue of NewsBrief reports, an issue currently under discussion in the global banking marketplace is the implementation of the international Basel III capital framework, which was approved by the U.S. Federal Reserve Board this month.

Regulations that affect the availability and cost of bank credit have a significant impact on REITs and commercial real estate. NAREIT has actively participated in the discussion of these new rules to help regulators understand our industry's needs and provide our perspective.

As today's credit markets are global and interconnected, so is today's equity investment marketplace. In this arena, NAREIT is working to remove barriers to the flow of global investment capital into the U.S. REIT industry by advocating for reform of the Foreign Investment in Real Property Tax Act (FIRPTA). FIRPTA currently discourages cross-border equity investment in U.S. real estate by placing a heavy tax burden on non-U.S. investors' gains from the sale of equity interests in real estate.

Additionally, NAREIT is reaching out directly to regulators in other countries to build their understanding of the U.S REIT industry and encourage harmonization of REIT laws and regulations based on the U.S. model to help provide the basis for broader global REIT investment opportunities. Recently, members of NAREIT's Investor Outreach staff traveled to Mexico City to discuss REITs and REIT investment with the president of the Comision Nacional Bancaria y de Valores (CNBV), the agency responsible for regulation of Mexico's financial system.

For U.S. REITs, the credit and investment markets today do not stop at the water's edge, and neither do NAREIT's efforts on our industry's behalf.








Steven A. Wechsler
President and CEO
 
Basel III Rules Released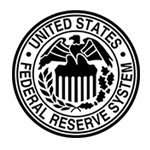 On July 2, the Board of Governors of the Federal Reserve System (the FRB) unanimously approved final rules (Final Basel Rules) establishing a new comprehensive capital framework for U.S. banks to implement the international Basel III capital framework. Despite vehement objections from many sectors of the financial services industry, including a strongly worded 180-page comment jointly authored by the three largest bank trade associations urging that the proposed rule be scrapped and re-proposed, the Final Basel III Rules remain broadly consistent with the proposal floated more than a year ago.

NAREIT, together with other organizations that represent commercial real estate borrowers, submitted a comment letter in October 2012, expressing the group's collective concerns about potential effects of the proposed rule on commercial real estate borrowers' access to and cost of bank credit. Several of NAREIT's suggestions are reflected in the Final Basel Rules. However, as is true for many of the other suggestions, NAREIT sees several troubling aspects of the proposal that remain unchanged.

Of note, the Final Basel Rules reflect NAREIT's request for clarification and narrowing of the definition of high volatility commercial real estate ("HVCRE"). The FRB agreed with the suggestion that when a development project credit facility is converted to permanent financing in accordance with the banking organization's normal lending terms, the permanent financing is no longer an HVCRE exposure. The regulators also excluded certain commercial real estate loans that facilitate community development projects and loans secured by agricultural land from the HVCRE definition.

With regard to residential housing, the regulators agreed with NAREIT that the risk weightings assigned to residential mortgages should hew more closely to actual risk and that PMI should be taken into account in this regard. The Final Basel Rules retain the existing rules' risk weightings for residential mortgage loans of 50 percent for high-quality, seasoned residential mortgage loans and 100 percent for all other residential mortgage loans set forth under current guidelines, rather than moving to the higher weightings put forward in the initial Basel proposal. Nevertheless, the Final Basel Rules, when fully implemented in several years, are expected to constrict bank credit for residential mortgages. At the unveiling of the Final Basel Rules, FRB Governor Daniel Tarullo acknowledged that the cumulative effect of the Final Basel Rules, together with the FRB's stress test rules and capital planning rules applicable to larger banks, will have the practical effect of imposing a "higher capital expectation" with respect to higher-risk mortgages held by banks, regardless of the risk weighting.

This is likely to be compounded by the final treatment of mortgage servicing rights (MSRs) and warehouse lines of credit. NAREIT and others had expressed serious concern about the capital burden placed on MSRs in the 2012 proposed rules, and the regulators granted modest relief. The Final Basel Rules require that MSRs, deferred tax assets and investments in unconsolidated financial institutions be limited individually to 10 percent and collectively to 15 percent of the common equity component of a bank's Tier 1 capital.

NAREIT and its industry partners expect to continue to work with the Federal Reserve, the Office of the Comptroller of the Currency and the Federal Deposit Insurance Corp. as these rules are phased in and will report additional developments.

(Contact: Victoria Rostow at vrostow@nareit.com)
REIT.com Videos: CEO Spotlights
REIT.com's video team sat down with three dozen REIT CEOs during REITWeek 2013 to discuss recent company developments, strategic plans and thoughts on where the market is headed. New videos will be made available on REIT.com regularly for the next several weeks. Below is a sample of the interviews currently available.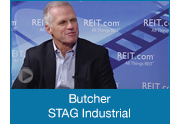 Ben Butcher, president and CEO of STAG Industrial, Inc. (NYSE: STAG), said the company is finding opportunities for accretive growth.

"We grew about 70 percent last year on a square-footage basis and we expect to grow at least 25 percent this year," he said. "The opportunities are there because we do something a little different than the other companies, so we therefore have a little less competition than people who are viewed as peers."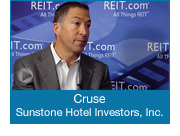 Ken Cruse, CEO of Sunstone Hotel Investors, Inc. (NYSE: SHO), noted that while group business has been a "laggard" during the lodging sector's recovery, that segment of the market is strengthening as well.

"As a result, industry occupancies are at around prior peak levels, close to 80 percent," he said. "Industry rates are also approaching prior peak levels, although they're slightly behind there. Things are generally good. We're tied up with the broader economy, so, as with any cyclical recovery, you've seen fits and starts and little bumps along the way. But, in general, it has been a very healthy recovery. I think we're entering into what we would characterize as the sweet spot of this recovery, in that now that we're at peak occupancy levels, we can start to drive more and more of our demand through rate, which translates into much better profitability for our hotels."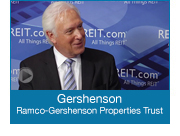 Dennis Gershenson, president and CEO of Ramco-Gershenson Properties Trust (NYSE: RPT), discussed the company's strategy to enhance the quality of its portfolio, which includes disposing of some of its assets.

"We're interested in owning a portfolio of high-quality shopping centers in major metropolitan markets, primarily multi-anchored shopping centers," he said. "Therefore, as a part of our portfolio, we had a number of assets that maybe didn't qualify for what we want to own going forward."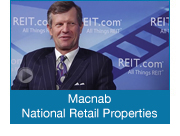 Craig Macnab, chairman and CEO with National Retail Properties (NYSE: NNN), shared his opinion on the key factors for maintaining recovery in the retail sector.

"I think what you're seeing is market shifts taking place, and not much rising tide lifting all the boats," he said. "There's a little bit of growth, but it's a dog-eat-dog environment. Just think about Wal-Mart. In the most recent quarter, they announced negative same-store sales. They're executing pretty well, but their boat is not rising in this environment. In general, retail is doing fine, but clearly we need more jobs, which is going to lead to the consumer having more money in their pocket."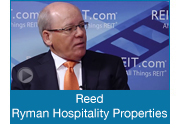 Colin Reed, chairman and CEO of Ryman Hospitality Properties (NYSE: RHP), described the benefits his company is seeing from its affiliation with worldwide lodging company Marriott International.

"The long-term benefits to us we see as very exciting," he said. "We expect to get a lot of leisure business though their frequent flier program, which is one of the biggest in the world, if not the biggest in the world. They just have more contacts with the corporate community than we did historically, so we see a better fit there. And we believe over time the way they go about managing technology and their systems, we should see a reduction in costs in our business. So, we're very excited about this."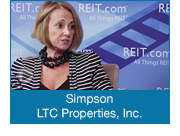 Wendy Simpson, president and CEO of LTC Properties, Inc. (NYSE: LTC), said the California-based REIT's investment strategy has changed. In addition to acquisitions, LTC Properties is now involved in the development of new properties.

"We identified some unmet needs in the memory care area and we started looking for operators to work with to build new properties," she said. "So we're building some properties that are all memory care, we're building some properties that are partly memory care and partly assisted living, and we're also building skilled nursing properties."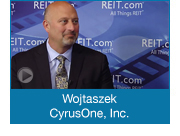 Gary Wojtaszek, president and CEO of data center REIT CyrusOne, Inc. (NYSE: CONE), said trying to stay ahead of demand has always been a challenge for the company. CyrusOne's portfolio space has been growing at a rate of more than 20 percent per year, according to Wojtaszek.

"We've been trying to get out in front of that demand by developing many properties around the country," he said. "We're finally at the point now where we can take a breather. We've got enough capacity now to meet that demand. The challenge, though, is that the amount of data being created in the world is actually accelerating."

(Contact: Matt Bechard at mbechard@nareit.com)
FASB, IASB Holding Roundtables on Leases Proposal

On July 2 the Financial Accounting Standards Board (FASB) and the International Accounting Standards Board (IASB) announced the dates for their joint public roundtable meetings on the Revised Leases Proposal. NAREIT has requested to participate at a roundtable and encourages its members to consider registering as participants in order to provide valuable input to the boards on the proposal.

Registration information for interested participants and observers is available on the Leases project page on the FASB website. Participants are required to submit a comment letter on the proposal (or intend on submitting a comment letter) in order to participate at a roundtable.

(Contact: Chris Drula at cdrula@nareit.com)
NAREIT Updates Tax Treaty Chart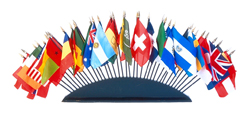 NAREIT has updated its tax treaty chart through July 1, 2013, to accurately reflect U.S. withholding tax rates on ordinary REIT dividends to non-U.S. investors.

The chart includes withholding rates for individuals, non-individual entities, pension trusts and tax-exempt charities.

(Contact: Dara Bernstein at dbernstein@nareit.com)
NAREIT Welcomes New Member

NAREIT is pleased to welcome Devonshire REIT as its newest corporate member. Devonshire REIT is a newly organized, private, self-advised equity REIT that owns, operates and develops grocery-anchored and value-oriented neighborhood shopping centers and triple-net, single-tenant properties primarily in the Great Lakes, Midwest and Southeastern regions of the United States. Based in Whitehouse, Ohio, Devonshire REIT's president and CEO is Chris Campbell.

(Contact: Bonnie Gottlieb at bgottlieb@nareit.com)
REIT.com Videos: Market Insights
REIT.com's video team sat down with more than 70 industry leaders during REITWeek 2013 to get their insights into the current state of the REIT market, where things are heading and what specific issues and trends they are watching. New videos will be made available on REIT.com regularly for the next several weeks. Below is a sample of the interviews currently available.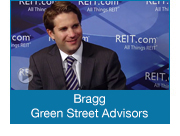 Dave Bragg, managing director with Green Street Advisors, discussed issues tied to the health of residential REITs in the current market climate.

"The recovery in the housing market is a threat, and it receives a lot of attention, but I'd place the top two threats as job growth and multifamily supply," he said. "Job growth and apartment rent growth have a very strong correlation over time. Second, and what is generating a lot of attention today, is multifamily supply, especially in formerly considered high-barrier markets. That is a great risk that we'll be able to better quantify over the course of 2013. Third, I'd place the housing recovery after those two."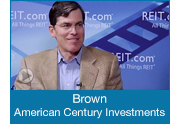 Steve Brown, senior portfolio manager with American Century Investments, shared his opinion regarding the potential for REITs to continue to grow in the future.

"While REITs have done well for investors over the last three or four years, what we see today is very good fundamentals in the United States for commercial real estate," he said. "We see demand growth of about 2 percent and supply growth of 1 percent. So, anytime you have demand greater than supply, that's a good fundamental picture, and I think that makes REITs an attractive investment over the next 12 to 24 months."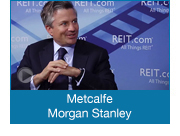 Guy Metcalfe, managing director with Morgan Stanley, discussed the implications of the trend for further CMBS issuance.

"I think, on the margin, it may have a positive impact," Metcalfe said. "What will have a bigger impact on issuance going forward is just the overall state of the real estate industry and the demand for debt capital, in particular. I wouldn't call it so much pent-up demand, but there is an enormous amount of demand for yield. I think people are searching for yield and looking at real estate as a great place to find yield. You don't have to search too much farther than the CMBS market or other types of debt for real estate and say that's a pretty good risk-adjusted return."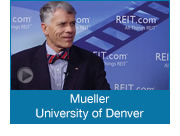 Glenn Mueller, professor at the University of Denver, discussed the impact of speculation regarding the Federal Reserve and interest rates on REIT share prices.

"The problem is that in the short term, the market is emotional, whereas, hopefully, over the long run, the market is logical," he said. "Unfortunately, I think we're going to see some volatility here over the next few months as we sort through what is going to happen."

(Contact: Matt Bechard at mbechard@nareit.com)
NAREIT Launches Investor App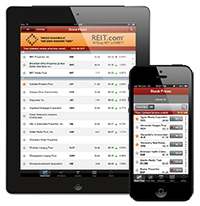 To meet the needs of investors increasingly seeking information away from their desks, NAREIT recently launched the REIT Investor App. After downloading the app to their iPhone or iPad, users have the ability to scan indexes, stock prices and other financial data. They can also use filters to narrow a search to specific segments of the industry. Users can also drill down into individual company specifics, including financial data, events, news and press releases. Below is a detailed list of features within the REIT Investor App:
 
Stock prices for publicly listed REITs on the NYSE/AMEX and NASDAQ.


Profile pages for public REITs that are NAREIT members.


Returns for 42 different FTSE NAREIT indexes.


Top financial news and press releases updated throughout each business day.


Calendar listing upcoming conference calls, earnings announcements and company meetings.


Links to company websites and investor relations pages allowing users to "go to the source" for complete company information.


Ability to add companies to a list of favorites, enabling users to build a portfolio of companies to watch more closely.
The app is available for free download in the
iTunes store
by searching "REIT Investor."
(Contact:
Jeff Henriksen
at jhenriksen@nareit.com)
REITs in the Community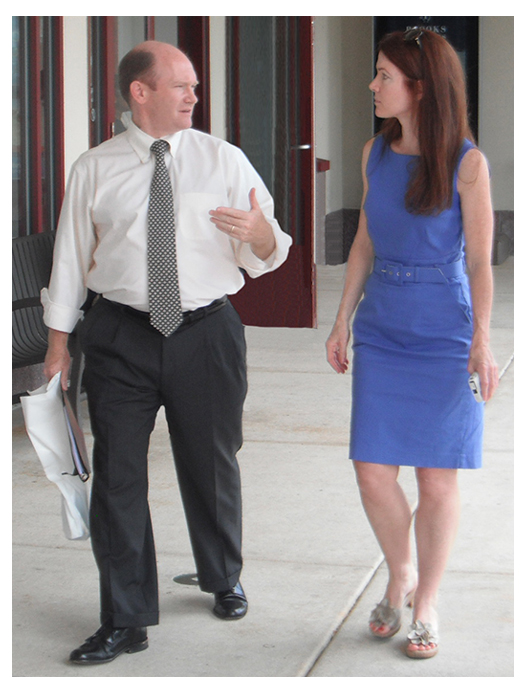 June 27, 2013: Amy Norgate, general manager of Tanger Outlets Rehoboth, met with Sen. Chris Coons (D-DE). Norgate briefed Coons on the economic impact of the property and described opportunities for its future. Norgate also thanked Coons for his support of the Marketplace Fairness Act and the Real Estate Investment and Jobs Act.

(Contact: Kate Smith at ksmith@nareit.com)