Content

Message from the President

In the two previous issues of NewsBrief, we reviewed the strategies our Investor Outreach team is using to communicate the REIT investment proposition to the defined benefit and defined contribution plan markets, each of which accounts for approximately one-third of the $15 trillion in invested retirement plan assets in the U.S. We also are actively telling the REIT story to the market segment that accounts for the final third of retirement plan assets – the individual retirement account (IRA) segment.

The IRA marketplace is expanding and is expected to ultimately become the largest of the three segments as the baby boom generation enters its retirement years and boomers in growing numbers roll their defined contribution accounts over into IRAs. Because of the size and diversity of this market segment, NAREIT's communications are focused on the financial advisors who guide the portfolio planning decisions of most larger individual investors.

To gain a better understanding of the perceptions of advisors regarding REIT investment, NAREIT has conducted a program of focus groups and survey research among the members of this audience. The results indicate a largely favorable response to REIT investment, providing a receptive base for expanded communications initiatives. NAREIT's survey results showed 63 percent of financial advisors have a very or somewhat positive impression of REITs, and 57 percent generally recommend REITs to their clients.

The research also showed that messages describing REITs' value in diversifying portfolios, their ability to provide continuing income, their usefulness as an inflation hedge, and their track record of competitive long-term performance were the most effective in moving the attitudes of advisors who said they were neutral or negative toward REITs to more positive attitudes.

Our research provides the basis to strengthen our message to this audience, and we will put our findings to work to further enhance our outreach to the advisor community in the second half of 2012.








Steven A. Wechsler
President and CEO

 
NAREIT Shares Outlook on Commercial Real Estate at Senate Forum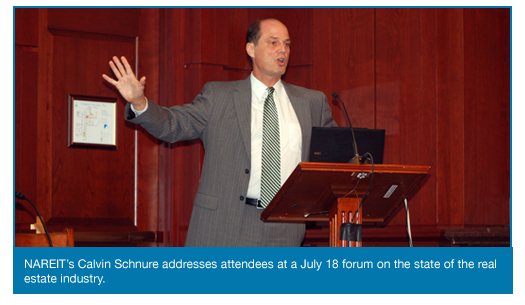 NAREIT participated in a briefing on July 18 for members of the U.S. Senate on the state of the real estate industry.

The event, hosted by the National Real Estate Organizations, covered how the nation's economic climate has affected commercial and residential real estate, as well as the industry's key drivers and demand trends that are expected to influence current and future real estate market activities.

Calvin Schnure, NAREIT's vice president of research and industry information, presented on the commercial industry outlook. Schnure's remarks focused on the fundamentals within different property types and the loan maturities working their way through the financial system. Schnure indicated that FIRPTA reform may be one way to ease some of the pressure on the real estate finance markets.

(Contact: Calvin Schnure at cschnure@nareit.com)
Citi's Bilerman Named Top REIT Analyst

Citi Research's Michael Bilerman has been named the top U.S. REIT analyst in a poll of buy-side firms. Consulting firm Greenwich Associates conducted the poll of brokerage and asset management firms in association with Bloomberg Markets.

Bilerman, managing director and head of Citi Research's real estate and lodging team, came out on top in a survey of nearly 1,000 respondents representing more than 200 buy-side firms. Respondents were asked to rank sell-side analysts based on expertise in covering their primary industries.



Bilerman has been with Citi since 2004. Prior to joining Citi, Bilerman spent six years at Goldman Sachs.



Coming in second place was Steve Sakwa of ISI Group. Sakwa serves as senior managing director at ISI and heads the firm's real estate research team. Sakwa has been a REIT analyst for almost 20 years.

Green Street Advisors' Mike Kirby finished third in the rankings. Kirby is chairman and director of research at Green Street, as well as a co-founder of the firm. Kirby has headed Green Street's research program since 1985.

(Contact: Matt Bechard at mbechard@nareit.com)

 
REIT.com Video: Brad Case, NAREIT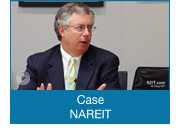 REIT stocks are well-positioned for the remainder of tis year, said Brad Case, NAREIT senior vice president of research and industry information. They have better access to capital than many other landlords and are benefiting from macroeconomic growth.

"What has really been happening is that investors are more confident that the economic recovery, although it's slow, is continuing," Case said. "And that's the real key for investors in real estate and REITs in particular."

(Contact: Brad Case at bcase@nareit.com)

 
Sustainability Spotlighted in New Issue of REIT Magazine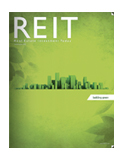 "Building Green" is the theme of the July/August issue of REIT magazine, now available in print and online. The issue focuses on the efforts and resources commercial real estate companies, particularly REITs, are dedicating to energy efficiency and sustainability.

"A Green Benchmark" details the Global Real Estate Sustainability Benchmark (GRESB) and its use as a new tool to measure commercial real estate sustainability for global real estate investors. "The Green Team" profiles six REIT executives dedicated to executing and initiating sustainability programs at their respective companies. The issue also features a "Sector Spotlight" on sustainability efforts underway in the retail sector and a Q&A with U.S. Green Building Council President Roger Platt.

Also in this issue are interviews with LaSalle Hotel Properties (NYSE: LHO) CEO Mike Barnello, Henley Business School's Simon Stevenson and LaSalle Investment management's Jacques Gordon, as well as profiles of Community Development Trust and the J.P. Morgan Realty Income Fund.

(Contact: Matt Bechard at mbechard@nareit.com)
 
REIT.com Videos: Executive Insights
REIT.com interviewed 70 industry professionals during REITWeek 2012 last month. Below are highlights of some of the interviews conducted with leading real estate executives. Be sure to visit REIT.com in the coming weeks as new videos will be added regularly.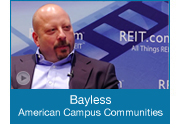 Student housing is moving toward consolidation now that it has achieved the necessary critical mass, said Bill Bayless, president and CEO of American Campus Communities (NYSE: ACC).

"There are a large amount of opportunities down the road in our sector," he said. "We've had a great amount of institutional investment come in. People are starting to put together larger portfolios."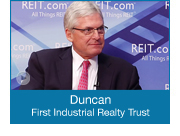 First Industrial Realty Trust (NYSE: FR) has been reducing its leverage and extending debt maturities, and this emphasis is paying off, said Bruce Duncan, president and CEO. The timing is perfect for REITs because the industrial sector is doing well, having posted nine consecutive quarters of increased occupancy.

"We think it continues as long as you get GDP growth. You get good demand from our tenants," he said. "We're seeing that both with small tenants and large tenants. We're pretty optimistic that as long as the world continues to grow, we'll do all right."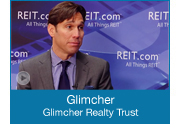 In an effort to "move the needle," Glimcher Realty Trust (NYSE: GRT) is looking to expand its portfolio through acquisitions, according to Michael Glimcher, the company's chairman and CEO. In addition to refurbishing existing assets, Glimcher Realty has undertaken an aggressive acquisition program to build up its portfolio.

"We've been looking high and low to find opportunities," Glimcher said, adding that many of the deals have been off-market. "We've been very busy."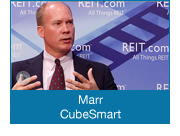 CubeSmart's brand overhaul has worked out well, according to CubeSmart President Christopher Marr, who said the company's branding overhaul has been received positively by both shareholders and customers. After it rolled out an "Expect More with CubeSmart" campaign in New York City, the company received more than 200 million impressions online and about 42,000 direct searches.

"Additionally, the reaction from our employees has been fantastic," he said, adding that it has helped ramp up the level of customer service the company provides.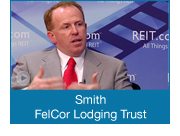 Expect a strong second half in the hotel REIT sector, according to Richard Smith, president and CEO of FelCor Lodging Trust (NYSE: FCH). Smith said the only ominous sign on the horizon is the economic situation in Europe and the possibility of another liquidity crisis. That could result in corporate spending cuts and economic contraction.

"Fundamentals look very good right now, both from a corporate profit standpoint, which drives a lot of spending, and particular travel with regard to our industry," Smith said. "I anticipate that with supply being very low and demand growing pretty steadily, we will continue to see the second half of 2012 continue to be pretty bullish as far as the growth in the sector."

(Contact: Matt Bechard at mbechard@nareit.com)
 
Register Today for NAREIT's SFO Workshop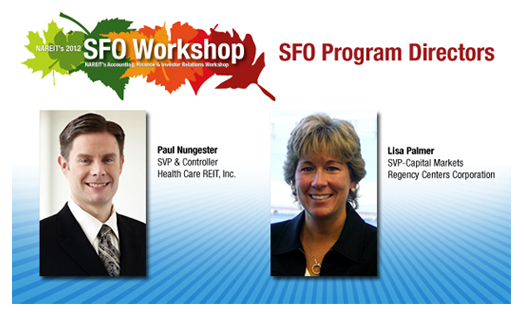 The NAREIT 2012 SFO Workshop, Sept. 24-25 at the Fairmont Copley Plaza in Boston, is designed exclusively for NAREIT Corporate Members with a focused educational program tailored to REIT officers who manage accounting, financial reporting, capital markets and investor relations. This annual event is a productive way for NAREIT Corporate Members to earn CPE credits while preparing for year-end financial reporting and investor relations activities.

NAREIT would like to thank this year's program directors, Paul Nungester of Health Care REIT, Inc. (NYSE: HCN) and Lisa Palmer of Regency Centers Corporation (NYSE: REG), for their assistance in developing a strong program based on the most current needs of senior financial and investor relations executives.

To complement the educational program, the SFO Workshop includes an evening reception where attendees can meet, share insights and compare experiences with one another.

Registration is now open for this exclusive event. Visit the SFO Workshop home page on REIT.com to register online and access detailed information about the event as it becomes available.

(Contact: Katelyn Rowland at krowland@nareit.com)
 
REIT.com Video: Calvin Schnure, NAREIT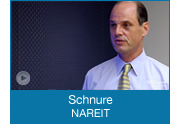 While the U.S. economy has slowed and is delivering only tepid growth, the risk of it slipping back into recession is low, barring external shocks, said NAREIT Vice President of Research and Industry Information Calvin Schnure.

According to Schnure, every recession since World War II has occurred when cyclical GDP was above its long-term average, resulting in over-production and a subsequent crash. In contrast, cyclical GDP today is well below its long-term average.

In the commercial real estate market, the dearth of new construction has produced favorable supply and demand dynamics, with resulting decreases in vacancies and rising rents.

"The new supply of commercial real estate space is very low, so even if the economy is growing very slowly, the new supply is growing even less," he said.

(Contact: Calvin Schnure at cschnure@nareit.com)
 
REITs in the Community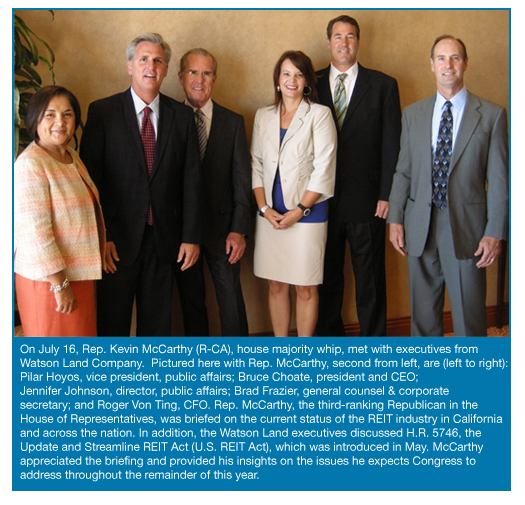 (Contact: Kate Smith at ksmith@nareit.com)