Content

Message from the President

Last week's investor conference in Chicago marked the 20th consecutive year that NAREIT has hosted its annual REITWeek meeting. REITWeek has grown significantly in the last two decades to become one of the highlights on the REIT industry's calendar.

This year was no exception, as about 1,900 REIT executives, analysts and investors congregated in the Windy City to share their insights and observations on the latest developments in the world of REIT-based real estate investment.

More than 110 companies provided public presentations on their operations, performance and outlook. The presentations afforded those in attendance with an opportunity to engage the most influential leaders in real estate investment in a dialogue about the direction and future of both their companies and the industry at large.

Additionally, the opening day of the program featured a lunchtime roundtable hosted by NAREIT Chair Ed Walter with industry leaders and legends Steve Roth and David Simon that drew major media interest from CNBC. Also, NAREIT held its first-ever research conference in conjunction with REITWeek in an effort to publicize academic analysis of key developments in real estate investment. REIT.com conducted more than 70 video interviews at REITWeek with leading figures throughout the REIT industry that will be widely available online. Through the Investor CARE Awards, NAREIT recognized member companies for communication and reporting excellence

REITWeek may be an industry event, but it's just as much an opportunity to communicate to the public the REIT investment proposition and the role that REITs play in the national economy.








Steven A. Wechsler
President and CEO
 
REITWeek 2013 Recap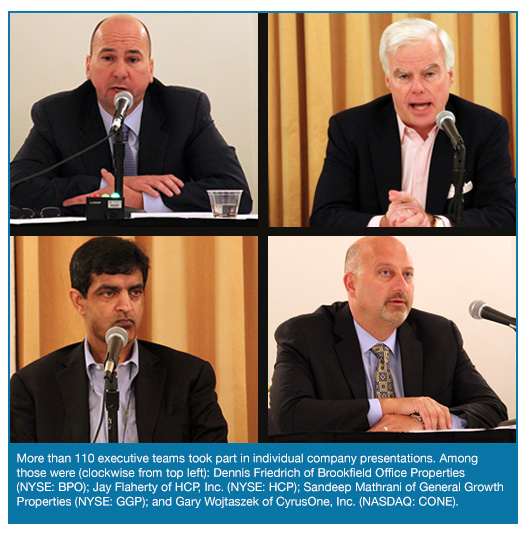 The Hilton Chicago was a hive of industry activity last week for REITWeek 2013: NAREIT's Investor Forum. This marked the 20th year NAREIT has hosted this important industry gathering.

Approximately 1,900 attendees gathered for the three-day event. Despite recent market fluctuations, the overall mood of the conference was upbeat and optimistic.

A central component of every REITWeek is the individual company presentations. More than 110 companies participated this year. Replays of those companies that webcast their presentations can be found HERE.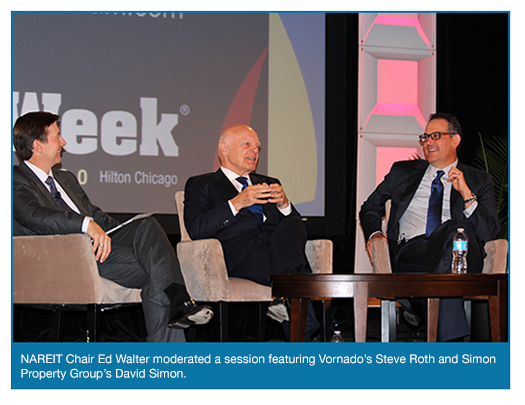 NAREIT Chair Ed Walter moderated a lively opening lunch panel with industry luminaries Steve Roth, chairman and CEO of Vornado Realty Trust (NYSE: VNO), and David Simon, chairman and CEO of Simon Property Group (NYSE: SPG). The far-ranging conversation touched on a number of subjects including how much the industry has grown over the course of the Modern REIT Era.

"I would never have predicted the size of the company when we went public 20 years ago. Not just us, but Vornado and a host of other companies," Simon said. "In the late 1990s we were just trying to make smart deals. It's really surprising that the whole industry has gotten to the size it is."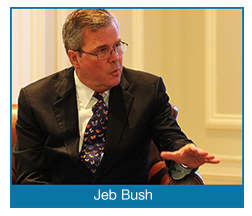 Later that same day, Walter had the opportunity to interview former Florida governor Jeb Bush during NAREIT's Board of Governors' Dinner.

Bush spoke about his political family, the current state of domestic and foreign affairs and his potential presidential aspirations.



On Thursday, University of Chicago Booth School of Business Professor Austan Goolsbee, former chairman of President Obama's Council of Economic Advisers, offered a sobering take on what may be coming on the economic horizon. Goolsbee spoke on a number of topics, including the pace of the overall recovery in the economy and in the housing market. He said not to depend on a recovery in the housing market to lead the country back to economic health.




REITWeek 2013 concluded with a panel focused on the political landscape.

The panel featured Michael Murphy, political strategist and political analysts for NBC News and contributing editor to TIME magazine, and Eugene Robinson, Pulitzer Prize-winning columnist for The Washington Post and political analysts for MSNBC.

(Contact: Katelyn Rowland at krowland@nareit.com)
NAREIT Announces CARE Award Winners
NAREIT announced the winners of its 2013 Investor CARE Awards during REITWeek 2013: NAREIT's Investor Forum. It marked the 13th year that NAREIT has handed out the annual awards, which honor excellence in communications and reporting to shareholders.



The Gold Award in the "Annual Report - Management Discussion and Analysis" category went to Home Properties Trust (NYSE: HME). The Silver Award was given to SL Green Realty Corp. (NYSE: SLG) and the Bronze Award went to First Potomac Realty Trust (NYSE: FPO).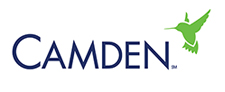 In the "Annual Report - Presentation and Design" category, Camden Property Trust (NYSE: CPT) received the Gold Award. The Silver Award went to Health Care REIT, Inc. (NYSE: HCN). Duke Realty Corp. (NYSE: DRE) won the Bronze Award.

Camden Property Trust is celebrating its 20th year as a public company, and Kim Callahan, senior vice president of investor relations, said the company's latest annual report was created to celebrate that milestone.

"We always tried to keep our annual report a little outside of the box and do something a little different and keep it fresh," she said.



The Gold Award in the "Website" category went to Kimco Realty Corporation (NYSE: KIM). The Silver Award went to American Tower Corporation (NYSE: AMT), while Campus Crest Communities, Inc. (NYSE: CCG) received the Bronze Award.

"When we set out to redesign our website some time ago, we knew it couldn't just look pretty. It also had to be functionally operational and user friendly," said David Bujnicki, Kimco's vice president of investor relations and corporate communications.

The NAREIT CARE Awards are judged by an independent panel of REIT securities analysts and portfolio managers. This year's judges included: Dave Aubuchon, research analyst, Kennedy Capital Management; the Chilton REIT team of Bruce G. Garrison, managing director, and Matthew R. Werner, portfolio manager and analyst; Eden Levinson, senior vice president, Harrison Street Securities, LLC; Keven Lindemann, director-real estate group, SNL Financial LLC; Neil Malkin, associate-REIT Equity Research, U.S. Apartments, Lodging & Self Storage, RBC Capital Markets; and the ICR team of Brad Cohen, senior managing director, Shannon Devine, senior associate, Kara Guaraldi, senior vice president, Taylor Krafchik, associate, Rodny Nacier, senior vice president, Jeremy Pinchot, senior vice president, Steve Swett, managing director, and Nikki Sacks, managing director.

(Contact: Bonnie Gottlieb at bgottlieb@nareit.com)
High Marks for NAREIT's First Real Estate Research Conference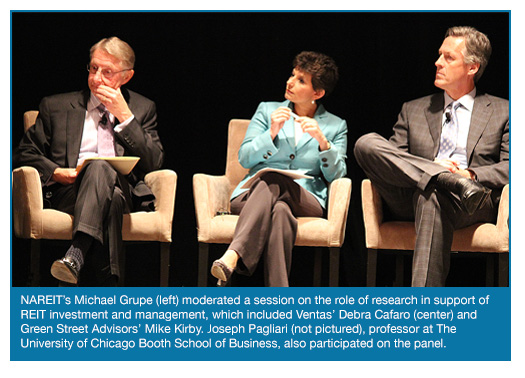 NAREIT co-hosted its first one-day research conference in Chicago last week to discuss the results of leading REIT and real estate investment research papers submitted to a special issue of the journal Real Estate Economics, published by the American Real Estate and Urban Economics Association (AREUEA). The research conference, co-hosted by AREUEA and organized in conjunction with REITWeek 2013, presented research from academics both inside and outside the United States on a variety of topics including securitization, volatility, and macroeconomic risk factors.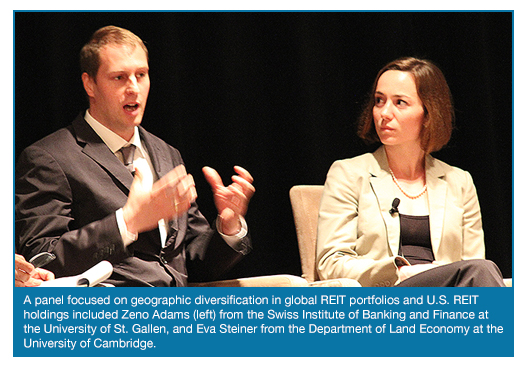 Mike Grupe, NAREIT's executive vice president for research and investor outreach, said the purpose of the conference was to promote more effective communication of the analysis and conclusions of contemporary real estate research to REIT industry managers, analysts and investors about the research papers and to facilitate constructive conversations and feedback between real estate academics and industry practitioners.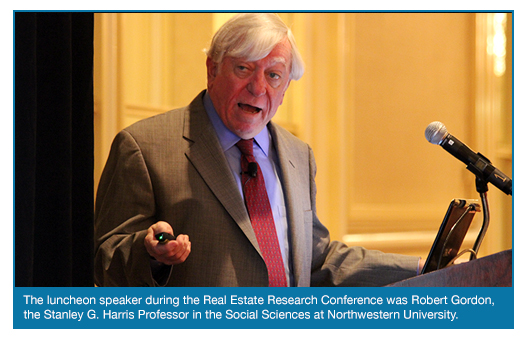 "We know there are academics producing very high quality work that's also very interesting to people in the industry," said Brad Case, NAREIT's senior vice president for research and information.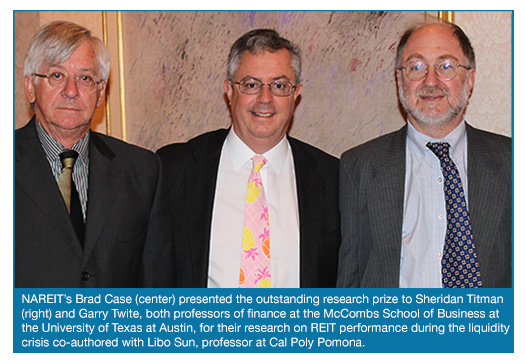 "The feedback that we received was quite positive, and we had a very nice turnout. Everybody who participated on the panels, both the academic researchers and the people from industry, engaged in a lively discussion," said Grupe, who added that many of the comments received after the event had encouraged NAREIT to host similar events in the future.

Ventas Chairman and CEO Debra Cafaro and Green Street Advisors Chairman and Director of Research Mike Kirby served as program directors for the event.

(Contact: Michael Grupe at mgrupe@nareit.com)
REIT.com Videos: REITWeek 2013
REIT.com's video team sat down with more than 70 industry leaders, including 36 REIT CEOs, during REITWeek 2013 to get their insights into the current state of the REIT market, where things are heading and what specific issues and trends they are watching. New videos will be made available on REIT.com regularly for the next several weeks. Below is a sample of the interviews currently available.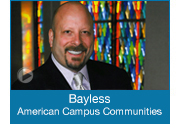 American Campus Communities (NYSE: ACC) is celebrating its 20th anniversary in 2013. Bill Bayless, president and CEO, discussed the importance of the company holding its first-ever bond offering this year, as well as being named to Forbes magazine's "100 Most Trusted Companies" list.

"When we started the company back in 1993, one of our mission statements was a dedication to excellence and integrity," he said. "When we went public in 2004, one of our specific goals was obtaining an investment-grade rating so that ultimately we could issue corporate debt. In doing business with colleges and universities across America, for them, both of those send a great message in terms of the character of the company, especially when they're looking at picking a long-term partner to do housing on their campus. We're very proud of both and think that it really speaks well for the business that we're in."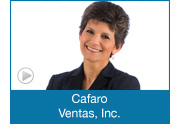 Debra Cafaro, chairman and CEO of health care REIT Ventas, Inc. (NYSE: VTR), discussed her company's flexible business model. She said it has helped when it comes to focusing on specific segments of the health care sector that are primed for acquisitions.

"One of the great aspects of the health care REIT model is that we are able to flexibly allocate capital into different sub-sectors at different parts of the cycle, and that has been a way to create value for shareholders," Cafaro said. "Our effort is really to allocate the capital where we see either valuations increasing for multiple expansion and/or valuations increasing because the cash flow is increasing."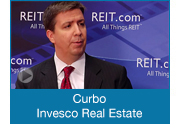 Paul Curbo, portfolio manager with Invesco Real Estate, discussed some of the sectors that his fund is currently targeting for investment.

"Two of the sectors that we really like are the apartment sector and the regional mall sector. The apartment sector from both a growth standpoint and a valuation standpoint," he said. "In the regional mall space, it's more a function of scarcity of assets. REITs own roughly 50 percent of all regional malls in the U.S. When you look at the high-quality malls it's even a higher proportion."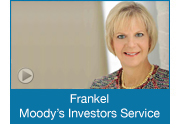 Merrie Frankel, vice president and senior credit officer with Moody's Investors Service, described the state of real estate credit markets today.

"I think the real estate credit markets are doing very, very well," she said. "They're stable and liquid, despite the uncertain macroeconomic environment."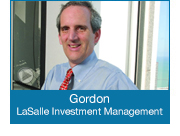 Jacques Gordon, global head of research and strategy at LaSalle Investment Management, offered his thoughts on the growing evolution and sophistication of the BRIC countries -- Brazil, Russia, India and China. He also named a few countries that he views as being on the rise.

"There are lots of interesting countries that are frontier markets, and those are often in places like Africa," he said. "But when it comes to real estate investing, I would look at Turkey and Poland. Those are the up-and-comers in that part of the world. When it comes to Latin America, it would be Colombia. When it comes to Asia-Pacific, it would probably be a toss-up between Malaysia and Indonesia."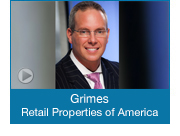 Steven Grimes, president and CEO of Retail Properties of America (NYSE: RPAI), discussed how the company's first year as a publicly traded REIT has exceeded his expectations.

"We're very excited about the progress we made, both from a stock performance perspective as well as from an operational perspective," he said. "In fact, I would even argue that we exceeded our own expectations. We set out to achieve some basic, but very large goals, and with our IPO, our preferred issuance at the tail end of last year and the sale of $500 million of non-core assets, we were able to de-lever the balance sheet and meet our longer-term objective of six to seven times EBITDA in just one short year."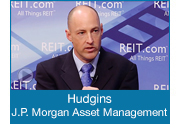 With commercial real estate property pricing at the 2007 market peaks, Michael Hudgins, real estate strategist with J.P. Morgan Asset Management, discussed how trends in pricing are affecting his outlook for REIT investment.

"REITs right now are growing cash flow from a depressed base," he said. "They've moved past this peak, but still are generating NOI at the property level of about 4 percent year on year. Additionally, I see no reason why with low supply and incremental demand that REITs can't continue to grow that NOI at a 3 percent year-on-year rate for the next couple of years. What that means is that as the cash flow increases at the property level, values should increase."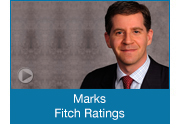 Steven Marks, managing director with Fitch Ratings, shared some of the conclusions of the recently published Fitch mid-year review of the state of the REIT market.

"The outlook on the overall equity REIT sector is stable, and that stable outlook is driven by a couple of things," he said. "On the positive side, one is that access to capital has been fantastic, liquidity has been quite strong and fundamentals have been improving across most of the sectors. Those positive elements are balanced by a couple things. One is leverage that we still believe is elevated in this sector, and, secondly, is the overall macroeconomic environment, which remains slow."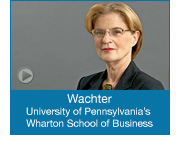 Susan Wachter, professor at the University of Pennsylvania's Wharton School of Business, has done extensive studies into the inflation sensitivity of REITs. She offered some thoughts on her major conclusions as a result of her research.

"Real estate is regarded consistently as a good inflation hedge, and it is," Wachter said. "But the question is, 'how good are REITs?' Because REITs are the transparent way of investing in real estate, we studied it absolutely and relative to other hedges, such as gold. And it's the best out there. In good times and in bad times, REITs do hedge inflation."

(Contact: Matt Bechard at mbechard@nareit.com)
IRS Looking at Definition of Real Estate for New Entrants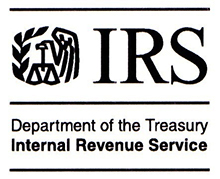 The Internal Revenue Service has formed an internal working group to focus on the legal definition of real estate for the purposes of companies qualifying as REITs under the tax code, according to its communications with three companies looking to convert to REIT status.

In a statement issued in connection with the news, NAREIT said it believes the IRS review is an "appropriate, reasonable and timely undertaking."

"Our view is that the IRS is working to ensure that future private letter rulings are consistent with long-established regulatory interpretations of longstanding statutory law," NAREIT said. "Congress enacted REIT legislation more than 50 years ago to ensure that Americans from all walks of life could access the real estate asset class on a collective basis to secure greater investment diversification with the benefit of professional management. NAREIT believes that the IRS has that objective clearly in mind as it conducts its process."

The three firms that were notified of the review are Iron Mountain Inc., Equinix Inc. and Lamar Advertising Co. As a matter of course, NAREIT neither supports nor opposes requests for private letter rulings by individual companies.

(Contact: Tony Edwards at tedwards@nareit.com)
Senate Finance Committee Releases Tax Reform Options Paper No. 8 on Income and Business Entities

On June 6, the Senate Finance Committee released its eighth in a series of papers compiling a "non-exhaustive list of prominent tax reform options suggested by witnesses at the committee's 30 hearings on tax reform to date, bipartisan commissions, tax policy experts and members of Congress." The paper mainly addresses fundamental tax reform-related issues, such as the potential treatment of capital gain and ordinary income at the same rate, full or partial integration of the corporate and individual income tax regimes, and a potential redrawing of the line between C-corporations and passthrough entities.

With respect to its summary of current law, the paper addresses REITs, RICs (mutual funds) and REMICs (real estate mortgage investment conduits) as "other entities" separate from "passthroughs." In its summary of tax reform options relevant to RICs and REITs, it lists three items, two of which are drawn in part from the proposed H.R. 5746, the Update and Streamline REIT Act (U.S. REIT Act) introduced in the 112th Congress and supported by NAREIT. The first is to increase the amount of property a REIT can sell without the imposition of a 100 percent excise tax on gains from "dealer sales." The second is to repeal of the preferential dividend rule for publicly offered REITs, based on a proposal in the Obama Administration's FY 2014 Budget, a version of which was also included in H.R. 5746.

The third option relates to an academic tax article published in 2011 meant by the author to serve as a compilation of the use of so-called "blockers" and "stoppers" through subsidiaries of various entities, including RICs and REITs, mainly to change the character of underlying income or assets, rather than to serve as a specific position or proposal on their use.

The options outlined in the Finance Committee paper are not necessarily endorsed by Chairman Max Baucus (D-MT), Ranking Republican Orrin Hatch (R-UT) or the other members of the committee.

(Contact: Dara Bernstein at dernstein@nareit.com)
FASB to Examine Accounting Guidance for Entity with Assets that are Substantially All Real Estate

NAREIT observed a May 29 meeting of the Financial Accounting Standards Board (FASB) at which the board agreed to add a project to its technical agenda to determine whether asset-based or business-based accounting literature would apply to entities that substantially consist of non-financial assets (e.g., in-substance real estate).

Additionally, NAREIT understands that the project would reassess the definition of a business. The determination of which accounting literature applies has significant ramifications and would impact NAREIT members that operate as equity REITs.

The project will address the existing accounting differences between asset-based and business-based guidance that include the measurement and timing of gain or loss recognition on sales of assets when continuing involvement exists, including situations whereby companies sell partial interests, and the measurement of retained interests that occur when a company sells a partial interest in an asset.

NAREIT issued an SFO Alert with more information on the project.

(Contact: Chris Drula at cdrula@nareit.com)
FASB Tentatively Adds Disclosure Requirements for Repurchase Agreements
On May 23, NAREIT observed a meeting of the Financial Accounting Standards Board (FASB) that focused on the feedback that the board received on its Transfers and Servicing: Repurchase Agreements and Similar Transactions proposal. At the meeting, the board tentatively decided to retain the current effective control model.

That model provides requirements for determining whether transactions like repurchase agreements qualify as sales or secured borrowings. Also, the board tentatively decided to add additional disclosure requirements for transfers of financial assets with contemporaneous agreements that result in the transferor retaining risks associated with the transferred financial asset. NAREIT understands that the staff will prepare a disclosure packet for the board's review at a future meeting.

Previously, on March 29, NAREIT submitted a letter to the board in support of the proposal. NAREIT recommended that the board permit early adoption of the proposal and provide preparers with the ability to retroactively restate prior periods that are presented in the financial statements.

(Contact: Chris Drula at cdrula@nareit.com)
NAREIT Responds to FASB Proposal on Credit Losses
NAREIT wrote to the Financial Accounting Standards Board (FASB) on May 31 in response to the Proposed Accounting Standards Update on Financial Instruments – Credit Losses.

FASB's efforts to develop a reporting model that "more accurately reflects the timing and degree to which companies sustain credit losses on financial assets" have NAREIT's support, according to the letter.

"However, with respect to the FASB's proposed current expected credit loss model, we believe that there are a number of areas that need improvement for the model to become operational for preparers and understandable for users, regulators, and auditors alike," NAREIT said.

The enhancements to FASB's model as proposed by NAREIT included allowing the credit loss allowance to be based on management's "best estimate" of expected credit losses.

NAREIT also signed off on the comments about the proposal from the Financial Instruments Reporting and Convergence Alliance (FIRCA) to both the FASB and International Accounting Standards Board (IASB).

(Contact: Chris Drula at cdrula@nareit.com)