Content

Message from the President

The House Financial Services Committee last Friday approved H.R. 4871, "The Terrorism Risk Insurance Act (TRIA) Reform Act of 2014," which would reform TRIA and extend it for five years through 2019.

In addition to a five-year renewal, H.R. 4871 would gradually increase the program trigger – the point at which the federal government would become involved – from $100 million to $500 million in claims for non-nuclear, biological, chemical or radiological attacks. It also would increase the mandatory recoupment requirement – a burden ultimately borne by policyholders – from its current 133 percent to 150 percent of federal funds paid out.

The House legislation differs substantially from the bill currently moving through the Senate. The Senate bill would renew TRIA for seven years, continue to treat NBCR and non-NBCR events the same and leave the trigger at $100 million; but it would lower the federal co-insurance level and increase the recoupment premium.

Since its inception in 2002 following the 9/11 terrorist attacks, TRIA has not only facilitated the continued availability of terrorism insurance for policyholders that require such coverage, but it has also protected taxpayers in the event of another terrorist attack by providing a mechanism through which private sector capital would absorb the first losses before any taxpayer funds are advanced.

We are quite pleased that TRIA reauthorization is moving forward in the House. At the same time, we believe it is essential that changes in the program do not reduce the availability of terrorism insurance.

NAREIT will closely monitor both the House and Senate bills and continue to provide our industry's input on this critical legislation.








Steven A. Wechsler
President and CEO
House Financial Services Committee Approves TRIA Extension

The House Financial Services Committee voted last week to approve legislation extending the Terrorism Risk Insurance Act (TRIA) through 2019.

The House version (H.R. 4871) contains a number of modifications to the current law, which is set to expire at the end of 2014. In a letter to House Financial Services Committee Chairman Jeb Hensarling (R-TX) and Rep. Randy Neugebauer (R-TX), who chairs the Subcommittee on Housing & Insurance, NAREIT and its partners in the Coalition to Insure Against Terrorism (CIAT) supported committee approval of the legislation, but also voiced concerns about some of the changes made by the bill. CIAT did note that the version of the bill that was approved by the committee, dubbed the TRIA Reform Act, "represents a significant improvement over previous discussion drafts."

H.R. 4871 now goes to the full House of Representatives for consideration. A bill to extend TRIA is also advancing in the Senate after being reported out of the Senate Banking Committee earlier this month.

For more information, see the FirstBrief issued by NAREIT last week.

(Contact: Robert Dibblee at rdibblee@nareit.com)
FINRA Still Considering Comments on Proposed Rule Change for PNLRs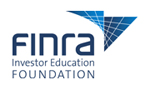 The Financial Industry Regulatory Authority (FINRA) said last week that it is still reviewing comments and amendments offered to its proposed rule change regarding per share estimated valuations for unlisted direct participation programs and public, non-listed REIT (PNLR) securities.

In a letter to Kevin O'Neil, deputy secretary with the Securities and Exchange Commission, James Wrona, vice president and associate general counsel with FINRA, indicated that a response to the comments and amendments would be available "in the near future."

FINRA proposed the rule change earlier this year.

(Contact: Penny Rostow at vrostow@nareit.com)
REIT.com Videos: CEO Spotlights
REIT.com interviewed dozens of leading industry CEOs during REITWeek 2014: NAREIT's Investor Forum earlier this month. Below is a sample of recent interviews posted online.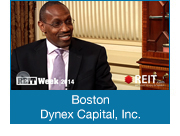 Byron Boston, president, CEO and co-chief investment officer of Dynex Capital, Inc. (NYSE: DX), discusses the investment philosophy of the hybrid Mortgage REIT, which currently allocates 60 percent of its investment capital to the commercial sector and 40 percent to the residential sector. Boston says his company is currently finding value in "well-defined cash flows" of the commercial sector.

CLICK HERE for more of Boston's interview with REIT.com.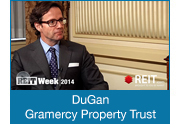 Gordan DuGan, CEO of Gramercy Property Trust (NYSE: GPT), discusses his company's transformation from a real estate finance company to a net lease property owner, a transition he says is now complete. In terms of investment opportunities, DuGan explains that Gramercy is looking at the nation's top 25 cities for industrial and office assets, typically in the range of $5 million to $25 million.

CLICK HERE for more of DuGan's interview with REIT.com.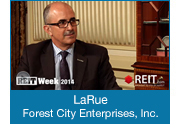 David LaRue, president and CEO of Forest City Enterprises, Inc. (NYSE: FCE.A), lays out his expectations for the three main property sectors that his company focuses on: office, multifamily and retail. In the multifamily area, LaRue said even though delays have slowed the project, he remains excited about the company's B2 BKLYN development, which is designed to be the world's tallest modular building.

CLICK HERE for more of LaRue's interview with REIT.com.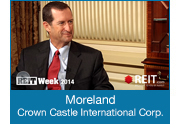 Ben Moreland, president and CEO of Crown Castle International Corp. (NYSE: CCI), discusses the rapidly expanding demand that is driving the infrastructure REIT. Crown Castle currently owns 40,000 towers and 12,000 small cell nodes that are often in urban locations on street lights or telephone poles. Moreland cites figures from Cisco Systems, Inc. estimating that between now and 2018, data consumption on networks will increase by a factor of eight.

CLICK HERE for more of Moreland's interview with REIT.com.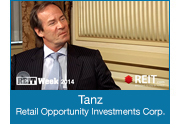 Stuart Tanz, president and CEO of Retail Opportunity Investments Corp. (NYSE: ROIC), talks about the level of competition in the transactions market and sourcing for potential acquisitions. With capital "readily available," Tanz says competition for available assets has intensified, but he feels ROIC's extended history on the West Coast has given the company an advantage.

CLICK HERE for more of Tanz's interview with REIT.com.


Visit the REIT.com video section for more exclusive interviews.

(Contact: Matt Bechard at mbechard@nareit.com)
NAREIT Participates in Defined Contribution Real Estate Council (DCREC) Quarterly Meeting

Kurt Walten, NAREIT's senior vice president for investment affairs and investor education, on June 10 participated in the second quarterly meeting for 2014 of the Defined Contribution Real Estate Council (DCREC).

Walten and DCREC co-president Dave Skinner were asked to deliver a presentation to the council's membership on the importance of REITs within defined contribution (DC) plan asset allocations.

Given the shared interests of DCREC and NAREIT, members of NAREIT's Research & Industry Information and Investment Affairs & Investor Education teams continue to play an active role in the operations of the council. Walten serves with Ben Adams of investment management firm Ten Capital as co-treasurers and co-chairs the council's marketing and public relations committee with Jennifer Perkins of Principal Real Estate Investors. In addition, NAREIT is a member of DCREC's research and content, finance, membership and best practices committees.

Since its founding last year, DCREC's membership has grown dramatically. Founding members were Clarion Partners, Goldman Sachs, Principal Global Investors, Prudential Real Estate Investors, RREEF, State Street Global Advisors, Ten Capital, TIAA-CREF and UBS. The number of full members doubled in 2013 with the addition of ASB Real Estate Investments, Benefit Trust Company, Bentall Kennedy, BlackRock, Cornerstone Real Estate Investors, Invesco, LaSalle Investment Management, MetLife Real Estate Investors and USAA. Other members of the investment management community are expected to participate.

(Contact: Kurt Walten at kwalten@nareit.com)
REIT Pioneer Eugene Landy Honored by Yale Law School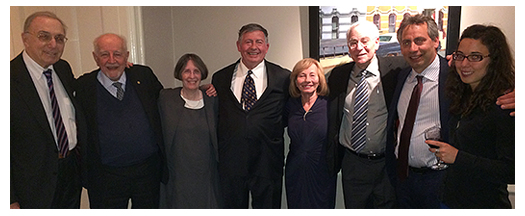 Photo: Eugene Landy, center, founder and chairman of Monmouth Real Estate Investment Corp. and UMH Properties, Inc., celebrates being named the recipient of the 2014 Simeon Baldwin Award by Yale Law School.

Yale Law School named Eugene Landy, founder and chairman of Monmouth Real Estate Investment Corp. (NYSE: MNR) and UMH Properties, Inc. (NYSE: UMH), its 2014 recipient of the Simeon Baldwin award, which recognizes distinguished achievement in law and business.

Roberta Romano, director of the Yale Law School Center for the Study of Corporate Law, described Landy as "one of the pioneers and founders of the real estate investment trust industry, which has played a critical role in reducing the cost of residential and commercial real estate by providing investors with a practical means of diversifying their investment portfolios into real estate."

Landy, a 1958 graduate of Yale Law School, "early on recognized how the REIT creates value by turning illiquid assets into liquid ones, facilitating homeowners' and entrepreneurs' property acquisitions," Romano added.

Monmouth Real Estate specializes in net-leased industrial properties with long-term leases, primarily to investment-grade tenants. UMH Properties owns and operates manufactured home communities in seven states throughout the Northeast.

Landy, meanwhile, noted that "there is no finer example of the partnership of business and the law producing value for our economy than the creation of REITs."

He added that "the economic concept was simple: that creating new pools of real estate capital would reduce the cost of offices, apartments, factories, stores and industrial buildings. A new investment vehicle would create wealth and it has. Today, REITs are worldwide in acceptance."

(Contact: Sarah Borchersen-Keto at sborchersen-keto@nareit.com)
REIT.com Videos: REITWeek 2014 Insights
Dozens of REIT insiders, analysts and investors sat down for video interviews with REIT.com at REITWeek 2014: NAREIT's Investor Forum earlier this month. Below is a sample of interviews now available on REIT.com.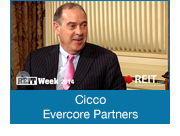 Marty Cicco, senior managing director with Evercore Partners, describes the challenges of evaluating a new REIT sector that falls outside of the standard industry property types. He notes that his history with new REIT offerings dates back to the time when he oversaw the first two IPOs in the outlet mall sector. He emphasizes the importance of teamwork and multiple perspectives when adjusting to a new sector.

CLICK HERE for more of Cicco's interview with REIT.com.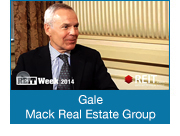 Barden Gale, vice chairman with Mack Real Estate Group (MREG), speaks about the company's intentions to focus on development until it builds a "reasonably sized" portfolio. He says his company sees "substantial" spreads in favor of development over growing through acquisitions in the current market environment. When those spreads begin to narrow, Gale says, his company will begin to throttle back on its development program.

CLICK HERE for more of Gale's interview with REIT.com.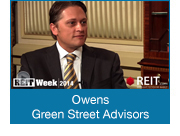 Phillip Owens, vice president with Green Street Advisors' Advisory and Consulting Team, discusses the trend of non-traditional real estate companies seeking to unlock the value of their real estate. Buyers are showing interest in acquiring these types of assets, according to Owens, but there are a limited number of opportunities available.

CLICK HERE for more of Thomas' interview with REIT.com.


Visit the REIT.com video section for more exclusive interviews.

(Contact: Matt Bechard at mbechard@nareit.com)