Content

Message from the President

As the story below reports, earlier this month NAREIT participated in a series of events in China in conjunction with NAREIT's global investor outreach program. These meetings provided an opportunity to present the REIT approach to real estate investment to Chinese investors, government officials and various organizations.

NAREIT's outreach in China speaks to the ever broadening global appeal of REITs and REIT-based real estate investment. Thirty countries around the world have established their own REIT rules, while five more are actively considering REIT legislation – all primarily based on the U.S. REIT regime.

The U.S. REIT model is the template for what is rapidly becoming a global REIT brand for real estate investment. NAREIT is working to promote worldwide acceptance of relatively uniform REIT rules to help facilitate the movement of capital into more globally focused REIT strategies with an emphasis on U.S.-based REIT investment. Increasingly, global REIT and real estate investment mandates are benchmarked to the FTSE EPRA/NAREIT Global Real Estate Index, whose equity market capitalization is $1.3 trillion, with about 70 percent representing REITs around the world and 45 percent representing U.S. REITs.

In addition to outreach in China, we are working currently with AMAFORE, which represents the Mexican pension fund industry, to provide educational programming on REITs for their members and Mexican regulatory officials. In Europe, we continue our longstanding partnership with EPRA to build greater understanding of REIT-based real estate investment among investors in the European Union.

Global outreach is an important element of our overall Investor Outreach program, and we will continue this work to support increasing levels of foreign investment in U.S. REITs and the ongoing expansion of the REIT approach to real estate investment globally.








Steven A. Wechsler
President and CEO
NAREIT in China for Investor Outreach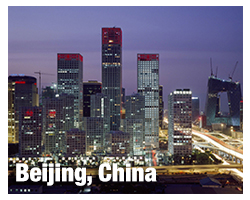 Earlier this month, Mike Grupe, NAREIT executive vice president for research and investor outreach, traveled to China to speak at a number of industry conferences and meet with investment and government organizations. Grupe spoke at the annual meeting of the Asset Management Association of China (AMAC) in Beijing and the 2014 Jinjialing Fortune Forum in Qingdao. These were important opportunities to support the development of REITs in China and to promote opportunities for Chinese investors to invest in U.S. REITs.

Grupe also attended a private meeting of the International Partners Committee of the AMAC, a self-regulatory organization that represents the mutual fund industry of China, and delivered a presentation at a workshop focused on REITs. Representatives of the China Real Estate Chamber of Commerce, CITIC Securities, the China Securities Regulatory Commission (CSRC), the Beijing Institute of Securities and Futures, and E Fund Management attended the workshop.

The theme of the AMAC conference focused on providing a more comprehensive set of investment opportunities for Chinese investors as part of the government's ongoing program of financial reforms. Grupe used that as a backdrop to outline the economic and investment benefits of REITs as developed over more than 50 years in the United States.

While in Beijing, Grupe met with the China Center for International Economic Exchanges, a major research organization that provides research analysis for the State Council and related government ministries. Representatives from the organization expressed interest in possible joint research activities with NAREIT regarding the development of REITs in China and encouraging cross-border real estate investment.

Grupe also met with the Shenzhen Stock Exchange. The Shenzhen exchange is actively involved in the development of new products for listing on the exchange. Representatives of the exchange also expressed interest in collaborative research with NAREIT regarding the development of REITs in China.

In Qingdao, Grupe spoke on the development, growth and performance of U.S. REITs at the 2014 Jinjialing Fortune Forum. The event, which had approximately 500 registered attendees, focused on financial reform and the establishment of new wealth management systems. It featured guest speakers from around the world. Grupe spoke during a session that included Thomas Sargent, the 2011 Nobel Laureate in Economics, and Andrew Sheng, former chairman of the Securities and Futures Commission of Hong Kong.

(Contact: Mike Grupe at mgrupe@nareit.com)
NAREIT Expresses Views on Joint Leases Project to Accounting Boards
NAREIT wrote to the Financial Accounting Standards Board (FASB) and International Accounting Standards Board (IASB) last week to express its views regarding the boards' joint leases project.

In a letter to the boards, NAREIT informed them that it does not agree with the assertion that accounting for Type A and Type B leases will have a minimal impact on net income charges on income statements for lessees. NAREIT said there are "broader considerations" applicable to the differences between Type A and Type B lease accounting and financial reporting.

"These considerations include conceptual differences between lease types and the usefulness to investors and other financial statement users of reported information," NAREIT said in the letter.

(Contact: Chris Drula at cdrula@nareit.com)
REIT.com Videos: CEO Spotlights
REIT.com interviewed dozens of leading industry CEOs during REITWeek 2014: NAREIT's Investor Forum earlier this month. Below is a sample of recent interviews posted online.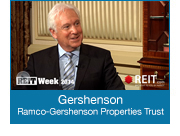 Dennis Gershenson, president and CEO of Ramco-Gershenson Properties Trust (NYSE: RPT), says flat sales for the majority of retailers at his company's shopping centers haven't deterred them from trying to expand. Tenants such as Hobby Lobby, Dick's Sporting Goods and T.J. Maxx are looking at expansion as a way to boost sales, according to Gerhsenson. He points out that Ramco-Gershenson's high occupancy rate allows the retail REIT to be selective with its tenants, and competition for space is leading to higher rents.

CLICK HERE for more of Gershenson's interview with REIT.com.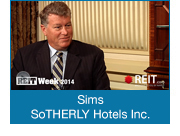 Drew Sims, chairman and CEO of SoTHERLY Hotels Inc. (NASDAQ: SOHO), discusses the lodging REIT's plans to go "back on offense" in the acquisition market. SoTHERLY completed its balance sheet restructuring in the third quarter of 2013 through a bond offering that enabled the company to begin expanding once again. Since then, the company has purchased two major assets, and Sims says it intends to continue buying properties.

CLICK HERE for more of Sims' interview with REIT.com.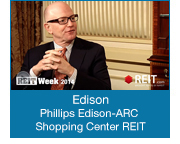 Jeff Edison, chairman and CEO of public, non-listed REIT (PNLR) Phillips Edison-ARC Shopping Center REIT, says his company is exploring "strategic alternatives" and raising funds for a second PNLR. Edison notes that he believes his firm looks at the grocery-anchored shopping center business differently than its competitors. He says his company pays close attention to the "micro market" around a property, rather than the larger metro area.

CLICK HERE for more of Edison's interview with REIT.com.



Visit the REIT.com video section for more exclusive interviews.

(Contact: Matt Bechard at mbechard@nareit.com)
NAREIT Makes Case for Real Estate at Defined Contribution Conference

Kurt Walten, NAREIT's senior vice president of investment affairs and investor education, made the case for REITs as a core component of defined contribution plans at the 2014 Society of Professional Asset-Managers and Record Keepers (SPARK) National Conference.

SPARK represents mutual fund companies, banks, insurance companies, investment advisors, third-party administrators, record keepers and benefit consulting firms in the retirement plan industry. The association's members, which include more than 250 companies, represent most of the major service providers in the retirement plan industry. Collectively, they serve more than 95 percent of DC plan participants.

Walten participated in a panel entitled "Implementing Real Estate into DC Portfolios to Maximize Participant Outcomes." His presentation focused on making the case for real estate as a core asset class in DC plans and illustrating that an investment in REITs is an investment in real estate.

The panel also featured Johanna Vogel, Dividend Capital's senior vice president of retirement markets, and David Skinner, Prudential Real Estate Investors' DC practice leader.

(Contact: Kurt Walten at kwalten@nareit.com)
NAREIT Participates at Morningstar Investment Conference

NAREIT participated in the Morningstar Investment Conference in Chicago last week. Participation in this conference is a component of NAREIT's Investor Outreach program focused on promoting REIT investment to the retail investor marketplace through financial intermediaries, such as family wealth offices, registered investment advisors (RIAs) and financial planners.

Financial intermediaries have significant influence over the $6.2 trillion in assets in individual retirement accounts (IRAs) in the United States, representing a third of the overall $18.8 trillion retirement savings market. The size, scope, diversity and fragmentation of this audience make reaching this investor cohort especially challenging.

The Morningstar event is the largest of its kind, attracting more than 1,800 financial advisors, RIAs, investment management firms, financial publishers and software developers. It provides NAREIT with an opportunity to inform and educate the financial advisor and RIA attendees on the benefits of REIT investing. The event also provides a chance to develop stronger relationships with many of the participating investment firms with which NAREIT maintains a regular dialogue through its direct meeting program.

(Contact: Abby McCarthy at amcCarthy@nareit.com)
Former NAREIT President Arthur Viner Dies at Age 92

Former NAREIT Board of Governors President Arthur Viner, who founded REIT sponsor Investors Central Management Corp., died June 19 at the age of 92.

Viner's tenure at Investors Central Management Corp., which sponsored three REITs that were listed on the New York Stock Exchange, ran from 1958 to 1991. He held the positions of president and CEO of the company during that period.

Viner served as president of the NAREIT Board of Governors from 1975 to 1976 (equivalent today to the position of NAREIT Chair). In 1993 he became the second recipient of NAREIT's Industry Leadership Award, which honors NAREIT members who have displayed excellence in their contributions to the real estate industry and to the programs of the association. From 1983 to 1984, Viner served as president of the Pension Real Estate Association, and he acted as chairman of the association from 1984 to 1985.

After retiring, Viner represented the Dutch real estate investment company IBUS in its U.S. acquisitions.

(Contact: Tony Edwards at tedwards@nareit.com)
SFO Workshop Registration to Open in July



The NAREIT 2014 SFO Workshop will be held this year in Boston on Sept. 22-23 at the Fairmont Copley Plaza. Corporate member executives with responsibility for accounting, financial reporting, capital markets, and/or investor relations are invited to attend. Registration will open July 9.

Sessions are focused on four main areas: a capital markets update; audits as they relate to revised Committee of Sponsoring Organizations of the Treadway Commission (COSO) guidance and the effects of actions by the Public Company Accounting Oversight Board (PCAOB); for investor relations, supplemental packages and shareholder activism; and financial reporting with "deep dives" into a few select standards. The program's four pillars establish a foundation on which corporate members can remain current on the latest finance, accounting, tax and investor relations practices and prepare for year-end activities.

Attendees earn 12 hours of CPE credits at this annual event and will have the opportunity to attend a networking reception as part of the program.

Program Directors for the 2014 SFO Workshop are Ixchell C. Duarte, senior vice president and chief accounting officer of CNL Healthcare Properties, and Robert J. Meyer, Jr., senior vice president of finance and corporate controller of American Tower Corporation (NYSE: AMT).

To follow SFO Workshop developments and register for the event, please visit its page on REIT.com.

(Contact: George Yungmann at gyungmann@nareit.com)
REIT.com Videos: REITWeek 2014 Insights
Dozens of REIT insiders, analysts and investors sat down for video interviews with REIT.com at REITWeek 2014: NAREIT's Investor Forum earlier this month. Below is a sample of interviews now available on REIT.com.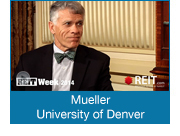 Glenn Mueller, University of Denver professor and real estate investment strategist at Dividend Capital Group, offers his thoughts on the investment characteristics of REITs. REITs have historically been low-volatility investments, he says, but that changed temporarily during the financial crisis as a result of exchange-traded funds (ETFs). Although the volatility of REIT stocks climbed during the period, once the market returned to normal trading levels, leveraged ETFs lost much of their influence on pricing, according to Mueller.

CLICK HERE for more of Mueller's interview with REIT.com.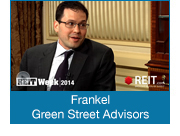 Eric Frankel, analyst at Green Street Advisors, discusses developments in the industrial REIT sector during the first half of the year. He notes that industrial sector fundamentals have been good for the past few years, pointing out that the recovery in the industrial sector started relatively slowly when the economy first began to improve four years ago. "It's been pretty smooth sailing," he observes.

CLICK HERE for more of Frankel's interview with REIT.com.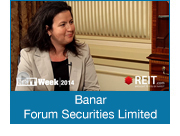 Sophia Banar, managing director with Forum Securities Limited, talks about the impact of the hostilities between Russia and the Ukraine on international real estate markets. She downplays their significance for real estate investors, maintaining that the only real effects have come through increased volatility in the broader stock markets: "The hotel rates in California are not really impacted by the unfortunate circumstances of military actions in Ukraine."

CLICK HERE for more of Banar's interview with REIT.com.

Visit the REIT.com video section for more exclusive interviews.

(Contact: Matt Bechard at mbechard@nareit.com)
NewsBrief will not publish next week.
NewsBrief will not publish next Monday in observance of Independence Day. NewsBrief will return Monday, July 14.

(Contact: Matt Bechard at mbechard@nareit.com)