Content

Message from the President

Last week, as the article in this issue of NewsBrief reports, the RAND Corporation, a non-profit policy research and analysis firm, issued a study evaluating the national security impact of the Terrorism Risk Insurance Act (TRIA).

TRIA, which has made it possible for businesses, including REITs, to obtain terrorism risk coverage from private-sector insurance companies since the Sept. 11, 2001 terrorist attacks, is scheduled to sunset at the end of this year. NAREIT and other organizations in the Coalition to Insure Against Terrorism (CIAT), of which NAREIT is a founding member, are actively working for TRIA's renewal.

The RAND study provides additional impetus for TRIA's reauthorization because it correctly identifies the ability to efficiently rebuild and recover after a terror attack not just as a business issue impacting an affected group of companies, but as a homeland security issue impacting our society.

The terrorist strikes on 9/11 were intended in part to inflict debilitating, long-term damage to our economy. In the absence of the insurance coverage then in place, the terrorists would have been far more successful in achieving that goal.

As the RAND study points out, the ability to recover more rapidly from an attack can make our communities more resilient and reduce the consequences of terrorists' actions, contributing to our national security.

There is no effective homeland security without economic security, and TRIA provides a critical line of defense for our nation's economy. That is a key message NAREIT will be taking to Members of Congress in the weeks and months ahead as we advocate for the reauthorization of this vitally important legislation.








Steven A. Wechsler
President and CEO
REIT Innovator Bernard Winograd Dies

Bernard Winograd, who helped revolutionize the REIT industry in the early 1990s with the Taubman Centers (NYSE: TCO) initial public offering, has died at 63.

As chief financial officer of Taubman Centers, Winograd was a central figure in the creation of the UPREIT structure under which private property owners contribute real estate assets to a partnership operated by a REIT in exchange for units of that operating partnership. Taubman Centers and investment bank Morgan Stanley worked with law firm Goodwin Procter to develop the UPREIT as a solution to the capital crunch facing the commercial real estate industry in the wake of the credit crisis of the late 1980s.

In its 1992 IPO, Taubman Centers became the first real estate company to go public using the UPREIT structure, raising nearly $300 million. More than 40 equity REITs followed suit in 1993. (REIT magazine chronicled the Taubman IPO and its impact on the real estate industry in a feature article in its November/December 2013 issue.)

"The work done in [the Taubman deal] proved to be a turning point in the 'modern REIT era,' with the UPREIT structure paving the way for the IPOs of numerous widely respected private real estate operating companies," said Ettore Santucci, a partner with Goodwin Procter who chairs the law firm's capital markets practice and serves as co-chair of its REIT practice, last year in a REIT magazine article on the Taubman IPO.

Winograd left Taubman Centers in 1996 to become CEO of Prudential Real Estate Investors. He was named president of Prudential Investment Management and chairman of Prudential Real Estate Investors in 2002. After being installed as executive vice president and COO of Prudential Financial's U.S.-based business in 2008, Winograd retired three years later at the age of 60.

Winograd contributed to promoting the REIT-based approach to real estate investment throughout his career. He served as the first chair of NAREIT's Real Estate Investment Advisory Council (REIAC) in the early 2000s. He also helped craft NAREIT's initial guidance on funds from operations (FFO), which is now widely used as the primary supplemental financial standard to U.S. GAAP for reporting REIT operating performance.

NAREIT presented Winograd in 2001 with its Industry Leadership Award, which is given to "a company executive who has made a significant and lasting contribution to the growth and betterment of the industry."

"Bernard not only played a formative role in the birth of the modern REIT era through the Taubman Centers IPO, but he also played a central role in building NAREIT as members know it today through his service as a NAREIT officer, through his leadership of the Real Estate Investment Advisory Council and through his longstanding service with NAREIT's executive board," said Steve Wechsler, president and CEO of NAREIT. "NAREIT was pleased to recognize Bernard's many achievements by honoring him in 2001 with its Industry Leadership Award."

Winograd is survived by his wife, Carol; two children, Simon and Christina; and his brother, Morley.

(Contact: Ron Kuykendall at rkuykendall@nareit.com)
RAND Study: TRIA Contributes to Improved National Security

A new study of the national security benefits of the Terrorism Risk Insurance Act (TRIA) conducted by the RAND Corporation's Center for Catastrophic Risk Management and Compensation confirms the experience of business insurance consumers that TRIA is key to ensuring the availability and affordability of the terrorism coverage that undergirds the U.S. economy, according to the Coalition to Insure Against Terrorism (CIAT), which represents business insurance policyholders.

TRIA originally was passed in 2002 in the wake of the Sept. 11, 2001 terror attacks when reinsurers withdrew from the terrorism risk insurance marketplace, causing primary insurers to withdraw, as well. TRIA restored terrorism risk coverage to the market. The legislation was reauthorized in 2005 and 2007, and, for more than a decade, has made it possible for businesses to purchase the terrorism risk coverage they need through the private market at little to no cost to the taxpayer. TRIA is scheduled to sunset at the end of this year unless it is extended.

"The RAND study makes it clear that TRIA enables the smooth functioning of the terrorism risk insurance marketplace, which is critical to commercial insurance consumers representing a broad range of industries, from real estate, to public utilities, to major entertainment venues," said CIAT spokesperson Martin DePoy. The study reaffirmed the fact that insurers continue to be unable to effectively price catastrophic terrorism risk – a key to providing terrorism coverage – because risk from such attacks, unlike risk from natural disasters, is man-made, designed to overcome loss-mitigation efforts and inherently unpredictable.

RAND's analysis additionally pointed out the significant contribution TRIA makes to national security by enabling more rapid rebuilding after an attack and supporting economic growth. "The primary influences of TRIA on national security," the study noted, "are likely through improvements in resilience and recovery. To the extent TRIA leads to greater access to insurance, this could improve both the pace and effectiveness of recovery efforts and in turn makes communities more resilient to future terrorism events…To the extent that terrorism insurance is more available with TRIA than without it, renewing the legislation contributes to improved national security."

The recently released RAND study on the national security impacts of TRIA is the first of three studies being conducted by the corporation on the effects of the legislation. Forthcoming research will explore in detail the effect of TRIA on the economy and on the Workers' Compensation insurance marketplace.

(Contact: Robert Dibblee at rdibblee@nareit.com)
REIT.com Video: REITs Maintain Momentum in February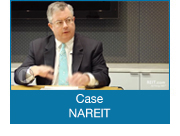 In the latest edition of Quick Study, Brad Case, NAREIT's senior vice president for research and industry information, offered an analysis of how the REIT market performed in February following its solid showing the previous month. The FTSE NAREIT All REITs Index had a total return of nearly 4.7 percent in February.

"It was a very strong month in February," Case observed. In general, investors were a little less concerned about the role that the Federal Reserve Board might play in raising interest rates, he said. At the same time, investors showed more confidence in the course of the economic recovery, Case added.

Gains seen across a swath of REIT sectors indicate that "the story is really about consumer confidence about the overall growth of the economy," according to Case.

(Contact: Matt Bechard at mbechard@nareit.com)
FASB Presses Forward on Financial Instruments: Classification and Measurement Project

On Feb. 26, the Financial Accounting Standards Board (FASB) met to discuss the Financial Instruments: Classification and Measurement Project. The project is of major interest to mortgage REITs as it is intended to improve financial reporting for financial instruments by developing a consistent, comprehensive framework for classifying those instruments.

That framework would link the measurement of financial assets to the way in which the company expects to benefit from the cash flows embedded in those assets, while the measurement of financial liabilities would be consistent with how the entity expects to settle those liabilities.

For more information on the project, see the SFO Alert that NAREIT issued last week on the latest developments.

(Contact: George Yungmann at gyungmann@nareit.com)
NAREIT Checks the Pension Pulse of California

In conjunction with outreach program activities intended to increase the level of investment in REITs by public sector pension plans, NAREIT supports and participates in a number of national and state associations representing the interests of public sector pension and retirement plans. Last week, Meredith Despins, NAREIT's vice president of investment affairs and investor education, participated in the 2014 General Assembly of the California Association of Public Retirement Systems (CALAPRS), an association that NAREIT has sponsored since 2011.

This year's general assembly, titled "The Pension Pulse of California," featured presentations and panel discussions on a wide range of issues intended to address the challenges and opportunities facing California's systems. Topics included pension reform and funding challenges, benefit adequacy, and investment themes and best practices investors might employ to successfully position their pension and welfare benefits investment portfolios. CALAPRS has 40 member systems including county, city, special districts and state systems. Its mission is to provide educational forums for sharing information and exchanging ideas among trustees and staff of California public retirement systems to enhance their ability to administer public pension plan benefits and manage investments consistent with their fiduciary responsibility.

The general assembly provides NAREIT's outreach staff with an important opportunity to engage in conversation with key constituents in the investment decision making process of California's public sector pension plans on the REIT approach to real estate investment.

(Contact: Meredith Despins at mdespins@nareit.com)
REIT.com Video: Don Wood, Federal Realty Investment Trust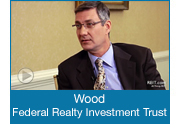 Donald Wood, president and CEO of Federal Realty Investment Trust (NYSE: FRT), joined REIT.com for a CEO Spotlight video interview during NAREIT's 2014 Washington Leadership Forum.

Wood was asked about the pros and cons of larger-scale projects, such as Federal Realty's Pike & Rose project in Rockville, Md. The new development combines residential, retail, office and recreational facilities, and it is situated in close proximity to a rail line within the Washington, D.C. public transportation system.

"These things are hard, and they're time-consuming," Wood explained. However, "they create long-term value and a growing cash flow stream more consistently, more sustainably over the long term and are, therefore, worth more over the long term than other types of properties," he added.

(Contact: Matt Bechard at mbechard@nareit.com)
REITPAC Awards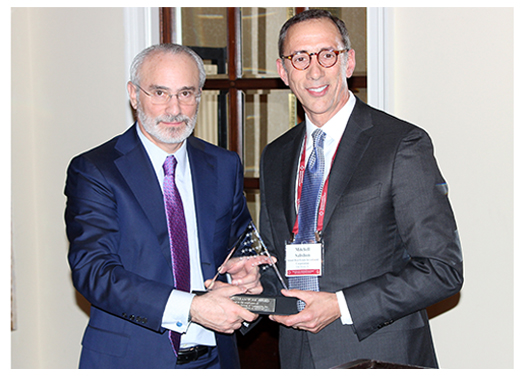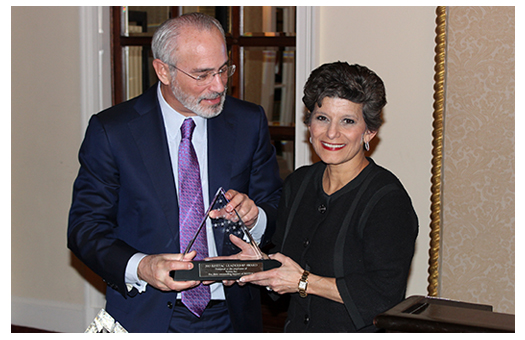 NAREIT presented its REITPAC Awards for 2013 during last month's Washington Leadership Forum. The Inland Real Estate Group of Companies Inc. received the 2013 REITPAC Teamwork Award, which was presented to Mitchell Sabshon, CEO of Inland Real Estate Investment Corporation (top photo). Ventas, Inc. (NYSE: VTR) received the 2013 REITPAC Leadership Award, which was presented to Debra Cafaro, Ventas' chairman, president and CEO (bottom photo).

The Leadership Award goes to the company whose employees contributed the most funds to REITPAC in 2013. The Teamwork Award recognizes the company that provided funds from the largest number of individuals during the year.

REITPAC is the political action committee sponsored by NAREIT. REITPAC was created to maximize the political impact of the REIT industry on Capitol Hill and it is the only PAC in the country dedicated solely to the variety of issues that affect REITs and publicly traded real estate on a daily basis.

(Contact: Robert Dibblee at rdibblee@nareit.com)
REIT.com Video: Randy Churchey, EdR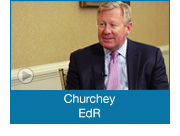 Randy Churchey, president and CEO of student housing REIT EdR (NYSE: EDR), joined REIT.com for a CEO Spotlight video interview during NAREIT's 2014 Washington Leadership Forum.

With state governments looking to outside capital sources to fund and develop new student housing projects, Churchey dismissed the suggestion that the market could be getting overheated.

"We've produced data for our investors to show what supply is looking like in the markets that we invest in, and the supply is a little bit in excess of demand, which gives some people a little bit of pause, but not us," Churchey said. "The main reason is that in university campuses probably half of the students are living in older, dilapidated single-family houses. What we're seeing is that with the supply that is being added, kids are moving out of those older communities, and those are getting repurposed for what their intentional use was. Students are moving more toward our purpose-built housing."

(Contact: Matt Bechard at mbechard@nareit.com)
NAREIT Welcomes Newest Corporate Member

NAREIT welcomes American Realty Capital Trust V, Inc. as its newest Corporate Member. ARCT V is an externally advised, public, non-listed equity REIT that employs the same fundamental net lease strategy used by many of its sister American Realty Capital REITs. ARCT V strives to maintain a portfolio in which at least 50 percent of its net operating income is derived from rent paid by investment-grade tenants, as measured by a major credit ratings agency. Based in New York City, ARCT V's chairman and CEO is Nicholas Schorsch and its president, COO, treasurer and secretary is Michael Weil.

(Contact: Bonnie Gottlieb at bgottlieb@nareit.com)
NYU Hosting REIT Symposium

The NYU Schack Institute of Real Estate is holding its 19th annual REIT Symposium on April 8 at The Pierre in New York City. NYU Schack is offering NAREIT members a special rate of $695 if they register by April 1. To register for this event, visit www.scps.nyu.edu/reit and enter the NAREIT members discount code: REITschacknareit2014.

Among those scheduled to speak at the event are Jonathan Gray of Blackstone, Ric Clark of Brookfield (NYSE: BAM), David Henry of Kimco Realty Corp. (NYSE: KIM), Scott Rechler of RXR Realty, David Simon of Simon Property Group (NYSE: SPG) and Sam Zell of Equity Group Investments.

(Contact: Bonnie Gottlieb at bgottlieb@nareit.com)
Register Today for REITWise




Register today to attend REITWise 2014®: NAREIT's Law, Accounting & Finance Conference® being held April 2-4 in Boca Raton, Fla. More than 38 sessions, events and networking opportunities will provide attendees with information on the latest REIT law, accounting, tax and finance practices. Join approximately 1,000 colleagues to receive the most relevant information on legislation, guidelines, recommendations and opinions surrounding law, finance, tax and accounting for REITs.

Attendees earn up to 19.5 CPE or 17.75 CLE credits to help meet their mandatory educational requirements.

(Contact: Katelyn Rowland at krowland@nareit.com)