Content

Message from the President

Federal Reserve Board Governor Jeremy Stein recently discussed in a speech areas of the economy in which the Federal Reserve's current low interest rate policy could be fueling excessively rapid growth, and in which a sudden change in that policy could produce market disruptions. As part of his remarks, he noted recent growth in a number of areas, including mortgage REITs.

Last week, members of NAREIT's Investor Outreach team met with economists at the Fed, including section chiefs overseeing real estate, finance and market risk, to provide them with information and perspective on the mortgage REIT marketplace, including market trends and the outlook for its future.

NAREIT advised the Fed representatives that, although assets held by mortgage REITs have grown significantly in recent years, so has the industry's equity capital, with mortgage REITs raising $32 billion in secondary equity offerings in the past two years alone. The result, NAREIT explained, is a mortgage REIT industry that is less leveraged than it was before the Great Financial Crisis and substantially better capitalized than the overall banking system.

Additionally, NAREIT noted that many of today's mortgage REIT management teams successfully managed their companies through the financial crisis.

Our Investor Outreach team also discussed how the listed REIT model, with its requirement to pay out nearly all income as dividends and its consequent reliance on the public markets for capital, sharpens management discipline, since REITs' operating strategies must be approved by the capital markets for their public offerings to succeed.

As the mortgage securities portfolios of Fannie Mae, Freddie Mac and the Fed itself are wound down, mortgage REITs will have an even more important role to play in helping to provide the liquidity the U.S. mortgage market needs to function well.







Steven A. Wechsler
President and CEO


 
FASB Proposes Revised Classification and Measurement Model for Financial Instruments

On Feb. 14, the Financial Accounting Standards Board (FASB) issued a proposed model for the classification and measurement of financial instruments. The proposal would impact both equity and mortgage REITs that report financial assets and/or financial liabilities, as the model would apply to entities across industries with few exceptions.

FASB's proposal calls for changes related to the measurement of debt investments, equity investments and financial liabilities. Additionally, the proposal would replace the unconditional fair value option under current U.S. GAAP with limited fair value options. Finally, for financial instruments measured at amortized cost by public companies, the proposal would require parenthetical disclosure of fair value on the face of the balance sheet.

NAREIT issued an SFO Alert last week with further details on the proposal.

(Contact: Chris Drula at cdrula@nareit.com)
 
Simon Among FORTUNE's Most Admired Real Estate Companies

Mall REIT Simon Property Group Inc. (NYSE: SPG) is "America's Most Admired Company" in the real estate Industry, according to FORTUNE magazine.

The publication's annual survey of top executives, directors and financial analysts asks them to identify companies that enjoy the strongest reputation within their industries. Attributes considered include the ability to attract and retain talent, quality of management and social responsibility. Host Hotels & Resorts Inc. (NYSE: HST) ranks 2nd, followed by CBRE Group (NYSE:CBG), Ventas Inc. (NYSE: VTR) and Boston Properties Inc. (NYSE: BXP).

"We are very gratified by this recognition, and it is the result of another outstanding effort of all our employees," said David Simon, chairman and CEO of Simon Property.

(Contact: Ron Kuykendall at rkuykendall@nareit.com)
REIT.com Video: Dan Fulton, Weyerhaeuser Co.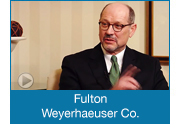 Dan Fulton, president and CEO of Weyerhaeuser Co. (NYSE: WY), joined REIT.com for a CEO Spotlight video interview at NAREIT's Washington Leadership Forum.

Fulton discussed the synergies between his company's different lines of business: timberlands, wood products, regional homebuilding and cellulose fibers.

"Our four businesses are in a sense different, but complementary," he said. "In a sense, they operate independently, but, ultimately, are all related one way or another to the trees and the ultimate use of those trees, which, in North America, is primarily housing."

Fulton called the recovery in the housing market as "very significant." Over the long term, he said the housing market will demand between 1.6 million and 1.9 million new starts per year.


(Contact: Matt Bechard mbechard@nareit.com)
NAREIT Submits Comments on Valuation of Investment Property

NAREIT wrote to the International Valuation Standards Council (IVSC) last week with feedback on a recent paper regarding the valuation of investment property.

The letter from George Yungmann, NAREIT senior vice president for financial standards, and Chris Drula, NAREIT vice president for financial standards, to the IVSC discussed a host of issues arising from the paper. They included the scope of the IVSC project, the assets to be included in the valuation of investment property, and taxes and costs.

The letter was sent to Christopher Thorne, technical director with the IVSC.

(Contact: George Yungmann at gyungmann@nareit.com)
New REIT Informational Brochures Available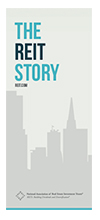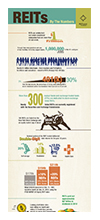 NAREIT recently published two new informational brochures to further assist in its efforts to educate investors and policymakers about the REIT approach to real estate investment. The first is a redesigned version of "The REIT Story" brochure, which lays out the evolving role REITs play in the economy and investment landscape in a narrative format.

"REITs: By the Numbers" also details the REIT approach to real estate investment, but does so using colorful infographics that visually illustrate the increasing role REITs play.

Both publications are available on REIT.com, and we encourage you to link to them on your websites or share them with key constituents.

(Contact: Matt Bechard at mbechard@nareit.com)
REIT.com Video: Hap Stein, REIT Regency Centers Corp.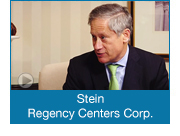 Martin "Hap" Stein, chairman and CEO of shopping center /REIT Regency Centers Corp. (NYSE: REG), joined REIT.com recently for a CEO Spotlight video interview during NAREIT's Washington Leadership Forum.

Regency Centers has properties across the country, ranging from assets in the coastal markets in California to markets in Texas, the Raleigh/Durham region, the Southeast and Washington, D.C. Stein discussed the company's diverse markets and what makes them successful.

"Throughout the country our properties are doing well. What is driving that is the demographics of our shopping centers," said Stein.

In terms of development and redevelopment projects, Stein said the development of irreplaceable shopping centers at attractive returns on risk to capital is one of Regency Center's core competencies. In 2012 the company completed nine properties that are already 97 percent leased, according to Stein.

"Our development has performed very well, and it's a key part of what we do at Regency," he said.

(Contact: Matt Bechard at mbechard@nareit.com)
REITWeek Registration Now Open


REITWeek 2013: NAREIT's Investor Forum will be held June 5-7, at the Hilton Chicago. REITWeek brings the largest concentration of REIT management teams into one location, providing investors with the opportunity to evaluate REIT business models, identify sector and market trends, and participate in company Q&A's. Thousands of institutional investors will converge to hear and meet more than 160 REIT management teams.

REITWeek 2013 is a complimentary, invitation-only event for institutional investors and NAREIT Corporate Members. For institutional investors to attend this event, they need to first qualify by filling out NAREIT's "Request an Invitation" form. Once qualified, investors will be invited to complete their registration and attend REITWeek 2013.

All NAREIT Corporate Members qualify for complimentary "Fast-Track Registration." Once you have completed your registration, a confirmation e-mail will be sent to you immediately and will include information on how to reserve hotel rooms.

All attendees must pre-register before the beginning of the event.

(Contact: Katelyn Rowland at krowland@nareit.com)
Conference to Highlight Latest in REIT Research


NAREIT is co-hosting a complimentary, one-day REIT Research Conference to discuss results of leading REIT research papers submitted to AREUEA, publisher of Real Estate Economics, the premier academic journal for real estate investment related topics. This event takes place on June 4 at the Hilton Chicago, one day before REITWeek 2013 begins.

Important real estate investment related topics include:
Valuation of REITs, listed property companies (LPCs), and other real estate assets.


Investment characteristics of REITs and LPCs, both within real estate portfolios and in mixed-asset portfolios.


Organizational and Operational issues for REITs and non-REIT LPCs, e.g., financing, capital structure, executive compensation, operating expenses, economies of scale, property type or geographic focus/diversification, ownership structure, etc.
This event is complimentary and open to anyone interested in the latest research related to REITs. To attend the REIT Research Conference,
a separate registration form
from REITWeek must be completed.
(Contact:
Megan Peichel
at mpeichel@nareit.com)
2013 Virtual REIT Conference for Individual Investors

Brad Case, NAREIT's senior vice president for research and industry information, presented at a virtual conference on REIT investing last week. His presentation, "A Guide to REIT Investing," focused on three primary investment attributes of listed REITs –dividends, long-term performance and diversification – and how those attributes can enhance the savings and retirement portfolios of individual investors.

The one-day event was organized by RetailInvestorConferences.com, a cooperative venture of BetterInvesting, PR Newswire and MUNCMedia designed to provide investor education and disclosure to retail investors. Several NAREIT members participated in this event, including; National Retail Properties, Inc., DDR Corp., Extra Space Storage, Alexandria Real Estate Equities, Inc., EPR Properties and Kimco Realty Corp.

Additionally, Michael Salinsky, RBC Capital Markets' REIT analyst, gave a presentation on "The Importance of Stock Selection to REIT Investing Success." The virtual conference attracted approximately 496 individual investors.

(Contact: Brad Case at bcase@nareit.com)