Content

Message from the President

Over the past 20 years, the Modern REIT Era came into its own and our industry reached critical mass to appeal to investors from all walks of life.

As the recovery from the Great Financial Crisis continues, REITs recently have been active acquirers of assets. Their access to public capital markets helps provide the funds to purchase these properties.

We are also seeing the expansion of REIT IPO activity. With more than $4 billion raised in just the first 10 months of this year, 2013 will be the biggest year for REIT IPOs in a decade. Very significant portfolios of assets assembled by private owners are being presented to public market investors – such as the $1.1 billion offering of the Empire State Realty Trust, the $825 million Brixmor Property Group offering and the $812 million IPO of American Homes 4 Rent.

While the stories of acquisitions and IPOs by REITs at the current moment are topical news, the factors encouraging the movement of these assets into the public market are the same ones that have supported the growth of the listed REIT industry in the past: the opportunity for liquidity for the private owners of the assets, and the ongoing appeal to public market investors of income-producing real estate in a form that is liquid, moderately leveraged, transparent and professionally managed.

These are the factors that that have built the listed REIT marketplace over the past 20 years, and that will continue to fuel its growth into the future. Next week at REITWorld 2013 in San Francisco, we will reflect on the last 20 years and look ahead at what is to come.








Steven A. Wechsler
President and CEO
NAREIT Makes Recommendations to Indian Government on REIT Regime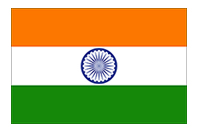 NAREIT submitted recommendations to the government of India last week regarding the potential authorization of a REIT regime in the country.

In an Oct. 31 letter to the Securities and Exchange Board of India (SEBI), NAREIT suggested that India develop REIT laws that follow the precedent set by the U.S. REIT model, which has formed the basis for the majority of the REIT regimes that have proliferated around the world.

"NAREIT believes that adopting a single tax structure that resembles the current United States REIT vehicle would capitalize on over 50 years of experience with, and the evolution of, REITs in the United States, and should promote a number of the Indian government's objectives," NAREIT said.

The SEBI has released a draft of its proposed REIT rules for public comment.

(Contact: Dara Bernstein at dbernstein@nareit.com)
Investor Outreach Activity Brisk in October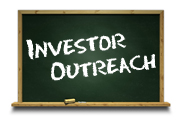 In October, NAREIT's Investor Outreach team held direct meetings with a diverse group of 47 investment organizations controlling more than $12 trillion in assets in the institutional investment market. The 47 meetings were held with organizations across all targeted investment cohorts, including: 16 with prominent domestic and international pension, retirement and sovereign wealth funds representing close to $214 billion in assets; 23 with investment managers sponsoring global and domestic products for the institutional and retail investor markets and with a combined $10 trillion in assets under management; and two with investment consultants with assets under advisement of $2 trillion. Another six meetings were held during the month with other organizations and associations active in the pension and retirement investment community.

It is notable that our outreach meetings with investment managers provide significant opportunities to influence REIT allocations within products sold through multiple channels, including those sold through institutional defined contribution (DC) plan platforms. The most important investment-related trend in the $5.3 trillion DC market continues to be the dramatic increase in the use of professionally managed asset allocation products, most notably the adoption of target-date funds. Some industry experts believe that a majority of assets in DC plans will be invested in these types of funds within the next 10 years. In light of the growing importance of asset allocation products, we continue to engage the many different types of organizations operating in this arena, including investment managers offering target-date funds. In fact, the investment managers with which NAREIT has met since the beginning of the year collectively control more than 90 percent of target-date fund assets.

Through the end of October, NAREIT has conducted 336 meetings this year with many of the largest and most influential investment organizations within the institutional investment marketplace. Collectively, these entities represent more than $36 trillion in assets under management or advisement.‬‬‬‬‬‬‬‬‬‬‬‬‬‬‬

NAREIT has also been active on the institutional investment conference circuit during 2013, attending 42 events. NAREIT participated as a speaker at seven, a board member at four and a sponsor at two. To provide perspective, during the same time period in 2012, NAREIT participated in 28 such conferences.

(Contact: Kurt Walten at kwalten@nareit.com)
REIT.com Video: Paul McDermott, WRIT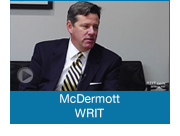 Paul McDermott, president and CEO of Washington Real Estate Investment Trust (NYSE: WRE), commonly known as WRIT, joined REIT.com for a CEO Spotlight video interview at NAREIT headquarters in Washington.

McDermott took over as CEO of WRIT in October following the retirement of Skip Mackenzie. He discussed some of the challenges that he has faced in the transition to his new position.

"WRIT, like a number of other companies, has a lot of challenges going forward based in terms of what's taking place in our marketplace right now and directionally in where the real estate and capital markets are going," McDermott said. "In terms of challenges, from a macro level, we're obviously dealing with a lot of confusion and distortion in terms of what's going on on Capitol Hill right now."

McDermott also outlined some of his goals for the early part of his tenure as CEO, noting that he wants to focus on WRIT's strategy.

(Contact: Allen Kenney at akenney@nareit.com)
NAREIT Represented at Pensions & Investments Conference



On Oct. 27-29, the NAREIT Investor Outreach team participated in the Pensions & Investments (P&I) Annual West Coast Defined Contribution Conference held in San Francisco. Attendees of this event include a nationwide cross-section of plan sponsors, investment consultants, investment managers, plan providers and other organizations offering products and services within the $5.4 trillion defined contribution (DC) market.

One of the key trends discussed during the conference was the rapid increase in the adoption of "auto" features by DC plan sponsors, including "auto enrollment" and "reenrollment." The implementation of these features has had the effect of "defaulting" plan participants into professionally managed asset allocation products, particularly target-date funds. This is a positive development in that target-date funds increasingly feature meaningful allocations to U.S. REITs and global listed real estate securities.

Through the P&I West Coast DC Conference, NAREIT is afforded the opportunity to maintain an ongoing dialogue with many of the organizations we visit through our direct meetings program. This includes some of the largest investment consultants in the industry such as: Callan Associates; Hewitt EnnisKnupp; Ibbotson Associates; Mercer; Morningstar; NEPC; Russell Investments; and TowersWatson. This also includes some of the major investment managers providing products for the DC space, for example: AllianceBernstein; Allianz Global Advisors; BlackRock; Fidelity Investments; Goldman Sachs; ING; J.P. Morgan; John Hancock Investments; PIMCO; Prudential; Putnam Investments; Russell Investments; State Street Global Advisors; T. Rowe Price; TIAA-CREF; UBS; Vanguard; Wellington Management; and Wells Fargo.

(Contact: Kurt Walten at kwalten@nareit.com)
NAREIT Participates in Public Employee Pension Conference

In conjunction with outreach program activities intended to increase the level of investment in REITs by public sector pension plans, NAREIT participates in a number of national and state associations representing the interests of public sector pension and retirement plans. Last week, Meredith Despins, NAREIT's vice president of investment affairs and investor education, participated in the 2013 Public Safety Employees Pension & Benefits Conference, sponsored by the National Conference on Public Employee Retirement Systems (NCPERS). This annual event is intended to address the unique needs of public safety pension trustees, administrators and staff.

The conference featured presentations and panel discussions on a wide range of issues intended to address the challenges and opportunities facing public safety pension and retirement systems. Topics included pension reform, benefit adequacy, and investment themes and best practices public safety investors might employ to successfully position their pension and welfare benefits investment portfolios. NCPERS is the largest association for public sector pension funds, representing more than 550 funds throughout the United States and Canada that collectively manage nearly $3 trillion in pension assets held in trust for approximately 21 million employees and retirees.

(Contact: Meredith Despins at mdespins@nareit.com)
NAREIT Joins Coalition Addressing Proposal on Credit Risk Retention Rules
NAREIT joined a consortium of industry organizations last week in writing to a host of government agencies regarding their proposed rules on credit risk retention.

The groups' effort came in response to a jointly released notice of proposed rulemaking to implement section 941 of the Dodd‐Frank Wall Street Reform and Consumer Protection Act.

The agencies that released the notice included the Office of the Comptroller of the Currency, the Board of Governors of the Federal Reserve System, the Federal Deposit Insurance Corporation, the Securities and Exchange Commission, the Federal Housing Finance Agency (FHFA) and the Department of Housing and Urban Development (HUD).

(Contact: Victoria Rostow at vrostow@nareit.com)
GRESB Appoints REESA Representative to Benchmarking Committee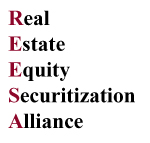 The Real Estate Equity Securitization Alliance (REESA) recently created a Sustainability Committee that will, among other things, be a conduit between the REESA member organizations and the Global Real Estate Benchmark (GRESB) Survey.

REESA's members include the Asia Pacific Real Estate Association, the Association for Real Estate Securitization (Japan), the British Property Federation (BPF), the European Public Real Estate Association, NAREIT, the Property Council of Australia and the Real Property Association of Canada.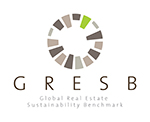 The GRESB Survey, backed by more than 50 of the largest global institutional real estate investors, aggregates data from over 500 global property companies and funds, including numerous NAREIT corporate members. In addition to its role within REESA, NAREIT also serves in an advisory capacity with the GRESB Survey, and in 2012 migrated its Leader in the Light award program onto the GRESB platform.

GRESB has appointed Patrick Brown, BPF's assistant director of sustainability and a member of the REESA Sustainability Committee, to serve on its Benchmarking Committee which advises on the annual GRESB Survey. In this role, Brown will transmit the most frequently noted recommendations from the REESA member organizations directly to those within GRESB who are working to improve the GRESB Survey.

NAREIT Corporate Members are encouraged to provide comments and feedback on specific questions currently addressed by the GRESB Survey, or on potential questions that GRESB should consider in the future. Please direct all such comments to Bonnie Gottlieb, NAREIT's senior vice president of industry and member affairs, at bgottlieb@nareit.com, and she will ensure that this feedback is provided to Brown to share with GRESB's Benchmarking Committee before its next scheduled meeting in late December.

(Contact: Bonnie Gottlieb at bgottlieb@nareit.com)
NAREIT Welcomes New Members

NAREIT is pleased to welcome two new Corporate Members. Carter Validus Mission Critical REIT is a public, non-listed, externally advised equity REIT that invests in "mission-critical" commercial real estate that supports the most essential operations of high-growth industries; namely, data centers and health care properties, including acute care hospitals, ambulatory care centers and medical office buildings. The company is based in Tampa, Fla. Carter Validus' CEO is John Carter and its president is Michael Seton.



Altisource Residential Corporation (NYSE: RESI) is a non-agency residential mortgage REIT that eventually will become an affordable single-family rental REIT using a business model that calls for the acquisition of distressed mortgage loan portfolios. Altisource's strategy is to work with most of its borrowers to modify and refinance their loans, keep them in their homes and ultimately convert the loans into renovated rental properties. Based in Frederiksted, U.S. Virgin Islands, Altisource's CEO is Ashish Pandey.

(Contact: Bonnie Gottlieb at bgottlieb@nareit.com)
REITs in the Community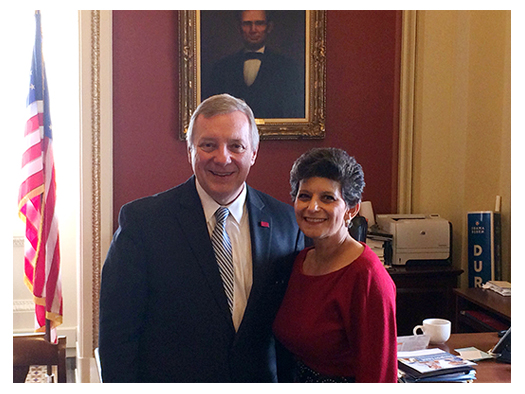 Oct. 30, 2013: Senate Majority Whip Dick Durbin (D-IL) met with Debra Cafaro, chairman and CEO of Ventas, Inc. (NYSE: VTR), in his office at the U.S. Capitol. Cafaro gave Durbin an overview of Ventas and its operation as a REIT and thanked him for his leadership on the Marketplace Fairness Act. They also discussed a number of legislative issues, including tax reform, health care reform and FIRPTA reform.

(Contact: Kate Smith at ksmith@nareit.com)
REITWorld 2013 Begins Next Week



There is still time to register for REITWorld 2013®: NAREIT's Annual Convention for All Things REIT®, which will be held in San Francisco Nov. 13-15. The annual event provides a unique opportunity where REIT and real estate executives from around the world convene with experienced investors, industry leaders, and academic experts to share their specialized knowledge and experience.

A series of general sessions provides attendees with valuable information, current trends, deeper understanding of specific sectors and insight into the evolution and growth of REITs over the years.

(Contact: Afia Nyarko at anyarko@nareit.com)
NewsBrief Will Not Publish Next Week
NewsBrief will not publish next week, in observance of Veterans Day. The next issue of NewsBrief will be published on Monday, November 18.