Content

Message from the President

As detailed in the story below, CEM Benchmarking Inc. has released a study of data from more than 300 pension plans during the 14-year period from 1998 to 2011. The study indicated that pension plans increased their investment in alternative assets, including real estate, by nearly 400 percent in that time.

Among the study's key findings, stock exchange-listed Equity REITs were the top-performing asset class overall in terms of net total returns during this period. Listed Equity REITs realized a net return of 11.31 percent, versus 11.10 percent for private equity, the second-best-performing investment. On a net basis, REITs also outperformed large cap stocks (6.06 percent) on average and U.S. long duration bonds (8.97 percent).

Furthermore, CEM calculated that for a typical pension plan with $15 billion in assets under management, each one percentage point increase in allocations to listed Equity REITs would have boosted total net returns by $180 million in the time period studied.

The CEM study conveys two important truths about REITs and real estate investment. First, REITs offer DB plans and all other investors efficient access to the commercial real estate market and a demonstrable track record of competitive performance.

Second, the growth in investment reflected in CEM's study suggests that institutional investors are taking notice of the solid returns, steady income, liquidity and transparency available to them through the REIT approach to real estate investment.

Going forward, this study will contribute to the growing body of research that NAREIT draws upon to help tell the REIT industry's story.









Steven A. Wechsler
President and CEO
CEM Benchmarking Releases Study on Defined Benefit Pension Fund Performance and Costs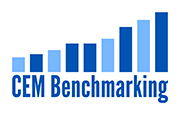 CEM Benchmarking Inc., an independent provider of cost and performance analysis for pension funds, endowments, foundations and sovereign wealth funds, and NAREIT last week announced a new study by CEM on U.S. pension fund performance and investment costs. CEM's findings provide direct comparative insights for defined benefit (DB) pension funds and other investors that seek to better understand realized investment returns and management fees for 12 different asset classes, including traditional stock and bond funds and alternative assets, including real estate.

CLICK HERE to download a copy of the CEM study.

"Concern about the adequacy of pension funding has focused attention on investment performance and fees," said Alexander D. Beath, an analyst with CEM and an author of the study. "The data underscore that when it comes to long-term net returns, costs matter and allocations matter."

CLICK HERE to watch a video interview with Beath on the study.

The study is based on actual return and fee data from 1998 through 2011 provided by more than 300 U.S. DB plans from the CEM database with $2.8 trillion of assets under management. CEM examined how DB funds' allocations paid off in terms of gross returns and realized returns net of fees charged by investment managers.

"Many pension plans could have improved performance by choosing different allocation strategies and optimizing their management fees," Beath said. "Listed Equity REITs delivered higher net total returns than any other asset class for the 14-year period we analyzed, driven by high and stable dividend payouts, long-term capital appreciation and a significantly lower fee structure compared to private equity and private real estate funds."

CLICK HERE to watch a video interview with portfolio manager Greg Spick of UPS Group Trust, who said his own fund's performance mirrors the results of the CEM study.

(Contact: Ron Kuykendall at rkuykendall@nareit.com)
REIT Executives Featured in Harvard Business Review's Top 100 CEO List


Four REIT CEOs made the Harvard Business Review's latest ranking of the 100 best-performing CEOs in the world.

American Tower Corp. (NYSE: AMT) Chairman, President and CEO James Taiclet Jr.; Public Storage (NYSE: PSA) Chairman, President and CEO Ronald Havner Jr.; Simon Property Group, Inc. (NYSE: SPG) Chairman and CEO David Simon; and Ventas, Inc. (NYSE: VTR) Chairman and CEO Debra Cafaro were included in the top 100 list.

Simon ranked fifth, while Taiclet, Havner and Cafaro were all ranked in the top 30. Cafaro was one of only two female executives on the list.

Havner is the current NAREIT Chair, while Cafaro and Simon are past NAREIT Chairs.

The rankings are based on increases in total shareholder returns and market capitalization. Harvard Business Review examined the track records of CEOs of companies in the S&P Global 1200 who assumed their roles between 1995 and April 30, 2012. The study calculated daily company returns, including reinvested dividends, for the CEOs from the first day that they took office until April 30, 2014. CEOs had to have been in their positions for at least two years to be considered for the list.

(Contact: Sarah Borchersen-Keto at sborchersen-keto@nareit.com)
PNLR Account Statements Rule Finalized

The Securities and Exchange Commission (SEC) last week approved a final rule intended to address the valuation of public, non-listed REITs (PNLRs) on customer account statements.

The decision ended a rulemaking process initiated in 2011 by the Financial Industry Regulatory Authority (FINRA). The NAREIT PNLR Council supported the approved version of the rule, which will take effect 18 months after it is published in the Federal Register.

In a letter filed in August, the PNLR Council noted that it is "especially appreciative that the final FINRA Proposal reflects greater flexibility in deriving valuations."

(Contact: Victoria Rostow at vrostow@nareit.com)
NAREIT Holds More Than 350 Investor Outreach Meetings in First Three Quarters of 2014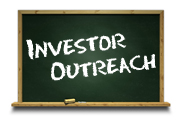 During the first three quarters of 2014, NAREIT conducted 351 meetings with many of the largest and most influential global institutional investment organizations in the United States, Europe and Asia. Collectively, these entities represent more than $32 trillion in assets under management or advisement.

The 351 meetings included: domestic and international pension, retirement and sovereign wealth funds representing almost $3 trillion in assets; investment consultants with assets under advisement of close to $10 trillion; and investment managers representing more than $19 trillion in assets under management.

NAREIT also participated in 27 investor conferences and industry events during the period.

(Contact: Meredith Despins at mdespins@nareit.com)
Host Hotels Scores Victory in Texas Supreme Court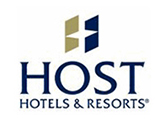 Earlier this month, the Texas Supreme Court denied a final motion for rehearing in the case of HMC Host Properties v. Keystone, reaffirming its unanimous opinion rendered earlier this year in favor of Host Hotels & Resorts Inc. (NYSE: HST) in a dispute over the contractual right of first negotiation.

NAREIT, the Commercial Real Estate Development Association (NAIOP), the National Multi Housing Council (NMHC), American Hotel & Lodging Association (AH&LA), and The Real Estate Roundtable (RER) filed two amicus briefs in the case. They supported Host's argument that HMC's refusal to waive its contractual right of first negotiation, based on a good faith interpretation of a lease, did not constitute malicious interference with the planned sale of a disputed property.

(Contact: Victoria Rostow at vrostow@nareit.com)
REITWise 2015 Set for Phoenix



Next year's REITWise: NAREIT's Law, Accounting & Finance Conference will be held in Phoenix from March 31 through April 2.

NAREIT thanks the program directors in advance for their efforts in helping to put together this important educational meeting: Adam Cohen, executive director for tax with W.P. Carey (NYSE: WPC); Mark Decker Jr., group head with BMO Capital Markets; Mark Denien, executive vice president and CFO with Duke Realty Corp. (NYSE: DRE); and Shirley Goza, general counsel with QTS Realty Trust (NYSE:QTS).

Please send any suggested topics or areas of interest that you would like covered at the conference to Caitlin Crawford at ccrawford@nareit.com no later than close of business on Wednesday, Oct. 22.

(Contact: Tony Edwards at tedwards@nareit.com)
NAREIT Welcomes New Corporate Member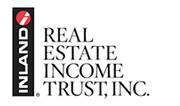 NAREIT is pleased to welcome Inland Real Estate Income Trust as its newest Corporate Member.

Inland Real Estate Income Trust is a public, non-listed Equity REIT that focuses on acquiring multi-tenant retail properties. Based in Oak Brook, Ill., Mitchell Sabshon is the CEO and JoAnn McGuinness is the president and COO.

(Contact: Bonnie Gottlieb at bgottlieb@nareit.com)
REITs in the Community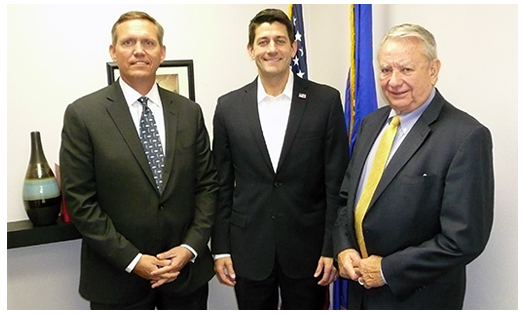 Oct. 13 (from left to right): John Thomas, CEO of Physicians Realty Trust (NYSE: DOC); House Budget Committee Chairman Paul Ryan (R-WI); and Tommy Thompson, the chairman of Physicians Realty Trust who previously served as the Governor of Wisconsin and U.S. Secretary of Health and Human Services, met at Ryan's district office to discuss the company's investments in Wisconsin communities and the REIT approach to real estate investment.

(Contact: Jessica Davis at jdavis@nareit.com)
| | |
| --- | --- |
| Follow us on:   | REIT.com RSS Feeds:   |