Content

Message from the President

Next week NAREIT will host its Senior Financial Officers Workshop. From the perspective of attendance, the SFO Workshop is one of NAREIT's smaller conferences, because its attendance is limited to REIT executive managers focused on accounting, financial reporting, capital markets and investor relations functions. Yet, the SFO Workshop's impact for our industry is likely in inverse proportion to its size.

The format for the SFO Workshop is very "hands-on." It is designed to provide participants with access to experts who can deliver first-hand information and insights that financial officers can put to work to deliver value for their companies.

Value is also provided through another part of NAREIT's mission, which is to engage in the financial standards-making process and to provide perspective to the Financial Accounting Standards Board, International Accounting Standards Board and the Securities and Exchange Commission. That's why NAREIT visited with the SEC's chief accountant last week to discuss lease accounting and other issues.

During the visit, our team discussed why NAREIT generally supports the real property approach to lease accounting for landlords developed by the FASB and the IASB and is ready to support the same approach for leases generally.







Steven A. Wechsler
President and CEO
 
NAREIT Meets with Accounting Chief at SEC

On Sept. 4, NAREIT representatives met with Paul Beswick, chief accountant of the SEC, and members of his staff to discuss NAREIT's views on a number of financial accounting proposals. NAREIT President and CEO Steven A. Wechsler summarized NAREIT's views of the joint FASB/IASB proposed lease accounting standard. He indicated that the proposed accounting for most real estate leases would provide useful information for industry investors in the financial statements of equity REITs but that the accounting for real estate leases should be modified to include all types of real estate, including ground leases.

Wechsler also made it clear that NAREIT would not object to a single approach to lease accounting, so long as the approach mirrors the current approach specified for real estate.

NAREIT representatives also provided NAREIT's views on the FASB's future project that would examine the accounting for real estate investments.

And finally, NAREIT representatives welcomed the FASB's recent proposal to modify the definition and accounting for discontinued operations, which reflects the views advocated by NAREIT.

(Contact: George Yungmann at gyungmann@nareit.com)
GRESB Report Says Real Estate Industry Improves Sustainability Measures

The real estate sector has improved its sustainability disclosure practices and environmental performance, according to the 2013 Global Real Estate Sustainability Benchmark (GRESB) survey.

The report, released Sept. 5, noted that the global real estate sector as a whole decreased energy consumption by 4.8 percent from 2011 to 2012. Additionally, greenhouse gas emissions decreased by 2.5 percent and water consumption decreased by 1.2 percent in that same time period.

"Evidence from the report indicates that companies and funds now see sustainability as an essential part of their day-to-day management practices," said Phillipa Shire, GRESB's operations manager. "This means that they examine sustainability issues regularly. All participants in 2013 confirmed that they undertake risk assessments. The effect of taking sustainability issues more seriously looks to be improved performance, including energy reductions."

The 2013 GRESB report, based on sustainability data gathered from April to July from 543 property companies and funds, covers 46 percent of the FTSE EPRA/NAREIT Index. Last year NAREIT moved its Leader in the Light sustainability program onto the GRESB platform to encourage respondents to benchmark their organization's sustainability achievements against those of real estate companies around the world.

(Contact: Sheldon Groner at sgroner@nareit.com)
NAREIT Comments on Form 8875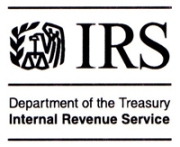 NAREIT has submitted comments to the Internal Revenue Service regarding Form 8875, Taxable REIT Subsidiary (TRS) Election.

In a letter sent by Dara Bernstein, NAREIT senior tax counsel, to the IRS on Aug. 29, NAREIT proposed a number of amendments to Form 8875 and its instructions, including a) permitting an automatic extension of time to file a TRS election of, for example, six months or one year in certain cases instead of having to obtain a private ruling; b) allowing a REIT and its affiliated TRS to provide a specific effective date on which a revocation to a TRS election would be effective; and, c) clarifying in instructions that the TRS election of an acquired company carries over in certain tax-free mergers and acquisitions.

(Contact: Dara Bernstein at dbernstein@nareit.com)
REIT.com Video: Brad Case, NAREIT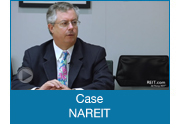 In the latest edition of Quick Study, Brad Case, NAREIT's senior vice president for research and industry information, offered an analysis of the REIT market's performance in August. The FTSE NAREIT All REITs Index saw its total returns drop 6.2 percent for the month. That trailed the broader market, with the S&P 500 down 2.9 percent in August.

Equity REITs were down approximately 7 percent in August, while mortgage REITs fell roughly 3.5 percent.

Case called August a "tough month" for REIT investors. He pointed out that although REIT investors haven't been missing out on significant gains in the stock market, REITs have still underperformed throughout the summer.

"The market has been having a tough time, and REIT investors have been having a little bit tougher time," Case said.

(Contact: Brad Case at bcase@nareit.com)
Regulators Ease Proposed Credit Risk Retention Rule
On Aug. 28, six federal financial regulatory agencies re-proposed the Credit Risk Retention Rule, a regulation mandated by the 2010 Dodd-Frank Act that is intended to require sponsors of securitization loans considered to be risky to have "skin in the game."

Among the objectives of the rule was to impose stricter credit underwriting standards. The revised proposed rule, which follows a previous version issued in 2011, reflects a retreat by the federal regulators from an earlier proposal to exempt only those residential mortgage loans with a minimum of a 20 percent down payment from the risk retention requirement.

Additionally, in the revised proposed rule, the regulators dropped a provision that would have excluded all REITs from the proposed rule's exemption of many high-quality/low-risk commercial real estate loans from the retention requirement.

Finally, the revised rule also discards a "premium capture cash reserve" account proposal.

For more information, please see the FirstBrief analysis distributed by NAREIT.

(Contact: Victoria Rostow at vrostow@nareit.com)
Investor Outreach Team Active in August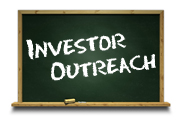 In August, NAREIT's Investor Outreach team held direct meetings with a diverse group of 21 investment organizations controlling more than $6 trillion in assets in the institutional investment market. The 21 meetings were held with organizations across all targeted investment cohorts, including: five with prominent domestic and international pension, retirement and sovereign wealth funds representing more than $66 billion in assets; two with investment consultants with assets under advisement of $4.7 trillion; and five with investment managers sponsoring global and domestic products for the institutional and retail investor markets and with a combined $1.7 trillion in assets under management. Another nine meetings were held with other organizations and associations active in the investment management and retirement industries.

It is notable that our outreach meetings with investment managers provide significant opportunities to influence REIT allocations within the broad asset allocation products sold through multiple channels, including those sold through institutional defined contribution (DC) plan provider platforms as well as through firms whose products are distributed through financial advisor networks. All five meetings with investment managers during August were with managers active in both the $5.4 trillion DC and $5.4 trillion IRA markets, and our meetings and ongoing relationships with these leading firms provide us with the opportunity to influence two-thirds of the entire $16.6 trillion retirement market.

In addition to the direct meetings noted above, NAREIT is active on the financial intermediary and retail investor-focused conference circuit. This year, Abby McCarthy, vice president for investment affairs and investor education, represented NAREIT at five of the largest annual financial intermediary industry conferences, including the Morningstar Investment Conference, Schwab IMPACT, the Investment Management Consultants Association's (IMCA) Annual Conference, the 401Konvergence Summit and the National Association of Personal Financial Advisors (NAPFA) Spring Conference. These conferences provide NAREIT an opportunity to inform and educate the financial advisor and RIA attendees on the benefits of REIT investing while also providing the opportunity to develop stronger relationships with many of the participating investment firms with which NAREIT maintains a regular dialogue through its direct meetings program.

(Contact: Kurt Walten at kwalten@nareit.com)
NAREIT Welcomes Three New Members

NAREIT is pleased to welcome three new Corporate Members. New Residential Investment Corp. (NYSE: NRZ) is a publicly traded, agency residential mortgage REIT that focuses on investing in and managing excess mortgage servicing rights, RMBS and residential mortgage loans. New Residential was formed as a wholly owned subsidiary of Newcastle Investment Corporation, a NAREIT member, but was spun off in May 2013. Based in New York City, Ken Riss is the company's president and COO.



Rexford Industrial Realty, Inc. (NYSE: REXR) is a publicly traded, internally advised equity REIT that focuses on acquiring, managing and repositioning in-fill industrial real estate in Southern California. Based in Los Angeles, Richard Ziman is the chairman, and Howard Schwimmer and Michael Frankel are co-CEOs.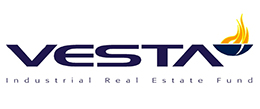 Corporacion Inmobiliaria Vesta S.A.B. de C.V. (MSE: VESTA) is NAREIT's first Mexican Corporate Member. The company is a publicly traded, internally advised real estate company that focuses on development and operation of industrial real estate. Vesta is based in Mexico City and its chairman and CEO is Lorenza Berho.

(Contact: Bonnie Gottlieb at bgottlieb@nareit.com)
REITs in the Community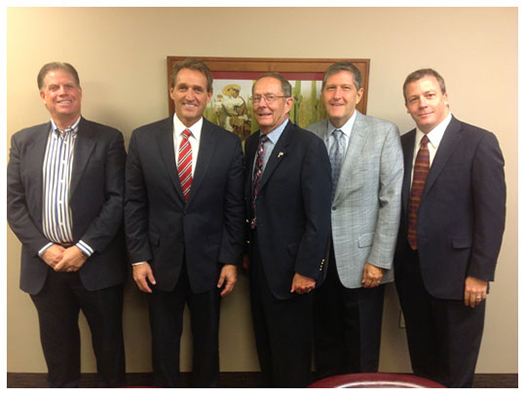 Aug. 26, 2013: Sen. Jeff Flake (R-AZ), second from left, met with Macerich (NYSE: MAC) executives in his Phoenix office to discuss various issues important to the REIT industry. Pictured with Flake (left to right: Greg Cochran, vice president, leasing; Dana Anderson, vice chairman of the board; Timothy Corzine, vice president, research; and Scott Nelson, vice president, development. In addition to providing a brief update on Macerich's activities and developments in Arizona, the group discussed the Main Street Fairness Act, FIRPTA reform, extension of terrorism risk insurance and tax reform.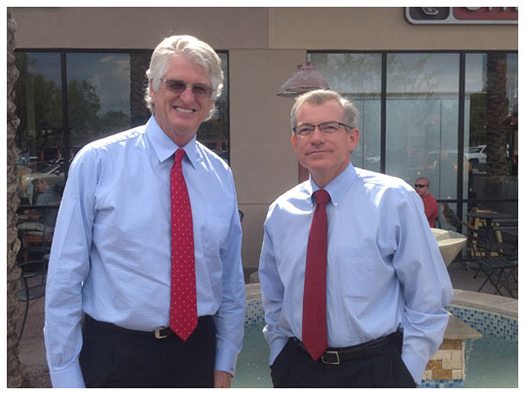 Aug. 27, 2013: Rep. David Schweikert (R-AZ), right, met with Spirit Realty Capital (NYSE: SRC) Chairman and CEO Tom Nolan in Scottsdale, Ariz. Nolan updated the congressman on Spirit's activities since last year's initial public offering, as well as its recent merger with Cole Credit Property Trust II. They also discussed several legislative issues, including tax reform, and the potential impact that these issues could have on the REIT industry.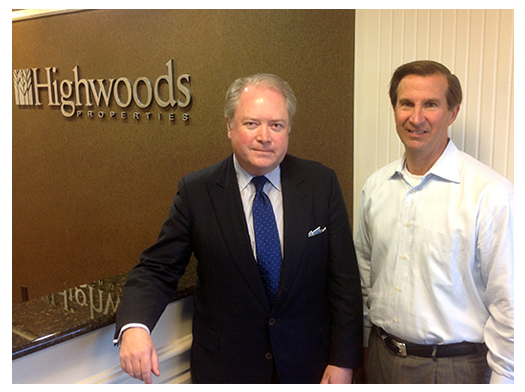 Aug. 30, 2013: Rep. George Holding (R-NC), left, met with Ed Fritsch, president and CEO of Highwoods Properties, Inc. (NYSE: HIW) and a member of the NAREIT Executive Board, right, at the firm's corporate headquarters in Raleigh, N.C. During the meeting with Fritsch and several other Highwoods executives, Holding was briefed on the company's recent activities, as well as a number of future developments in North Carolina and across the country. The group also discussed the issue of parity regarding the collection of sales and use taxes between Internet sales and traditional retailers. The congressman, a member of the House Judiciary Committee, will be considering this issue in the coming months.

(Contact: Kate Smith at ksmith@nareit.com)