For Hap Stein, Retail Real Estate is in His Blood
11/06/2012 | by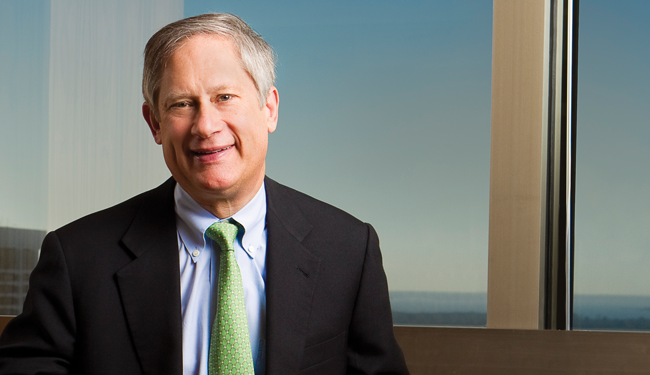 The shopping center business has been a long-term investment for Martin "Hap" Stein, Jr., chairman and CEO of Regency Centers Corporation (NYSE: REG).
In 1963, his parents, Martin and Joan Stein, founded what was then called Regency Square Properties. Four years later, the company built Regency Square Shopping Center, the first regional mall in Jacksonville, Fla. Hap Stein began working at the company full time in 1976.
However, as time went by and the company looked to expand, it faced the prospects of going head-to-head with some larger shopping center owners. As a result, the Steins decided their best prospects were to target a specific niche.
The company shifted its focus to grocery-anchored shopping centers and hasn't looked back. In 1993 amidst a wave of REIT IPOs, Hap Stein guided Regency's public offering, which raised $108 million.
Today, Regency has a total market capitalization in excess of $6 billion and owns 367 centers with properties in close to every major market.
Since 2000 alone, Regency has developed 205 shopping centers, including those currently being developed. This represents an investment at completion of nearly $3 billion. The company presently has 22 development projects in the works in 11 states.
Since the shopping center business had been a family affair for decades, Hap Stein has experienced the full spectrum of real estate cycles and market conditions. His stewardship has kept Regency well positioned despite challenging economic times. REIT magazine recently spoke with Stein, a former NAREIT chair, about where the shopping center sector is and where it is headed, the influence his father had on his career and what he hopes for in the coming year.
REIT: How would you describe the overall trend in fundamentals for the retail sector?
Hap Stein: Considering the backdrop of a fragile and slow economic recovery and a volatile capital market, the fundamentals are holding up surprisingly well.
For instance, we signed 2 million square feet in almost 500 leasing transactions in the third quarter of 2011 alone. Those deals brought us over 1,300 leasing transactions for the year. In the third quarter, we reported an increase in occupancy of 80 basis points to 93 percent.
If you had told me we would go through the worst recession in our lifetime and our occupancy was not going to go below 92 percent, I'd have said, "Where do I sign?"
REIT: In the first 10 months of 2011, Regency spent more than $80 million acquiring four retail centers. Is Regency Centers still in acquisition mode?
Stein: Our acquisition strategy is basically one of recycling. We are selling assets that are non-strategic or that we feel have potential erosion for future net operating income, and we are reinvesting that into shopping centers that meet Regency's high standards, especially as it relates to the reliability for future growth in net operating income.
Since the beginning of 2010, we have sold nearly $100 million of properties and acquired more than $200 million. The household income within a three-mile radius of the acquired properties is over $115,000 and the supermarkets' average sales are nearly $700 per square foot. Most important of all, projected NOI growth on the centers we are buying exceeds 2 percent, while the NOI from the sold centers was declining by over 10 percent.
REIT: Regency has a geographically diverse portfolio, but are there any areas you are more focused on right now?
Stein: We are primarily targeting major markets and university towns. Almost 90 percent of our NOI is generated from the top 50 markets, while 70 percent comes from the top 25 markets. We particularly like coastal California, the Pacific Northwest, Dallas, Houston, Austin, Denver, Chicago, Florida, Atlanta, Raleigh and D.C.
REIT: Many years ago, Regency Centers made the decision to focus on grocery-anchored shopping centers. How has that decision helped the company in this market where the retail sector continues to recover?
Stein: I think focusing on infill grocery-anchored shopping centers in areas with household incomes above the national average has certainly helped. Supermarkets are necessity oriented. As you know people have got to eat. Our supermarkets average about $25 million in sales per year, which translates into over 10,000 customer trips every week.
The second-largest category of tenants in our centers is restaurants, and restaurants have also held up fairly well.
We think our strategy of highly productive grocery-anchored shopping centers in trade areas with above-average household income is one that will produce future reliable growth in net operating income. In that regard, approximately 80 percent of the portfolio benefits from household incomes above $100,000 or grocery sales above $22.5 million or $500 per square foot. In my view, this strategy has proven to be pretty darn resistant to the impact of recessions and an increase in Internet shopping, although we are not immune.
REIT: How have the major chain store closings affected your business?
Stein: We were impacted a little bit by the closures of Borders and Circuit City stores, but the biggest impact was felt with Blockbuster. At one time we had more than 100 Blockbusters in our portfolio.
One good thing about the Blockbuster locations is that the video chain tended to lease a lot of the better spaces in shopping centers on parcels or end caps. As a result, we had a lot of success in re-leasing that highly desirable space.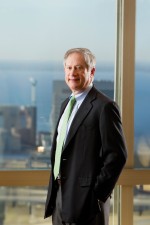 Close-Up
Family: Married to Brooke for 37 years, three daughters, two sons-in-law, and four grandchildren
Age: 59
Hobbies: Reading editorial pages, golf, jogging, and hiking in Colorado
Favorite movie: "Schindler's List"
Favorite Recent Book: "Churchill" by Paul Johnson and currently reading "The Fifties" by David Halberstam
Professional activities/memberships: ULI, NAREIT, Real Estate Roundtable, Former Trustee Washington and Lee University
Favorite Vacation Spot: Edwards, Colorado
REIT: You have a long history with Regency Centers dating back to 1976. What do you consider your greatest accomplishment to be during your tenure?
Stein: When we went public in 1993, I think Regency had 20 shopping centers. We have almost 400 today. We have gone from 2 million square feet to almost 50 million square feet, and from a total market cap of $150 million to well in excess of $6 billion today.
The most important accomplishment is that we've built an extremely talented, engaged team, with a very strong culture that puts emphasis on the customer.
REIT: What originally piqued your interest personally in the real estate industry?
Stein: Regency was founded almost 50 years ago by my parents, which means I essentially grew up in the real estate business. Our first major property was a regional mall in Jacksonville.
However, one reason we migrated to neighborhood and community shopping centers was because it was hard to compete with the major mall developers like Simon Property Group, Taubman and CBL.
At the same time, being in Florida it was easy to see the benefit from working closely with the dominant and rapidly growing supermarket chain Publix. Publix is a wonderful company and has been a superior anchor. We then quickly learned that the grocery anchored shopping center business was recession resistant.
REIT: You obviously worked very closely with your father building Regency. What is the most important lesson he taught you about running the business?
Stein:  The most important lesson I learned from him is that to be successful in real estate, like most businesses, a company must have a talented and dedicated team that is focused on building enduring relationships.
REIT: Lastly, what do you hope 2012 brings Regency?
Stein: We want to make progress toward our key objective of being 95 percent leased and 3 percent growth in NOI; intelligently grow developments and redevelopments of "A" centers; continue to execute portfolio recycling to further improve the reliability of NOI growth; and cost effectively and opportunistically enhance the balance sheet. One of the most poignant lessons from the recent financial crisis was the critical importance of managing maturities, maintaining access to capital, and a strong balance sheet.