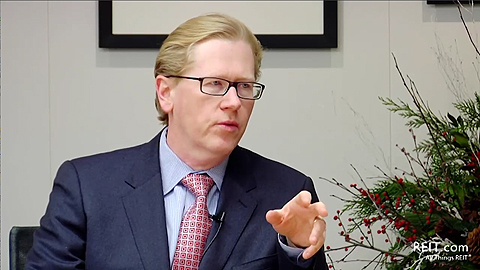 Location, location, location: it is the golden rule of real estate. This mantra is oft-repeated and might even match reality over the long run. However, there's another maxim to be considered, too – "you can overpay for gold." For commercial real estate investors, these questions play out in terms of investment location (Washington, D.C. versus Houston, for example) and quality (new, long-leased assets in the best location versus average assets in average locations), and never have these questions been as relevant as today.
As a case study, let's look at the poster child for commercial real estate investor exuberance: Washington, D.C. The federal government, the nation's most consistent growth industry, has driven strong office absorption through all the vicissitudes of the last decade. As a result, Washington, D.C. office property income has been stable and generally growth oriented, and total returns, especially in the District proper, have consistently outperformed.
In contrast, Houston has spent most of the last two decades on the wrong side of institutional investors' redline for investment. Mostly dependent on the energy industry, Houston suffers from low barriers to supply, which contributes to higher average cap rates than in the big (non-gulf) coastal metros that most institutional investors prefer.
So, in the long run, D.C. is arguably the better location than Houston. But what if you are looking at the short or medium term?
Widespread voter calls for more rational government financing and even the (failed) supercommittee all seem to be leading to massive cuts in government spending. If that were to happen, where would property investors be most at risk?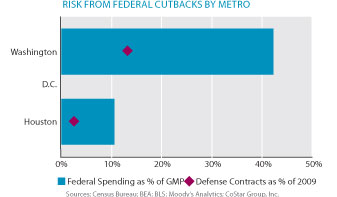 Well, it's not hard to find Waldo here – as shown in the graph below, the percentage of metro D.C.'s total economic output tied to directly measurable federal spending is 40 percent, by far the largest in the country. Included in that 40 percent is 12 percent driven by defense spending, which may be at even more risk than other federal spending.
In contrast, there's Houston, a metro that most institutional investors, especially REITs, have traditionally avoided, due to high perceived risks and low barriers to supply. In Houston, about 11 percent of the metro economy is driven by federal spending, and about 3 percent of the economy is linked to defense spending. In term of economic drivers, Houston is almost a one-horse town, but which are you betting on this week – energy or Federal spending? If you are an investor in Washington, D.C. office buildings, you are betting on the latter, not the former.
Does that mean all investors should pull out of D.C. and plow wholesale into Houston? Far from it. Over the long term, D.C. office is a rational part of any core portfolio, and energy is fundamentally more volatile than government. Also, the liquidity and barriers limiting new construction in D.C. are appealing.
The moral of the story is that markets matter, and investors need to know what drives the economies of each metro—tech or auto production, etc.—because you can overpay for gold. u