REIT convert American Tower Corp. is putting people in touch.
11/01/2012 | by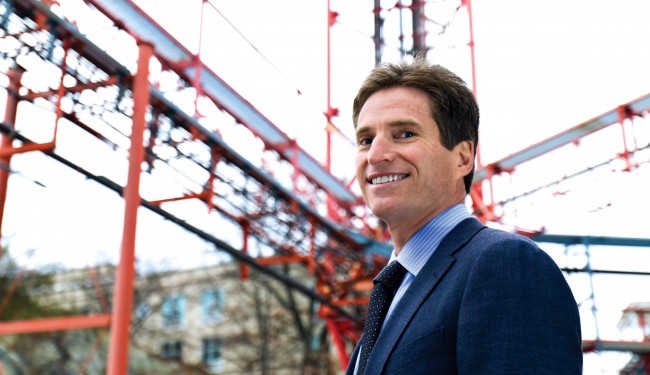 Cellphones, laptops, smartphones, tablets—anywhere, any time, they bring gifts of phone calls, e-mail, videos and even directions to the nearest dry cleaner or Tex-Mex restaurant.
All that information seems to instantaneously pop up on such devices by magic. In reality, though, what comes up on an iPad screen has actually been flying around between cell towers worldwide at warp speed. That's where American Tower Corp. (NYSE: AMT), which converted to the REIT approach to real estate investment on Jan. 1, 2012, comes in.
According to data from technology research firm In-Stat, approximately 65 percent of the United States population will own a smartphone and/or a tablet by 2015. As consumers' demand for mobile data continues to expand ad infinitum, it naturally creates a growing need for more of those cell towers to push that information out through the airwaves. American Tower has a portfolio of nearly 40,000 wireless and broadcast communications-related real estate sites that it owns or operates around the globe. The company also helps companies outfit their properties with technology to enhance their indoor and outdoor wireless network coverage.
With the push for more data and more bandwidth from wireless Internet service providers, demand for American Tower's real estate  and services doesn't appear to be slowing down, according to James Taiclet, the company's chairman, president and CEO. As such, Taiclet says the wireless market dynamics have American Tower poised for strong, sustained growth for years to come and its recent conversion to a REIT will allow it to maximize its opportunities.
"As wireless companies try to increase the bandwidth provided to users, it results in a higher utilization of our real estate, which we're well-positioned to serve," he says. "We think there's going to be very strong demand going forward, because there really are no substitutes for the kind of real estate we own and operate. Applications such as iPads make the growth in this real estate essential for these carriers to succeed."
The REIT Move
In May 2011, American Tower's board of directors approved a plan to reorganize the company as a REIT, beginning as early as the start of 2012. American Tower REIT Inc., a wholly owned subsidiary of American Tower Corp., filed a Form S-4 with the Securities and Exchange Commission (SEC) a month later to initiate the parent company's conversion to REIT status. In September, the SEC approved American Tower's S-4, and the company's board gave the go-ahead in November for the parent company to be subsumed by the REIT subsidiary. The move had American Tower in position to meet its goal of gaining REIT status by Jan. 1, 2012.
Overall, investors appear to have reacted favorably to the plan, with American Towers' stock price climbing 14 percent in the first 11 months of 2011.
"In general, American Tower is a welcome addition to the REIT industry," says Lukas Hartwich, an analyst with Green Street Advisors who covers the company. "They have a very well-regarded platform."
"American Tower is a welcome addition to the REIT Industry. They have a very well-regarded platform."

- Lukas Hartwich
Taiclet maintains the REIT approach to real estate investment will help open up American Tower as an investment option to a wider segment of the market, providing the company with greater access to capital. To qualify as a REIT, the company will be required to distribute annually at least 90 percent of its qualified REIT subsidiary's taxable income in the form of dividends. As such, the company should gain broader appeal with income-oriented investors, Taiclet notes.
"It introduces a highly efficient vehicle to return capital to our shareholders in the form of a dividend," Taiclet says. "Through that dividend, we'll expand our shareholder base from primarily growth investors to include yield investors."
As part of its conversion, American Tower announced plans in November to distribute approximately $140 million to shareholders in the form of a special one-time dividend of 35 cents per share from its cash reserves. In 2012, the company's aggregate distribution is expected to be between 80 cents and 90 cents per share.
Analysts with Citi, which has a buy rating on American Tower's stock, estimate that by 2015, the tower REIT could issue a dividend potentially as high as $3.00 per share.
Towering Fundamentals
A veteran of the Gulf War, Taiclet came to American Tower in 2001 from Honeywell Aerospace Services. In 2003, he was promoted from president and chief operating officer (COO) to the position of CEO. A year later, he was named chairman of American Tower.
Taiclet touts American Tower's overall business model as a hybrid, as the tower industry combines the growth attributes of the technology sector with the stability of real estate investment. In particular, Taiclet emphasizes that American Tower enjoys long-term lease contracts and high rates of renewal on its leases.
Approximately 97 percent of American Tower's revenue from the third quarter of 2011 was generated from leasing its properties to tenants. Actually running a cell tower site in its totality is something of a team effort between American Tower and its tenants. American Tower is responsible for the tower structure itself, which is made of galvanized steel and has space for multiple tenants to set up their equipment. American Tower also manages the land where the sites are constructed, more than 25 percent of which it owns outright in the U.S.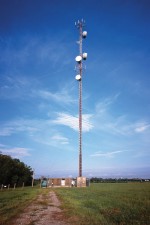 The company's tenants operate their own antenna equipment. They also operate their own tenant shelters, housing base-station equipment.
American Tower has more than 2,500 customers in the U.S., with the vast majority of its tenants consisting of telecommunications companies such as AT&T, Sprint and Verizon. Additional tenants can be added to the company's towers at minimal cost through the collocation process because it simply requires affixing another antenna to the structure. In turn, by leasing space for an antenna, companies such as the wireless communications carriers can achieve substantial cost savings over building their own facilities.
In 2009, American Tower saw its rental and management segment revenue in the United States grow 7 percent. A year later, it climbed 11 percent.
In terms of performance, American Tower boasts industry-best operating margins, according to Taiclet.
A strong balance sheet has enabled American Tower to opportunistically snatch up favorably priced assets, Taiclet says.
"We've got a really solid track record of generating cash out of this business, and we have a very disciplined process to reinvest back into this business."

- James Taiclet
The company has significant liquidity to pursue new acquisitions, according to Taiclet.
"Compared to the average REIT, American Tower certainly has a healthy balance sheet structure," Hartwich says. "They have favorable leverage compared to most REITs out there."
Including acquisitions and new development, Citi is projecting that American Tower's net operating income will grow approximately 10 percent in the near future, versus a projected rate of 5 percent for the REIT market as a whole.
Worldwide Reach
American Tower isn't just scouring the United States for deals, either. Taiclet bills his company as the only true global tower company. American Tower derives more than 25 percent of its annual revenues from outside the U.S. borders. Among the sites owned and operated by American Tower are properties in Brazil, Chile, Colombia, India, Ghana, Mexico, Peru and South Africa. The company is launching operations in Uganda in 2012.
"We have the scope to look at opportunities and invest around the world."

- James Taiclet
Given how the international segment of American Tower has performed lately, it's easy to see why the company has been putting greater emphasis on its non-U.S. business. The company's international revenue increased 15 percent in 2009 and 43 percent in 2010. International revenue growth was expected to reach 70 percent in 2011, according to Citi's projections.
How hard is it to run a global tower REIT? Taiclet says operating abroad doesn't differ significantly from operating at home. Although the business model may be new to the markets in some cases, the realities of operating outside the U.S. are similar, according to Taiclet.
"Fundamentals in international markets where we operate are very similar," he says. "We're securing significant numbers of real estate assets in each of these countries."
Hartwich says American Tower has solid processes in place to evaluate international growth prospects that involve the development of a thorough understanding of the wireless industry's dynamics in a market and assessing country-level risk. "They seem to be pretty thoughtful in how they approach expanding into international markets," he said.
Strong Signals for 2012
Growth was an obvious theme for American Tower in 2011. The company saw its lease revenue rise approximately 20 percent from the year before. In terms of the sources of growth, it is split roughly 50-50 between the company's operations in the United States and outside the country's borders.
Taiclet says he expects to continue to pursue opportunities to drive strong growth in 2012.
"We're going to continue to look for additional situations where we can reinvest in acquisition opportunities," he says. "You'll just see an increasingly international flavor in the company."
Taiclet also says he's excited by what this year holds in store in for his company in terms of its conversion to REIT status.
"The conversion to a REIT will be a big event for us in 2012," he says. "We hope to welcome a number of investors who may not have been able to take a good hard look at American Tower previously."