Michael Glimcher moves his company into the upscale mall market.
01/29/2014 | by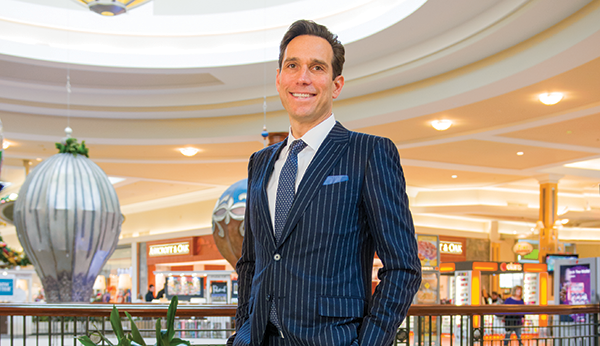 Although Michael Glimcher now heads one of the country's leading retail REITs, Columbus, Ohio-based  Glimcher Realty Trust (NYSE: GRT), he jokes that in many ways he is still in the spot where he started out: running the leasing department. "Without the retailers, what are we?" asks Glimcher, who says he enjoys spending time with Glimcher Realty's merchant tenants in order to understand their vision.
As Glimcher Realty marks the 20th anniversary of its initial public offering this year, REIT magazine spoke with the company's chairman and CEO about a wide range of subjects, including how the firm has evolved from its origins in community centers and smaller markets to its current focus on high-end malls throughout the country.
REIT: What is your ideal vision for the company, and what is your strategy to get there?
Michael Glimcher: We would like, within our asset class, to perform at the highest level and put up operating results consistent with or better than the top of the sector. We think the first ingredient is growing sales per square foot, which we've done aggressively. We've got 95 percent occupancy. We've had great net operating income growth this year and strong re-leasing spreads.
We talk a lot about quality, and it's the quality of the assets, quality of our balance sheets, and quality of our team.
The goal is to have a portfolio that can deliver consistent operating results like we've been able to deliver in 2013, but also that's relevant and that evolves with the times. What's interesting about our company versus others in the sector is that we've evolved into this mall and open-air retail, mixed-use portfolio. We've really grown from the smaller market to the larger market, and we want to continue that evolution. We've upgraded the portfolio—we really like trading on the top quartile of the customer base. It's not like it's a new strategy, it's an ongoing strategy.
We talk a lot about quality, and it's the quality of the assets, quality of our balance sheets, and quality of our team. And we're constantly striving to be better tomorrow than we are today.
REIT: How would you describe fundamentals in the sector and what is your outlook for 2014?
Glimcher: Right now, we're going to be building off a really strong base. Our re-leasing spreads have been about 15 percent positive for the year, and there's very little new space coming online. Probably most importantly, the retailers in our portfolio are making money, and our occupancy cost is below 10.5 percent. So we have a lot of room to move rents in a sales-growth environment, or even in a flat-sales environment.
REIT: To what extent does the Internet influence your business model?
Glimcher: Probably the better way of looking at it is to embrace the Internet and realize that it's there and that for some categories, it's a better delivery system.
The idea is how do we get people out and how do you make your shopping center or your property not just a mall, but a place where people go just to hang out. We try to add a lot of things you can't do online. I still think that the social experience of being at the property, the interactive experience, that's not going away. But I do think we have to do a better job. We've spent a lot of money on the physical plant and we went through two major renovations this year in our Outlet Collection portfolio. Any market we're in, we have to be the number one or two experience that's available or we're not going to win.
REIT: How much more are you planning to do in terms of divestiture?
Glimcher: I would probably say we'll never be done because there'll always be a bottom quartile. We believe in having a really fluid portfolio and investing aggressively in the top half, looking for new growth opportunities externally and also culling from the bottom. It's an ongoing process.
Part of the fact that we're performing so much better is through organic growth and part of it is because we've reshuffled the deck. We're always interested in trading out of our bottom assets and either putting capital into our best assets or going out and finding new assets to add to the portfolio. So, I think if we were having this dialogue in five years, I'd probably say the same thing.
REIT: How hard is it to sell some of those bottom-level assets?
Glimcher: I think we've done the heavy lifting in that the tougher assets are no longer in the portfolio. It's not that the bottom-half properties aren't good assets–they are. It's just that we're a company that wants to deliver 3 to 5 percent growth on an average basis, and some of your more modest properties are only delivering 1 to 2 percent growth.
REIT: In the coming year, is your focus more on redevelopment or new projects?
Glimcher: I would say it's balanced, but there's no better use of our capital than redevelopment.
I mentioned our Outlet Collection, and we think we have really redefined the outlet shopping experience. Each of the assets has about a $30 million investment. We designed them to look like modern fashion malls and luxury malls, but with outlet content. It's J. Crew, Nike, Michael Kors, Saks (Fifth Avenue), Neiman (Marcus), Lord & Taylor, but it's all an outlet version. Historically, the outlet centers have been sort of a modest context, and we decided to really turn that on its head and deliver a really high-quality fashion mall experience, but with outlet pricing. So far, the customer has responded in a really positive way.
Whether it's outlet or full-price, we think it's always important to continue to up your game and deliver a more high-quality experience. We're doing a lot of investment like that, but we also bought University Park Village (an open-air center in Fort Worth, Texas) at the beginning of the year. We have other acquisition assets that are in the pipeline, so I think we'll balance our investment, and half or so will be reinvested in the core and then the other half will probably be external.
REIT: Do you see possibilities for expanding the outlet portfolio?
Glimcher: Right now, it's a collection of two, so we'd like to grow it. But our view is that unless we can do something that's really significant, something that's a little bit different from what's being done, we probably won't do it. These properties are about 1 million to 1.5 million square feet – they're enclosed, they're super-high-quality. We like that twist on the outlet business.
REIT: Earlier this year, you announced plans to add a luxury apartment community at Scottsdale Quarter in Arizona. Is that a one-off development, or is a new trend emerging?
Glimcher: We like the idea of people living there, we like the idea of density, and we like the idea of the property operating 24 hours a day. There are offices there, retail and we'd like to add hospitality. I think it's a great laboratory for us. As much as our properties can emulate cities, that's what we would like to do, and some opportunities lend themselves more to it than others. Some are strong office markets, some are strong multifamily, some are both and some aren't either.
Everywhere we can add density we are going to add density, and I think that's a trend you're going to see with the best assets. More people are going to want to be around the center of gravity, and usually that's the best retail center because retail is really the engine that drives mixed-use. We also like other people making investments in our projects, so if you're bringing in third parties that are doing some of these other uses, they're spending hundreds of millions of dollars at your site and they're making it more valuable.
REIT: How do you view the capital markets environment for 2014?
Glimcher: We really don't have major debt maturities that we're going to be dealing with. Even though rates have moved a little bit, you're looking at rates that are probably 150 to 200 basis points below the 50-year average. We feel pretty fine about access to capital and about where rates are.
REIT: What do you look for with regard to your retail tenants?
Glimcher: We look at the retailers that do the highest sales per square foot, which means the customer is voting for them and those are the properties that we want to be engaged in and we want to pursue. We're a very tenant-focused company and we try and grow our relationship with the highest-performing tenants. Lululemon, Apple, Sephora, J. Crew—they are the people that we want to do business with because those are the stores that you want to shop in.
When you look at a retailer, you want to be at the front end of their growth and not the tail end.
We try to have a little exposure to a lot of retailers versus a lot of exposure to any one retailer, and I think we've learned over time that it's great to have a broad relationship with someone, but eventually everyone gets stuck in the mud. We look at it as a big mutual fund that has exposure to lots of different retailers, and not everyone will make it and not everyone will excel. The goal is to catch a rising star before it fizzles out. When you look at a retailer, you want to be at the front end of their growth and not the tail end. We spend a lot of time trying to figure out whether we are we timing it right. One retailer we do business with, Restoration Hardware, has really reinvented [itself]. We did a 20,000-square-foot store with them, and at the time we did the deal, they had zero stores of the new format open. But we were a believer in what they were doing and we got out in front of it, and it was one of their first three big format stores.
REIT: With food-related tenants now accounting for an increased percentage of your overall portfolio, what trends are you seeing in this sector of the market?
Glimcher: Restaurants are getting smaller. They were getting super-sized, but I think people like them smaller, intimate, organic and local. So, we're doing fewer chain restaurants and more regional restaurants. It's a lot more work for us—it's a lot easier for us to do 10 restaurant deals with one company. But if we find three regional companies and do three or four deals with each of them, and they are more authentic to the market we're in, we think that's probably better.
REIT: Lastly, what's the biggest challenge you've faced as CEO?
Glimcher: Going into the recession was probably the biggest challenge I ever faced, and it happened right after I took over. It was not exactly what I had hoped for in my inaugural time, but I learned to focus on all the things that are in our control. I learned to stay positive and to play to our strengths. We continue to work on having a stronger balance sheet and upgrading our assets and having the right people who can operate this company in a strong or weak environment. We hope for a strong environment, but we're certainly prepared for the worst.