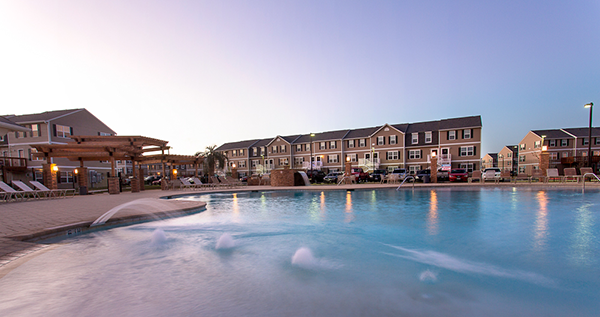 Fire pit, pool, volleyball court, private bedrooms and bathrooms, movie nights, blood drives. The list of amenities and social experiences offered at purpose-built student housing communities these days is a far cry from what many people associate with their college years.
When Ted Rollins co-founded student housing developer Campus Crest Communities, Inc. (NYSE: CCG) in 2004, the concept of customized student accommodations—commonly referred to as purpose-built student housing—had yet to take hold. The signs were apparent to Rollins, however, that the market was ripe for growth.
At the time, Rollins also had a particular niche of the market in mind—primary, non-flagship schools, or those institutions just below the two or three brand-name state public schools. Today, the company strives to deliver a high-quality product in underserved growth markets. Keeping development, construction and management in-house has positioned the company to withstand economic pressures, Rollins says.
Cost Benefits of Vertical Integration
From the very beginning, Rollins says he saw the benefits of developing a completely integrated company that could develop, construct, supply, finance and oversee its assets.
"For the first few years, we were building a vertically integrated platform just as much as we were building properties," Rollins notes. A vertical structure, Rollins explains, offers a better product at a cost that is 15 percent to 20 percent less than using a third-party general contractor.
"We build virtually the same box, which gives us efficiencies," he says.
"We feel we're in the early stages of the market for purpose-built student housing."
—Ted Rollins, Co-Chairman & CEO
Campus Crest is now on its 10th-generation prototype, reflecting the ongoing cycle of improvements based on comments from students, parents, employees and management staff, according to Rollins. With the cost savings, Rollins says Campus Crest is able to open properties at 85 percent occupancy and still make yields that would require occupancy levels of greater than 90 percent for other student housing companies. He emphasizes, however, that initial occupancy rates are often more than 85 percent.
"Our model is really delivering value. As those properties stabilize, our return on cost to the shareholder is higher," Rollins says.
Flight to Value in Education
While the decision to integrate vertically has paid off, so has Campus Crest's focus on primary, non-flagship schools, according to Rollins. He describes the schools as "robust educational programs" where the average enrollment is between 16,000 and 17,000 students, and tuition totals approximately $8,500 per year. Two prime examples of these types of schools are Northern Arizona University and the University of North Carolina Asheville.
"We saw a need there," Rollins says. "We saw pent-up demand for a purpose-built product."
Rollins says he believes the "flight to value in education" bodes well for the future.
"If you look across the U.S. there's a migration away from these private, liberal arts schools…because their value proposition is just not meaningful today," Rollins says. He estimates that pent-up demand in the schools that Campus Crest targets across the United States is on the order of 1.5 million beds.
"There's robust demand because there's just not that product out there," he says. "We feel we're in the early stages of the market for purpose-built student housing."
Meanwhile, Rollins maintains that he is not particularly troubled by the impact of higher tuition rates on his business model.
"Even if you do sustain a little bit of a price increase there, it doesn't break the bank," he says. "The elasticity of demand is such that it will absorb those increases."
Demand is also being supported by the influx of international students who provide schools with a solid source of revenue, Rollins remarks.
Gauging Growth Potential
Ryan Meliker, managing director of REITs and lodging equity research at MLV & Co., says he finds student housing to be an interesting sector of the REIT landscape because it's a relatively untapped market.
"There's obviously a nice niche for purpose-built student housing," he says. The millennial generation, he notes, is tech-orientated and demanding in terms of accommodations. Existing university dorms "tend not to cut it," he says.
Jim Arbury, vice president for student housing at the National Multi Housing Council, shares Meliker's view of the sector: "The whole market for this type of housing is still at the beginning stage," he says.
With state universities facing a dramatic decline in funding on the order of 20 percent per student over the last 10 years, according to Meliker, schools are being forced to form public-private partnerships or to outsource housing. While the bulk of purpose built student housing is currently off-campus, Meliker predicts that over the next 15 years the on-campus component will "change dramatically," as a lot more REITs and private entities take on a more active approach. Until that happens, and even after, the off-campus component will continue to perform "very, very well," according to Meliker.
Continuing to "evo"lve
Rollins notes that as Campus Crest has continued to grow its business, it has become apparent that there are different segments within the student housing market, each with its own requirements. Campus Crest's most recent foray into the student housing market came in August 2013 when the company announced it was adding a third brand, evo, to its existing portfolio. The Grove, Campus Crest's first brand, targets sophomores and juniors and embraces a flat rate, utilities-included concept, with an active residence life. The Copper Beech townhome community brand is suited for seniors and graduate students seeking freedom and space. Meanwhile, evo offers what the company describes as "swanky high-rise properties in urban markets."
Campus Crest will open its first two evo properties in the fall of 2014 in Philadelphia and Montreal, which will also serve as the company's first project in an international market. Campus Crest is developing the Montreal evo property with joint venture partner Beaumont Partners, SA, and it will feature more than 1,000 beds. In Philadelphia, Campus Crest is working with Brandywine Realty Trust (NYSE: BDN) to build the tallest student housing property in the country with 33 stories and 850 beds.
Rollins says Campus Crest has been approached by several schools in urban markets, as well as potential development partners, who are interested in the evo concept. "It's a very well-received product type," he says, "and a nice addition to the brands."
Meliker predicts that Copper Beech will be a big component of the company's expansion in the next couple of years. The phased acquisition of Copper Beech, which was announced in February 2013, will give Campus Crest more exposure to major markets, Meliker says. It will also allow Campus Crest to enjoy cost and revenue synergies in markets where both The Grove and Copper Beech brands are located, and enable the company to more easily assess which brands work best in those markets.
Assessing competition in the student housing sector, Rollins stresses that the business is operationally intensive, with "meaningful" capital requirements. That limits the number of market entrants, he says. That being said, "there's plenty of growth in the industry," notes Rollins, adding that out of the 63 markets where Campus Crest has a presence, "maybe three have a little more supply than you'd like."
Looking further out, Rollins anticipates that over time, Campus Crest's three brands will have a "more equal share of attention." For now, however, The Grove will continue to grow, while Copper Beech "will ramp up over the next few years," Rollins says. The evo projects, with their "meaningfully higher" capital investment, will take longer and be fewer and farther between, he says.
"There's plenty of opportunity if you run your product correctly and you're mindful of your business in this industry," Rollins observes.
VITAL STATISTICS
Name: Campus Crest Communities
Address: 2100 Rexford Road
Charlotte, NC 28211-3484
Phone: 704-496-2500
Website: www.campuscrest.com
MANAGEMENT TEAM:
Ted Rollins,
Co-Chairman & CEO
Mike Hartnett,
Co-Chairman & CIO
Robert Dann,
EVP & COO
Donnie Bobbitt,
EVP & CFO
Brian Sharpe,
EVP & Chief Construction
and Facilities Officer